Almost two-thirds of residents in the United Arab Emirates have either purchased refurbished electronic products (27 percent) or would consider buying them in the future (40 percent), according to a YouGov report.
The data analytics firm's 'Consumer electronics: Safety and Sustainability in 2023' report shows that among UAE residents who have purchased electronics devices in the last 12 months, the reassurance of the product being guaranteed for at least a year is most likely to encourage 33 percent of those polled to buy recycled or refurbished products.

Price reductions of up to a quarter of the retail price (31 percent) and reputable sellers (30 percent) also influence consumers decisions when considering purchasing recycled goods.

YouGov noted that communicating the cost-benefits of repurposed technology, in conjunction with the quality reassurance of the product, will be key elements for brand manufacturers and retailers to focus their marketing messages, in order to encourage consumers to buy.

Carlo Stella, a Senior Partner in Arthur D Little's Dubai office noted that refurbished products are part of a circular economy strategy but added that there is still a reluctance from consumers to purchase refurbished items.

"In my view the focus should be in ensuring adequate warranties and return policies. This model can work in conjunction with the X-as-a-service notion. That is, electronics-as-a service where the manufacturers or the retailers mitigate the refurbished product liabilities meeting consumer needs," Stella told Al Arabiya English.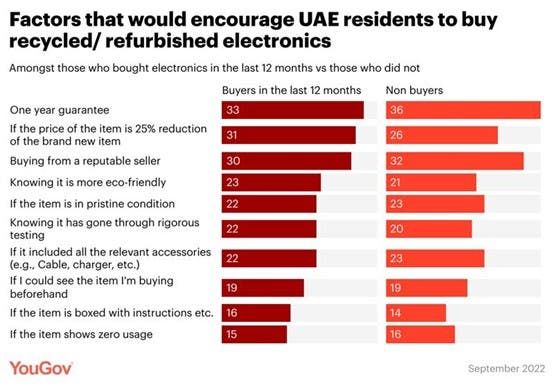 YouGov's Consumer electronics: Safety and Sustainability in 2023' report findings.
Purchasing refurbished items not only serves as a responsible and sustainable consumer choice, but it also plays a vital role in promoting a circular economy - an economic model that aims to keep resources in use for as long as possible, extracting the maximum value from them before recovering and regenerating them. By embracing this concept, communities can work towards reducing the need for new resources and minimizing waste.
Opting for refurbished items means that individuals are not only giving a new lease on life to products that would otherwise be discarded, but also reducing the demand for new products, thus reducing the strain on the environment in terms of the resources and energy needed to create them.
This is particularly important considering the pressing environmental challenges facing the world today, as the overconsumption of resources and the generation of waste contribute significantly to the ongoing climate crisis. By choosing refurbished items, individuals can play a meaningful role in building a more sustainable and equitable future for all.
In addition, refurbishing and reselling of products creates jobs and stimulates local economies, making it a win-win situation for both the environment and the economy.
The global report examined consumer buying behavior of electronics goods, exploring their attitudes to green technology, data privacy, and the preferred security measures for device protection across 18 international markets. The data gathered was designed to help marketers and Original Equipment Manufacturers (OEMs) gain a better understanding of consumer behavior.
The insights were drawn from a recent global Custom survey and analyzed purchasing behavior and explored consumer attitudes to green technology, data privacy and the preferred security measures for device protection.
The research covered 18 global markets and more than 19,000 respondents. Data for the UAE was based on a nationally representative sample of 1,052 adults aged 18+.
Rest of the World

The YouGov research revealed that there is an appetite for buying refurbished electronics. More than two thirds (69 percent) of consumers across the globe have either already bought a refurbished/recycled electronics item (28 percent) or would consider buying one (41 percent). In contrast, one in three said they were not open at all to the idea of buying pre-used technology and would never consider it.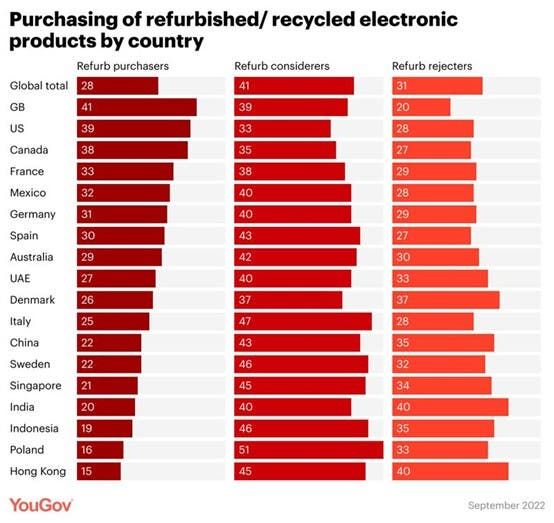 YouGov's Consumer electronics: Safety and Sustainability in 2023' report findings.

The highest proportion of refurbish buyers are in the United Kingdom and the US, with around four in ten purchasing repurposed electronics, closely followed by Canada. Across all 18 markets, more than six in ten have either already bought or would consider buying refurbished electronics, suggesting a strong interest overall.

YouGov indicated that it could create an opportunity for brand marketers, manufacturers, and retailers to convince more consumers of the benefits of buying recycled tech.

In working towards a circular economy for consumer electronics, it is important for marketers and OEMs to understand which tactics could be adopted to encourage more consumers to buy recycled gadgets.