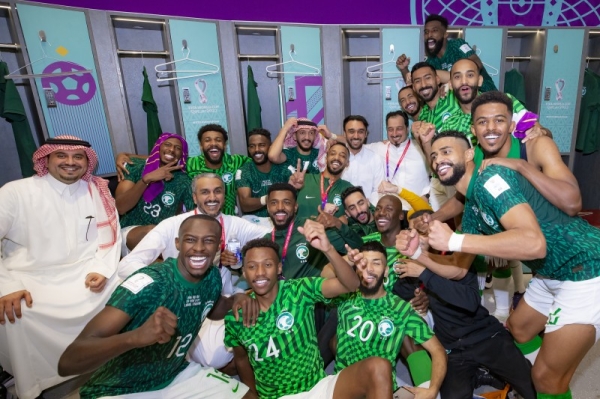 Euphoric scenes erupt as Arab and Mideast region unites in Saudi victory celebrations
Euphoric scenes erupted all over the Arab world and the Middle East region after Saudi Arabia's stunning victory in its World Cup opening match against Lionel Messi's Argentina.
The shock that reverberated around the world when Saudi Arabia beat Argentina in Tuesday's World Cup upset quickly turned to a wave of euphoric joy not just in the Kingdom, but across the region.

Leaders and the public joined football fans all over the region in celebrating the joyous occasion of the Green Falcons' sealing of one of the biggest upsets in the World Cup's nine-decade history.

Qatar's Emir Sheikh Tamim bin Hamad was seen carrying Saudi Arabia's flag and draping it around his neck during the Saudi match against Argentina. In a video circulating on social media, a fan hands a Saudi flag to the smiling emir who then places it around his neck and waves at the cheering crowd.

Dubai's Ruler Sheikh Mohammed bin Rashid tweeted after the match to congratulate Saudi Arabia's Green Falcons, calling the result a "deserved victory" and praising their "combative performance."

Pakistan Prime Minister Mohammed Shehbaz Sharif expressed his jubilation in the comment: What a game of football it was! "Saudi Arabia made history today by staging the biggest upset in FIFA World Cup thriller against Argentina. Heartiest congratulations to Crown Prince Mohammed bin Salman. We share the happiness of our Saudi brothers and sisters on this great win.

Thousands of Saudi fans inside the Lusail Stadium couldn't believe what they were watching as they celebrated their unexpected victory. As full-time neared, fans cheered every tackle and save as if they were goals and, when the match did indeed end, Saudi Arabia fans reacted with frenzy.

Both sets of players sunk to their knees, from disbelief and exhaustion. Messi, who so many had come see play, looked distraught as he walked off with Saudi fans cheering his name ironically.

According to sports data group Gracenote, Tuesday's result was the biggest upset in the history of the competition. As much as this was a historic win for Saudi Arabia, it was a humiliating defeat for Argentina who capitulated on the biggest stage.

Saudi players smiled and laughed with reporters as they left the stadium, a stark contrast to the Argentine squad who walked with their heads down onto the team bus. Messi was one of the few to stop and speak to journalists and even stopped for photos.

There were euphoric scenes inside the Saudi Arabian squad's changing room, moments after they pulled off the impossible and secured a historic victory over Argentina. The players embraced wild celebrations, dancing and cheering loudly, and toasted success with water.

The victory was celebrated by Arabs everywhere as a win for them. Across the United States, Europe, Southeast Asia, and the Middle East, people found pride and joy in the Saudi underdog beating a famously much stronger team.

The Arab world in particular witnessed a rare moment of shared ecstasy.

People tweeted the hashtag "Our Gulf is one" alongside the photos of the two leaders – the Crown Prince of Saudi Arabia and the Emir of Qatar - among other images, including a clip of an interview with goalkeeper Mohammed Al-Owais saying, "today, as Arabs, we are playing on our land, and among our fans. This gives you an advantage on our opponents, whoever they may be."

In Egypt, a popular news website sent an emailed newsletter titled "Good on ya, Saudi," telling its subscribers that today they are "working with big grins on our faces after Saudi's shock 2-1 victory against Argentina in the first of today's World Cup matches."

On its part, Saudi social media was in a joyous uproar. Many public figures such as religious leaders were quick to ascribe the win to the leadership of Crown Prince Mohammed bin Salman.

But the real celebrities were the team members themselves, especially the goalkeeper. Saudis posted their photos alongside hashtags such as "Our Falcons are our pride" and "Our green ahead of all."

Fan videos of player Salem Al-Dawsari scoring the winning goal at 53 minutes peppered Saudi social media accounts, overlaid with love ballads and live commentary from Arab football announcers.

Turki Al-Sheikh, chairman of Saudi Arabia's General Entertainment Authority had tweeted a photo two days before the match of Argentinian fans, hands half-covering their faces as they nervously watched a game. "Soon," the caption read. After the Saudi upset, he replied to his previous tweet pointing out his prediction, and congratulated the team, the Crown Prince, and others including "the great Saudi people."

He also announced free access for the remainder of the day to Riyadh-based carnivals and recreational complexes such as Winter Wonderland and Boulevard World. Soon afterward, the Monarch announced that Wednesday will be a public holiday for employees and students in Saudi Arabia.

Many expatriates joined their Saudi fans in celebrating the historic win. In the streets, people were seen in large numbers chanting the names of the players and waving green flags.