For three months in 2019, revolution crackled around the streets of Lebanon like electricity. This fractured country had never seen anything like it before.
Young people and old, the elite and the working class came together to roar loudly for change. Even different religions were united and a rallying cry filled the air.

"Kellon yaani kellon," they shouted in Arabic, "All means all." This time, they shared a common enemy - Lebanon's politicians - and the corruption and mismanagement sinking their beloved homeland.

Three years later, those passionate, desperate Lebanese crowds have finally had their chance to judge their politicians officially, at the ballot box. These elections were never going to produce significant political change. But what message did they send?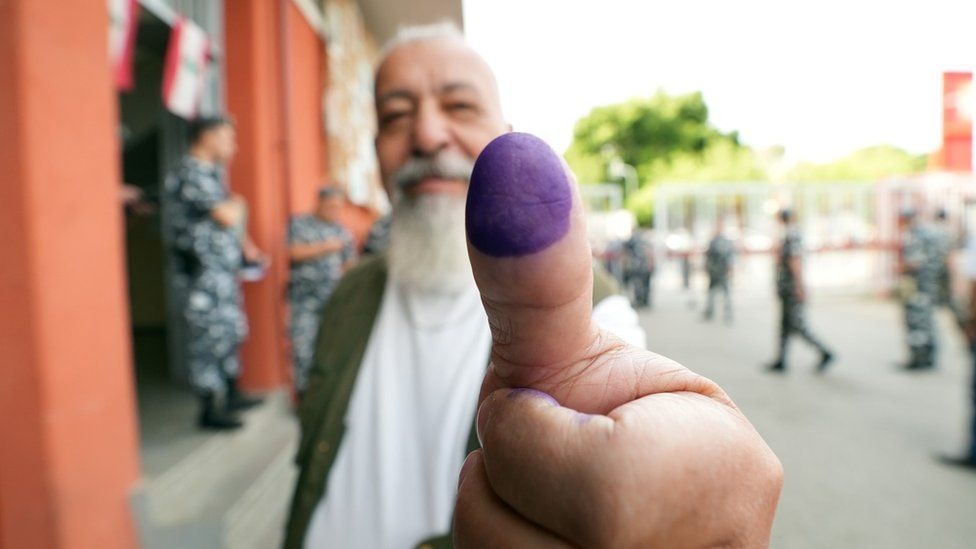 Turnout in Sunday's election was 49.19%

Let's delve a little deeper. The powerful, Iranian-backed Hezbollah movement, the main group of Lebanon's Shia Muslims, lost its majority in parliament.

That's a big moment and it's significant. But when you crunch the numbers, you see that the party itself kept the same number of seats - 13. It was candidates in the overall cross-sectarian alliance, which they're a part of, that saw losses.

Hezbollah's biggest coalition ally - the Free Patriotic Movement - didn't record as many wins as in 2018. In fact, the Free Patriotic Movement's rivals, the Lebanese Forces, pulled ahead to become the biggest Christian group in parliament. It's a blow for the party of the president, Michael Aoun, just months before his successor in the job will be chosen.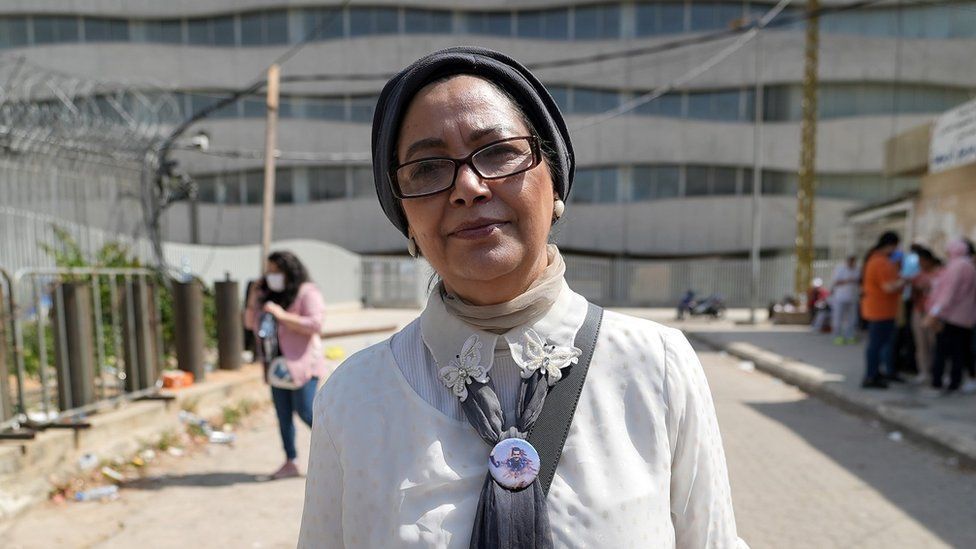 Ilham Kaaki wore a badge showing her son Rami, who was killed in the Beirut port blast

At a polling station in the sunshine on Sunday, I met Ilham Kaaki. Proudly displaying her inked finger to show she'd voted, she pointed to a badge on her chest showing an image of a young man. It was her son Rami, one of 10 firefighters killed in the devastating explosion at Beirut's port in 2020.

I'd watched people lining up to cast their ballots just hours earlier at the Karentina fire station, which had been Rami's base. His young, smiling face adorned huge banners there. Almost two years later nobody has been held responsible for his death, because politicians have repeatedly stalled the judge-led investigation.

"Khallas," Ilham told me animatedly. "Khallas" means enough. She'd always voted for an establishment party before, but now she's lost faith.

"We need to wake up and change this whole system. This whole group of politicians. Wake up. We want to know the truth" she said.

"These new faces need to put their soul in their hands. Just like my son put his soul in his hands for the nation, they should do the same. We need something new for the nation. The most important thing is Lebanon, our country, the country that we are losing."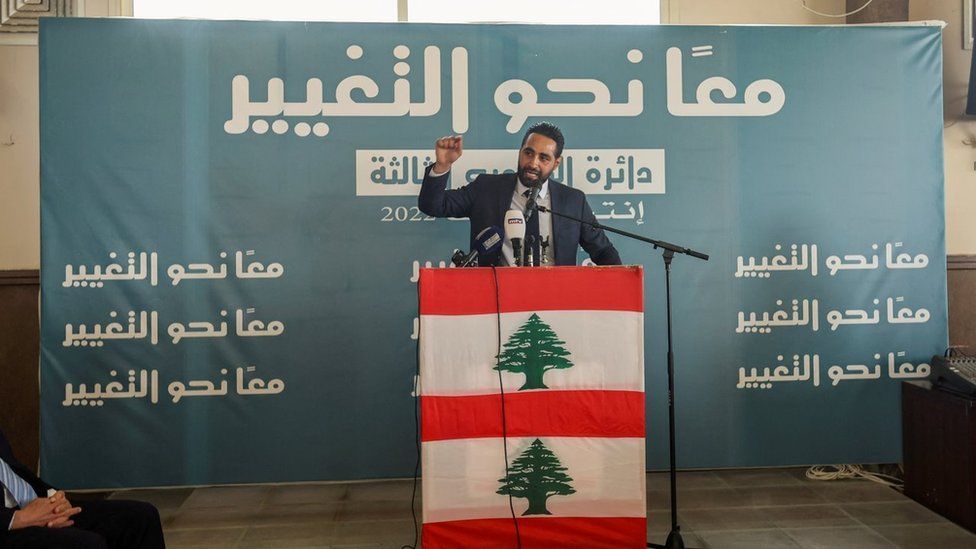 Firas Hamdan, a lawyer and rights activist, was one of the independent candidates who emerged victorious

This time, there's a new group at the table - the independents. These are the individuals and parties who are anti-establishment, and they've surged to 13 seats. Many of these political newcomers found their voices during that 2019 revolution, or "thawra" as it's known in Arabic. Many started out protesting outside Beirut's parliamentary buildings, and now they'll be working inside them.

Now the results have been counted and confirmed, what comes next? Most likely, a long period of protracted negotiations to try to build a government. For those weeks, even months, Lebanon will carry on struggling to pull itself out of its deep financial crisis.

But when the politicians aren't sitting in cabinet or passing laws, there's almost no chance of change. After the Beirut port blast the country was without a government for more than a year. For a country desperate for international financial support, that's a huge problem. Institutions are understandably reluctant to give huge cash handouts to nations that don't even have a functioning administration.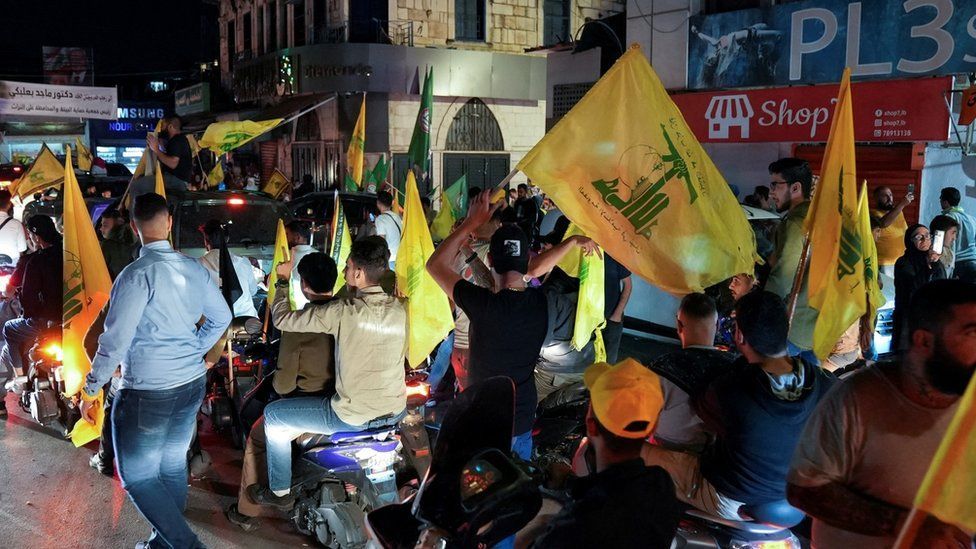 All of Hezbollah's candidates held on to their seats, but some of their long-time allies lost out

Lebanon's complex parliamentary system is rigid and hard to change. It was designed that way though, to bring stability to the country after the civil war. It divides up power along sectarian lines, and everyone is guaranteed a slice of the political cake. But without a majority, Hezbollah's sectarian alliance will feel a real difference. They'll have to negotiate - and compromise - far more than they're used to.

It'll be crucial to watch Lebanon's north too, the Sunni Muslim heartlands. Their totemic figurehead - former prime minister Saad Hariri - announced he was stepping away from politics ahead of this election. He urged members of his Future Movement not to stand as candidates, and his supporters not to vote at all.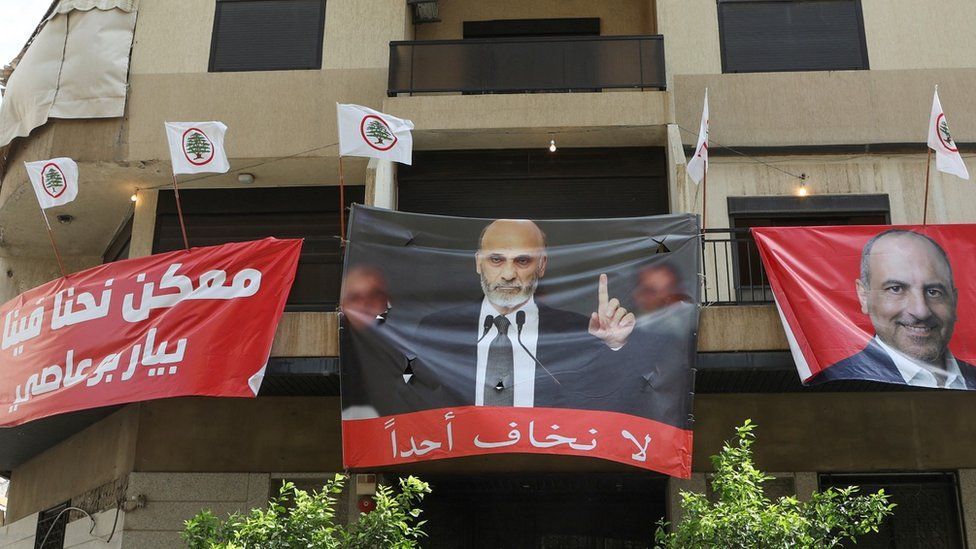 A Lebanese Forces banner in Ain al-Remmaneh shows Samir Geagea above the slogan: "We fear no-one"

In that potential vacuum the Lebanese Forces moved in, offering an alliance with the Sunni bloc. And that powerful new coalition might decide to send a message. Gulf countries have long been pushing for Hezbollah's military wing to disarm, but it has always said it won't give up its weapons, and that it's a red line.

Could an emboldened Saudi-supported bloc with a powerful former warlord leader - Lebanese Forces head Samir Geagea - decide to bring its Iranian-backed rivals into line? It's a dangerous prospect, one which even has the potential to spark a new civil war.

At the heart of all this are millions of Lebanese lives. Children without food, and families without hope. So many times when I talk to people here they use the word "humiliation" to describe how they feel, and what their country has become. It's now a race for basic survival, perhaps a bigger job than any politician can take on - let alone those who've already proven they can't fix Lebanon's problems.
One year on from the Beirut blast