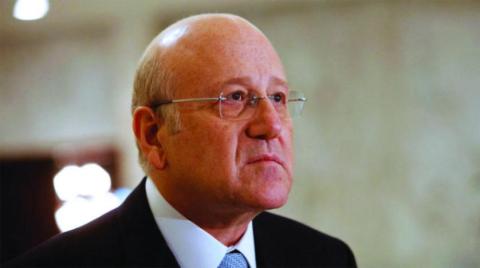 Rating Agencies Cite 'Cautious' Positive Outlook for Lebanon after Maritime Demarcation Deal with Israel
The conclusions of two international credit rating agencies agreed on the initial positive outlook for Lebanon and its economy following its signing of the US-mediated sea border deal with Israel.
"The agreement is credit positive for Lebanon because it establishes the necessary geopolitical security conditions for international energy companies to start exploration and the eventual recovery of Lebanon's hydrocarbon resources," Moody's stated in its latest report.

It affirmed that harnessing potential gas resources will help alleviate the country's chronic power deficit and kick-start an economic recovery.

Notwithstanding the improved geopolitical situation, domestic political risk remains pervasive, the agency warned.

"Lebanon's rating is likely to remain unchanged without comprehensive debt restructuring because of the extent of the country's macroeconomic, financial and social challenges and our expectation of very significant losses for private sector creditors in excess of 65%."

Moody's further noted that the agreement's final ratification by Lebanon's parliament allows exploration to begin at the Qana prospect on Block 9, a part of which crosses the maritime border's new demarcation line.

The agency said that exploration of the Qana field has yet to confirm any recoverable resources, noting that the recovery of any hydrocarbons in Lebanon would take about three to four years.

According to the report, the deal arrives just as Lebanon's power supply through the loss-making Electricity of Lebanon (EDL) utility is rapidly deteriorating because of its dwindling fuel supply although the government relies now on oil shipments from Iraq and is trying to finalize World Bank financing to begin importing gas from Egypt through the Arab Gas Pipeline.

The agency indicated that Beirut's capacity to access the World Bank funding hinges on its implementation of reforms, including an audit of the EDL and a shift toward more cost-effective tariffs.

The agency further considered the April 7 International Monetary Fund (IMF) Staff Level Agreement for a $3 billion, four-year Extended Fund Facility (EFF), as an opportunity for Lebanon to gain external support.

The specific reforms required to access the EFF include adopting appropriate legislation on capital controls, bank secrecy and bank resolution, as well as a decision toward unifying the multiple exchange rate systems.

It underlined the slow progress on these reforms since the parliamentary elections in May 2022. "A new government still needs to be formed to succeed the caretaker government of Prime Minister Najib Mikati."

It stressed that the parliament also has yet to elect a new president to succeed President Michel Aoun, whose term ends on October 31.

Lebanon's outstanding Eurobonds amount to nearly $31 billion, without calculating the suspended interest, all distributed over annual installments that extend until 2037.

In 2020, then-Prime Minister Hassan Diab said Lebanon will not pay a $1.2 billion Eurobond due on March 9 as its foreign currency reserves have hit critical levels and are needed to meet the basic needs of the Lebanese people.

In a televised address, Diab said Lebanon was not able to pay maturing debt in the "current circumstances" and would work to restructure its debt through negotiations with bondholders.

Therefore, the problem became also linked with completing the final agreement with the IMF.

Meanwhile, Fitch Ratings said the agreement reached on October 11 between Israel and Lebanon could facilitate the development of gas fields in the region and enhance long-term economic prospects for both nations.

The agency pointed out that such benefits could be positive for Lebanon's credit profile, in combination with a broader reform effort.

Nonetheless, at this stage, it warned that outcomes remain highly uncertain and the deal faces significant implementation risks.

Regarding Qana field, Fitch said the details of the agreement have not been published, but officials' statements indicate that Lebanon would get full rights over gas exploration and production there.

Israel would be remunerated for its rights to potential Qana reserves via the field's operator, the agency noted.

It stated that TotalEnergies leads a consortium that was awarded an exploration license in 2018 for blocks 4 and 9, where much of the Qana field lies.

Following the deal, the agency said Lebanon's caretaker prime minister called for TotalEnergies to begin gas exploration immediately.

It said prospects for gas production remain unclear.

"The Qana field's reserves are unknown. In 2020, drilling in block 4 did not reveal commercially viable gas volumes."

It warned that if production is possible, it would take years to launch and the development of an appropriate legal framework could be hampered by Lebanon's political environment.

Lebanon faces major short- and medium-term challenges in the interim, it noted.

"The IMF's Board has not yet approved disbursal of a $3 billion EFF as the government has not implemented the prior actions required," the agency explained.