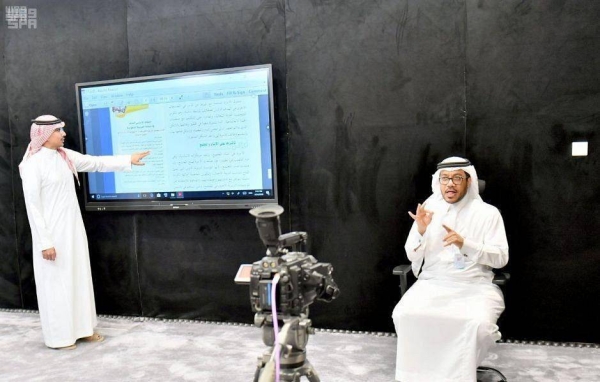 Saudi Arabia to have e-classes in all stages of general education starting new school year
Saudi Arabia's Ministry of Education has included e-classes in the school timetable for each stage of general education starting this academic year.
The decision to add e-classes has been approved as part of several newly introduced academic plans, which have been prepared after the ministry developed and improved the "Madrasati" platform ahead of the new academic year.

The ministry stated that there will be 20 classes as part of the e-learning activities in the school timetable at the primary level and 22 e-classes at the middle school level. The scheme will also apply to Saudi schools operating outside the Kingdom.

The ministry added that there will be 21 e-classes in schools in primary schools and 23 e-classes in middle schools for memorizing the Holy Qur'an.

As for the high school level, there will be 13 e-classes in the first joint semester and 12 e-classes in the second and third semester of the first year.

Additionally, there will be 12 e-classes in the second year of all special streams, including the general stream, the computer science and engineering stream, the health and life stream, and the business administration stream, while for the Shariah stream, there will be 11 e-classes.

The Ministry of Education has prepared 16 sets of electronic curricula to be used in the place of text books. These will be introduced starting from the new academic year.

The e-curricula will be applicable for several subjects at each school stage. In the 4th, 5th, 6th grade in primary schools, subjects such as life skills, digital skills, art, and the Qur'an recitation will have e-curricula.

For the middle school, life skills, critical thinking computer and information technology, art classes will follow e-curricula.

The joint first grade in secondary schools will follow e-curricula for subjects such as Tafseer1; critical thinking; digital technology1; and Arabic language1.

In the second grade in secondary schools, Tawheed1, art, physical education, and health culture in the general stream as well as Tawheed1 in the special streams will follow e-curricula.