After the lockdowns, closures and travel bans of the COVID-19 pandemic, which devastated tourism, entertainment and concert-going, 2022 saw what might be described as a mad dash to make up for lost time.
Even as the prospects of a post-pandemic economic recovery dim for the rest of the world owing to the war in Ukraine, the Gulf energy-exporting countries — particularly Saudi Arabia, the UAE and Qatar — are plowing back a good portion of their windfall profits into activities in the field of culture.

Over the past decade, these countries have invested billions in cultural enterprises, establishing new museums, exhibition spaces and music venues to boost tourism, economic growth and instill a sense of national pride.
The 3-2-1 Qatar Olympic and Sports Museum.
These investments appear to be paying off, with the Gulf states enjoying a cultural renaissance, propelled by both state-led and private patronage. This at a time when governments elsewhere in the world are slashing their arts budgets.
In the UK, for instance, leading galleries and museums have seen drastic cuts to their Arts Council England funding for 2023, while the former Arab cultural capitals of Damascus, Baghdad and Beirut, devastated by wars, instability and talent drain, are today mere shadows of their former selves.
When Saudi Crown Prince Mohammed bin Salman launched Vision 2030 in 2016, he placed culture and the forging of a new creative economy at the center of the Kingdom's development agenda.
The plan was to diversify Saudi Arabia's economy away from oil and gas and to implement economic, educational and administrative reforms along with social transformation.
Since it was established in 2018, the Ministry of Culture has spearheaded a growing roster of cultural events around the Kingdom and internationally. In 2021, it reported that Saudi Arabia had hosted 100 cultural events led by 25 new cultural organizations.
Among its recent and forthcoming highlights are the Diriyah Contemporary Art Biennale, first held in December 2021, and the Islamic Arts Biennale, due to open on Jan. 23 in the Hajj Terminal at Jeddah's King Abdulaziz International Airport.
According to the ministry's "Report on the State of Culture in the Kingdom of Saudi Arabia 2021: Culture in Public Spaces," some 10.5 million domestic tourists visited the nation's cultural sites in the first 10 months of 2021 — exceeding the 8.5 million total for 2019.
In December, the ministry opened a cultural center, Fenaa Alawwal, at the former headquarters of the Kingdom's first commercial bank in Riyadh. It established the center as part of its effort to fulfill the Vision 2030 goal of "encouraging culture as a way of life."
The center, which will be used for a range of cultural activities, aims to bring together Saudi and international creatives.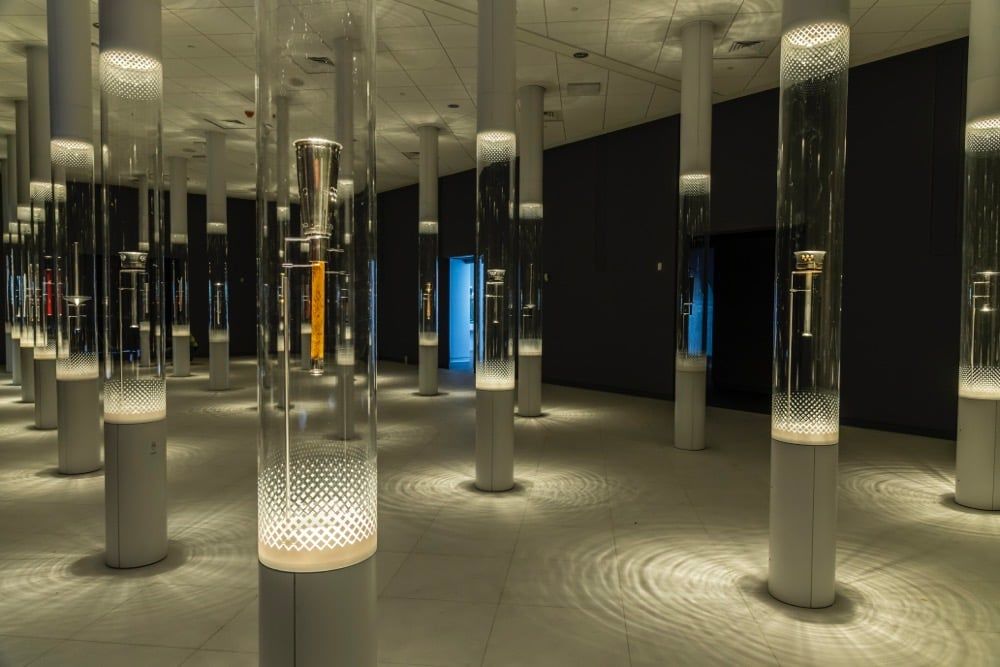 The 3-2-1 Qatar Olympic and Sports Museum opened in Doha last year.

While the idea of a renaissance signals a flourishing of artistic activity, it also points to the idea of breaking down barriers, providing a platform for the free exchange of ideas.

"In history, there are many turning points which have been important to artistic movements, from the Renaissance in Italy to the Nahda in the Arab world, all of which have been characterized by immense creativity and a blossoming artistic scene," Manuel Rabate, director of the Louvre Abu Dhabi, told Arab News.

"It is undeniable that the Gulf has undergone significant cultural development in recent years, and this is powered by continuous investment, cross-cultural collaborations, and recognition of the importance of culture and arts in building a deeper understanding and fostering dialogue."

The social transformation in the Kingdom is nothing if not palpable. From gigantic raves in the desert to festivals such as Riyadh Seasons, art biennales and film schools, the process is inspiring creative thought and intercultural dialogue.

"For the community there's certainly an increase in the variety, quantity and quality of art exhibitions in every major city in Saudi," Qaswra Hafez, founder and director of Jeddah's Hafez Gallery, told Arab News.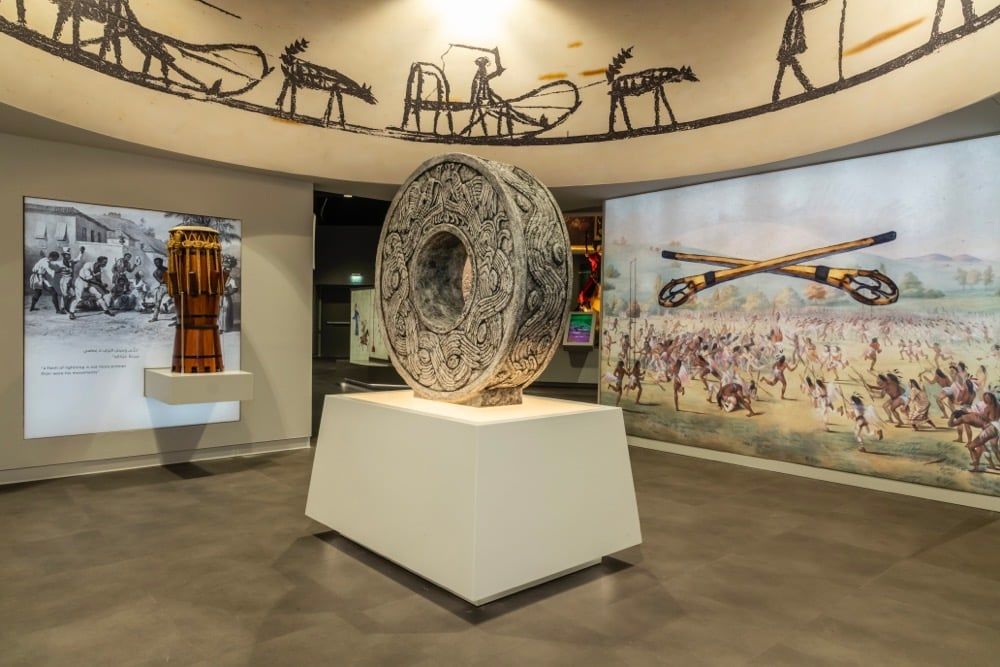 "We are contributing like we always have, by producing professionally curated exhibitions, mainly for Saudi artists, and by facilitating exposure for our artists through participating in local, regional and international art fairs."

Saudi Arabia's neighbor Qatar has its own state-led cultural plans. For more than a decade, Qatar has been investing billions in its cultural scene, which has developed in parallel with the country's hosting of the FIFA World Cup in 2022.

Its goal, like that of Saudi Arabia, is to move its economy away from an overreliance on petroleum and natural gas and toward tourism and cultural activities.

At the helm of Qatar's culture drive is Sheikha Al-Mayassa Al-Thani, a global art patron and collector and sister of the emir, Sheikh Tamim bin Hamad Al-Thani.

In March 2022, Sheikha Mayassa announced that Qatar would build three new museums — the Lusail Museum, Art Mill Museum, and the Qatar Auto Museum.

The new venues will be operated by Qatar Museums, a government entity founded in 2015 to oversee cultural institutions, including the Mathaf Arab Museum of Modern Art and the Museum of Islamic Art.

"Culture is the most powerful tool. It has no religion, no language; it's just open," wrote Sheikha Al-Mayassa in her book, "The Power of Culture," published in 2022. But, as she stressed in her 2014 TED talk, art and culture are also about building a national identity.

"We are revising ourselves through our cultural institutions and cultural development," she said at the time. "Art becomes a very important part of our national identity."

Reem Al-Thani, acting deputy CEO of exhibitions and marketing and director of centralized exhibitions at Qatar Museums, says there is a strong desire to share the nation's cultural identity with the outside world.

"We want to present our history and the larger context of our nation; it is not just that all of sudden we are here because of oil," she told Arab News.

"This is who we are. This is our history, this is where we come from, these are our traditions, our wisdoms and our intellect.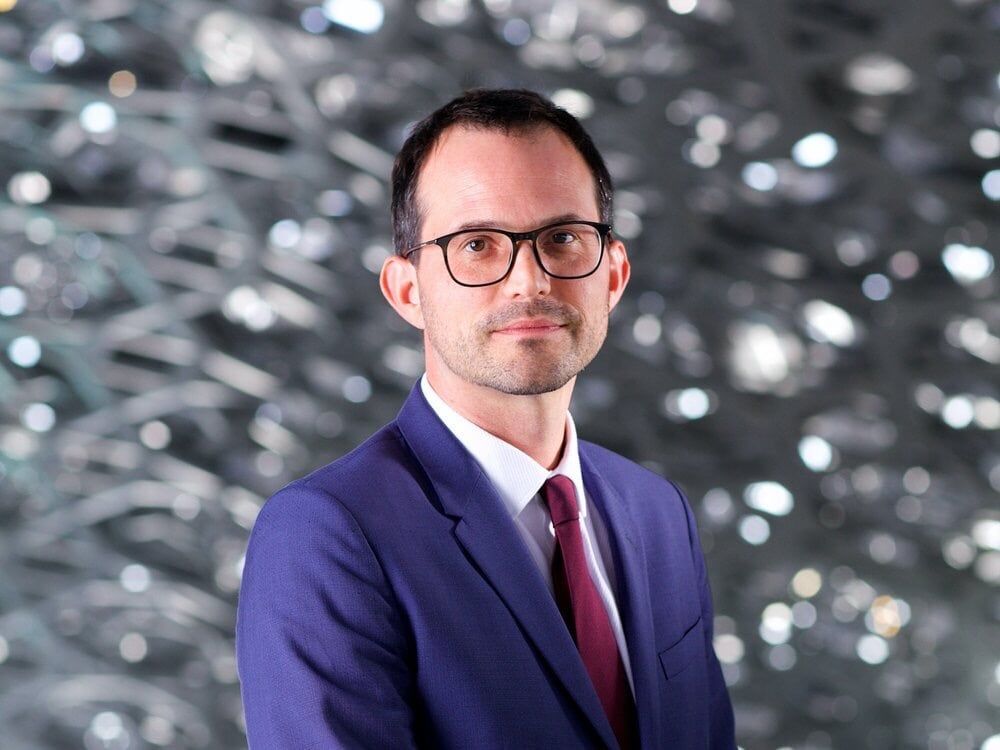 "It is undeniable that the Gulf has undergone significant cultural development in recent years," said Manuel Rabate, Director, Louvre Abu Dhabi.

"It is also the role of the museums to present this in a very succinct manner. We also want to make sure the present Qatari generation understands their past."

For more than a decade, the UAE has been pursuing a similar strategy, while at the same time trying to attract big-name international galleries to the Arabian Peninsula.

The Saadiyat Cultural District in the UAE capital is home to the Louvre Abu Dhabi, which opened in 2017 as part of a $27 billion tourist and cultural development project on Saadiyat Island

It is also home to the Guggenheim, due for completion in 2025, the Abrahamic Family House, due in 2023, and the Zayed National Museum, due in 2025.

"All of these museums represent the UAE's commitment to cultural development and its desire to be a global leader in the arts," Rabate told Arab News.

The UAE, like Qatar and Saudi Arabia, has implemented state-funded plans to grow the cultural sector and its contribution to the economy.

In 2018, the UAE's cultural authorities agreed to a country-wide cultural strategy that would work in "a more strategic, sustainable and ambitious direction," dubbed the Culture Agenda 2031.

The UAE's National Strategy for the Cultural and Creative Industries, launched in 2021, aims to increase the contribution of the cultural and creative industries' sector by 5 percent of gross domestic product by 2031.

Among its principal aims are "strengthening the UAE's position on the global cultural and creativity map" and to "inspire creative thinking and attract cultural talents and creative entrepreneurs from around the world."

The road map places a strong emphasis on business and entrepreneurship with objectives that include "attracting freelancers and creative start-ups to set up, live and work in the UAE."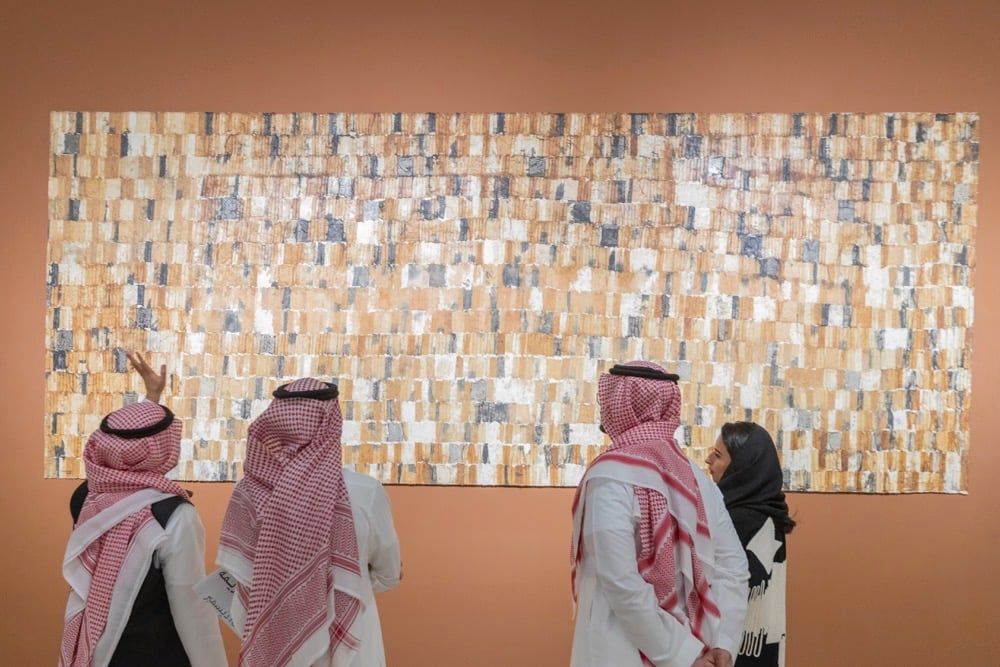 MISK Art Week in Riyadh.

The private art sector in Dubai in particular has been spurred on by the arrival of foreign players. Of note are the number of international galleries that have opened in recent years, including that of the French art dealer Emmanuel Perrotin, who opened his first space in Dubai in 2022.

Others, such as Efie Gallery, Dubai's first African-owned contemporary art gallery, was launched in 2021 with a mission "to be at the forefront of the rapidly burgeoning contemporary African art scene worldwide," according to its co-founder Kwame Mintah.

"The selection of Dubai as our first location is due to the relative nascence of the local art scene here, which in turn has offered the perfect terrain for expansion and innovation," he told Arab News.

Foreign gallerists are not only flocking to Dubai to participate in the UAE's cultural expansion; they are drawn to the welcoming business environment opening up across the Gulf.

"It is the ease of doing business here — probably easier than anywhere else in the world — as well as the huge government support that made us open here," Indian collector and art entrepreneur Tushar Jiwarajka, who launched Mumbai's Volte Art Projects in Dubai in September 2021, told Arab News.

"Dubai offers a relatively blank canvas in terms of its cultural landscape — it's one of the few places in the world where one can actually help shape the cultural landscape."