"Look how Salwa shows her teeth. She smiles!" says Palestinian vet Rakan Silous, patting a hefty, brown donkey. "Everyone here has a different character."
"Jo loves to be brushed, to be cuddled," he says, moving on to a grey creature with dark tufty ears. "And Melanie's so calm. She enjoys a leg rub."

As I hand out chunky carrots, I am quickly surrounded by 30 friendly donkeys at a shelter in Nablus.

It is the only one of its kind in the occupied West Bank and is run by the UK charity Safe Haven for Donkeys.

While donkeys are often associated with biblical times, particularly the Nativity story, many Palestinians still rely on them for agriculture and transport.

However, there is an ongoing problem with the animals being ill-treated and abandoned.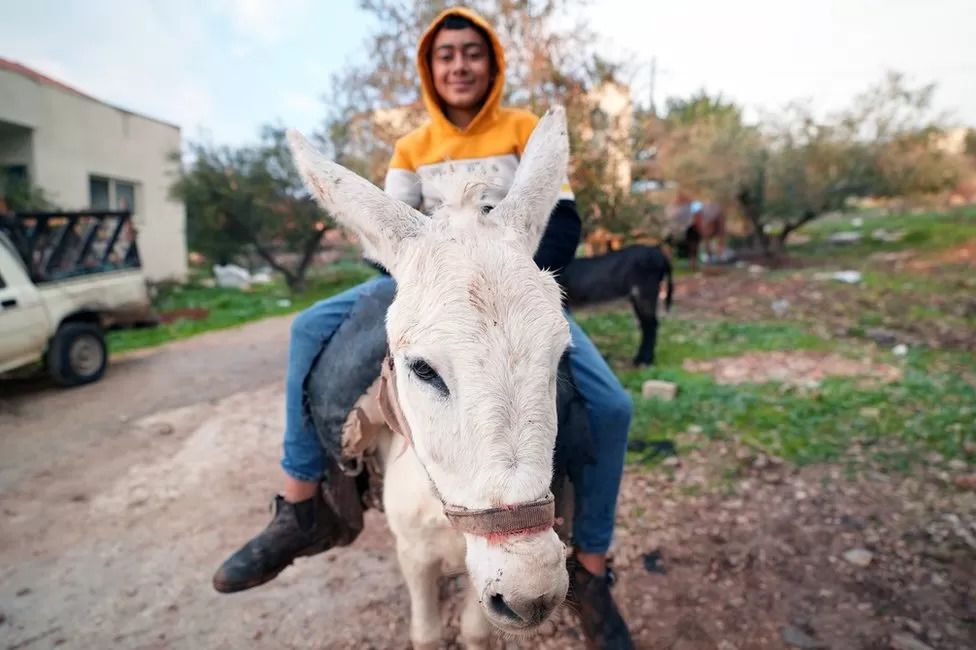 Many Palestinians rely on donkeys for agriculture and transport
"Because most have a cheap price, if they get injured or sick the farmer doesn't have the money to pay veterinary bills," Dr Rakan explains. "Often they're just thrown in the street."
At the shelter, all the donkeys are well fed, groomed and healthy, but some bear the scars of past abuse.
Ivy, who is about 18, was left blind in one eye after being hit with a stick by children.
The latest arrival is a fluffy foal thought to have been abandoned so that her mother could work. Young donkeys are often unwanted as they are expensive to raise.
Long line of patients

On the day I visit, Dr Rakan and his assistant Nur set off in their van, which acts as a mobile clinic, as they do five days a week.

Each year, the charity carries out about 14,500 free treatments - of working donkeys, mules, horses and the occasional camel, goat or sheep.

"I know most of the donkeys of the West Bank," the vet says. "We try to revisit places every three or four months."

On our way north to Burqin, we drive past rolling green hills studded with olive trees and pull over to check on two donkeys walking with a shepherd. They are given deworming treatment and padded nosebands.

In the village, a long line of equine patients is waiting. Many are suffering from easily treatable conditions such as overgrown hooves and bad teeth.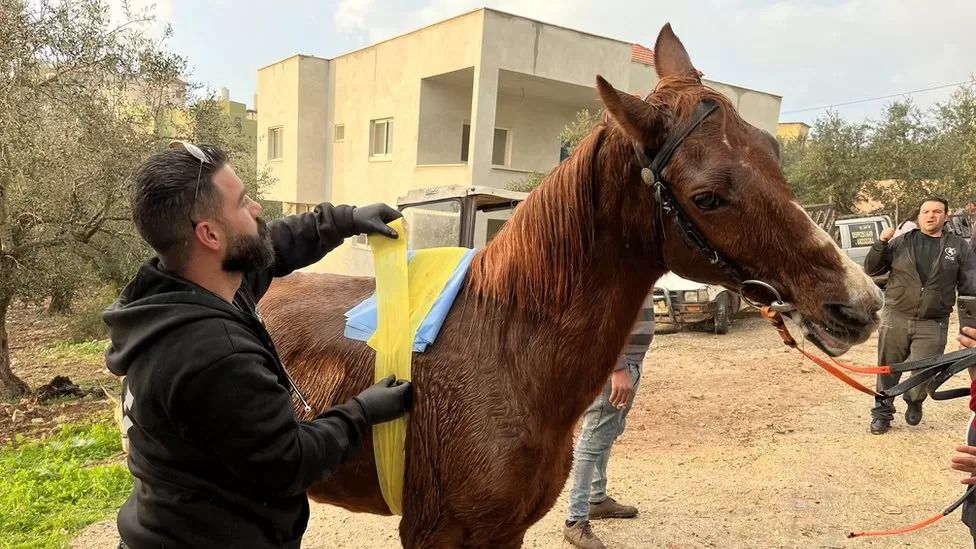 Palestinian vet Rakan Silous treats a horse with a saddle sore

However, one white donkey rears up in pain as its head is touched. Its makeshift bridle has cut into its flesh, resulting in an infected wound.

"The elderly owner didn't want to bring him," Dr Rakan tells me, as he fits the donkey with a new bridle and applies antiseptic cream.

"But after we visit a location a few times, even hard-minded people start to get the point that we're professional and here to help."

There are some other distressing cases: a horse with its stomach bloated from a severe parasitic infection and another needing surgery for a deep saddle sore.

Dr Rakan also treats the grazes of an Arabian horse which has injured its side after it was blinded in one eye by a stick.

"The challenge is to reach the hearts of people," the vet says, as he tries to convince the villagers not to hit their animals and advises on welfare.

'Donkeys are very smart'

Back at the shelter, more carrots are handed out and there is a fond pat for a handsome, grey donkey called Nicolle.

He was bottle-fed by Dr Rakan when he arrived as a foal and now follows him like a dog. While some donkeys are adopted, he admits that he could not bear to part with his favourite.

In Arabic, it is common to call someone "a donkey" as a shorthand for stupid. However, the vet says nothing could be further from the truth.

"Donkeys are very smart. They can remember voices for years and the right places to put their feet as they walk through the mountains," Dr Rakan says.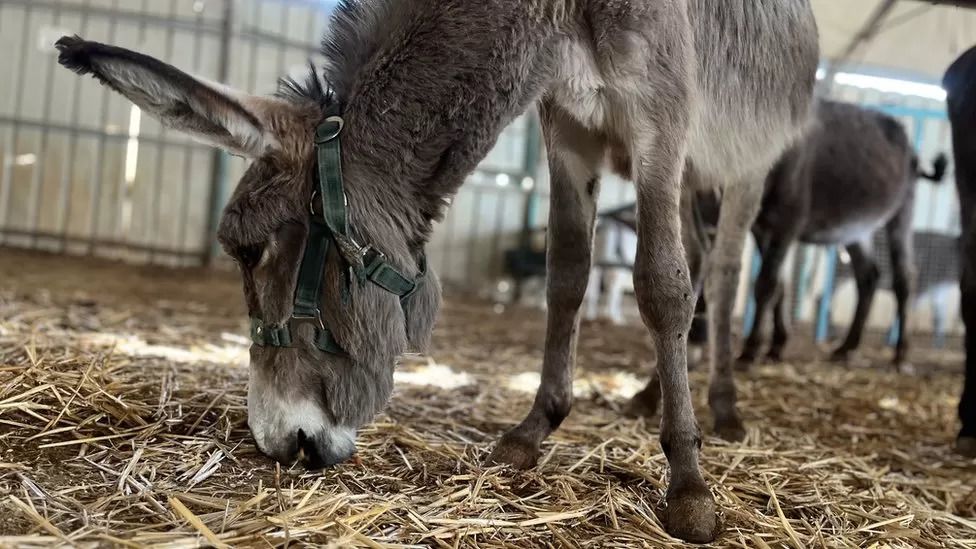 Each year, Safe Haven for Donkeys carries out about 14,500 free treatments

Trained nearby, at An-Najah University, the vet has worked with Safe Haven for Donkeys for a decade. With his team, he also carries out weekly veterinary checks at the Nablus animal market and tries to educate schoolchildren.

This year, the charity has started a new mobile clinic in the southern West Bank. All its services, costing about £10,000 ($12,100) a month, are paid for by donations.

Through the centuries, donkeys have been a feature of the local landscape, used as beasts of burden. The hope here is that with better health and husbandry, their loads can be made lighter.

And there is no mistaking Dr Rakan's dedication.

"Often I come for a check-up, and I stay here just watching the donkeys enjoying their time," he admits. "That's how I relax."
WATCH: Saving donkeys in the Holy Land