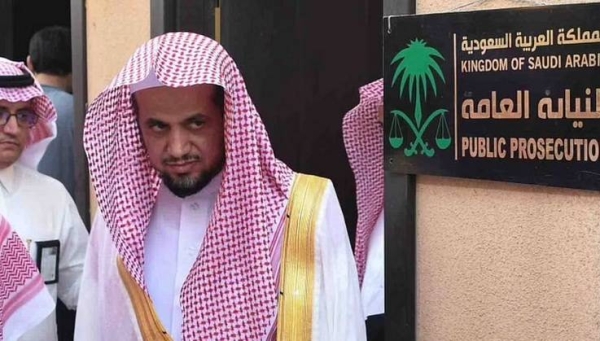 15 years in jail, SR1,00,000 in fine for trafficking in persons
Saudi Arabia's penalty system has introduced punishments against the perpetrators of the crime of trafficking in persons which include imprisonment for a period not exceeding 15 years, a fine not exceeding SR1 million, or both, Attorney General Sheikh Saud Al-Muajab said on Saturday.
He reiterated the Kingdom's leading role in protecting rights per its regulations and international treaties and charters approved by relevant agencies and confirmed by the provisions of the Basic Law of Governance.

In a press statement on the occasion of the World Day Against Trafficking in Persons, which falls on July 30 each year, the Attorney General said the Kingdom has legislated special regulations concerned with protecting interests in this regard.

He said Saudi Arabia has approved legal penalties against any violations, including the provisions of the Anti-Trafficking in Persons Law" which organized measures to be taken to combat these crimes, the penalties against their perpetrators, and assigned special rights and guarantees to the victims.

Sheikh Al-Muajab underlined the role of the Public Prosecution concerning the protection of criminal interests in this aspect, and what it entrusts to the victims of trafficking in persons, through allocating an independent prosecution to deal with crimes of trafficking in persons, inspecting the victims' shelters, investigating and prosecuting these crimes, and bringing the perpetrators to criminal accountability.

He also pointed out the training of members of the Public Prosecution on how to investigate such crimes, as well as the financial investigations accompanying such crimes, and the mechanism for interviewing victims per the latest international methods, and the punishment of those who initiate or contribute to these crimes, and the punishment of contributors to these crimes; if the crime was committed with their knowledge.

This is in addition to tracking and confiscating the proceeds of those crimes, and cooperating with the local and international police and judicial authorities to combat these cross-border crimes.

The Attorney General cited the Saudi efforts to combat the crime of trafficking in persons, through concerted action between government agencies, and governance measures to ensure the victims' necessary protection.

This is in addition to raising societal awareness on the impacts of this crime on society, adding that these measures contributed to limiting the spread of this crime.

The penalty is intensified if the crime is committed by an organized criminal group, or if it is committed against a woman, a child, or someone with special needs, and other aggravating circumstances stipulated by the system, which also included several other penalties, and emphasized that the consent of the victim is not counted in any of the crimes stipulated therein and that these acts are considered major crimes that require arrest.