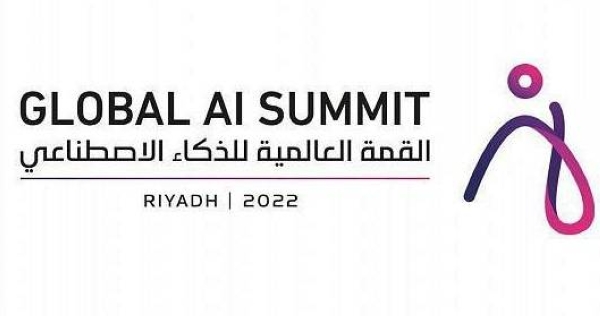 200 experts from 70 countries to speak at Global AI Summit in Riyadh
Saudi Arabia by hosting the 2nd Global AI Summit seeks to realize its aspirations in global entrepreneurship through an economy based on data and AI and underline the importance of international cooperation for the use of AI for the good of humanity and its role in realizing the UN 2030 Sustainable Development Goals.
The summit, under the patronage of Crown Prince Mohammed bin Salman, Deputy Prime Minister, Minister of Defense and Chairman of the Board of Directors of the Saudi Data and AI Authority (SDAIA), will be held under the theme "Artificial Intelligence for the Good of Humanity" at the King Abdul Aziz International Conference Center in Riyadh between September 13 and 15, 2022.

The event is considered to be an opportunity for stakeholders and experts in the field to benefit from the participation of more than 200 speakers from 70 countries, representing policymakers in AI, heads of global technology companies, and senior officials from Saudi Arabia, including ministers, to check on what is addressed in 100 work sessions on AI, multiple uses and its impact on the life of humans. A total of 3,000 people are expected to attend.

The summit is scheduled to go over all aspects related to AI technologies in terms of the current conditions, challenges and aspirations toward utilizing AI technologies in our daily lives to serve humanity. The summit will also include various presentations shedding light on the relevant research and technologies, exchanging expertise with international and local experts, and exploring investment opportunities related to AI technologies.

The summit will be discussing eight pillars, including: First, Smart Cities: How can we embrace AI to turn cities into accessible, personalized and human-centered ecosystems of digital citizens?

Second, Capacity Building: How can we reshape the future of human potential and social capital, from adaptive to multi-inclusive life-long education that fits everyone?

Third, HealthCare: How can we advance patients' ecosystems, identity and data, from drug research and development to future medical facilities, services and profiles?

Fourth, Transportation: From autonomous vehicles to seamless and traffic-efficient loops and logistics that connect future communities and individuals with seamless access to everything.

Fifth, Energy: How can we embrace AI behind solar panels and energy efficiency technologies, fight climate change and build bridges between energy capitals?

Sixth, Culture: From Arabic AI to global role models and AI equity movement, how can we embrace the convergence of culture and AI, social science and technology?

Seventh, Environment: How can we leverage the convergence of AI and data science to analyze the planet, fight climate change, and build a better sustainable future? And eighth, Economic Mobility: From finances to economic and social institutions, how can we make our world more connected, decentralized and accessible for everyone?

Saudi Arabia is distinguished for its enriching environmental diversity according to global standards and invested in all means to preserve and develop it, including the utilization of AI to build cognitive cities that serve humanity in light of modern life as we can see in NEOM.

In this regard, NEOM is one of the main projects of the Saudi Vision 2030 that invests in AI to utilize it for serving humanity and building cognitive smart cities. NEOM seeks to offer a unique global model that realizes sustainability and ideal living in harmony with nature in reliance on advanced digital technologies.

The first edition of the summit, which was held virtually two years ago under the patronage of the Crown Prince, witnessed a remarkable global presence and attention, with views on social media networks exceeding five million.