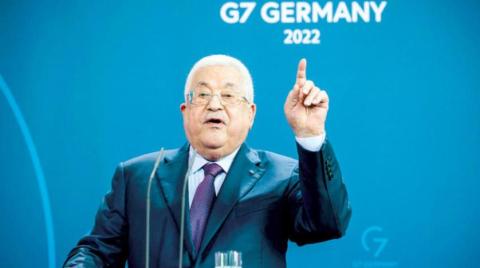 Abbas's Popularity Increases Following Statements Against Israel in Germany
The International Academic Campaign against Occupation and Apartheid published results of an online opinion poll on the popularity of Palestinian Authority President Mahmoud Abbas.
Results of the poll showed that Abbas's popularity increased following remarks last week in Germany and the subsequent Israeli campaign against him.

The e-poll found that 61.9 percent of respondents believed that Abbas's popularity has highly increased, 26.9 percent considered that this popularity has increased somewhat, and 11.2 percent said his popularity increased a little.

The Campaign said in a statement on Friday that the poll was conducted in light of the increased hate speech towards Abbas against the backdrop of statements in which he compared crimes committed by Israel against Palestinians to the Holocaust.

During a visit to Berlin on August 16, Abbas accused Israel of committing "50 Holocausts" in response to a question about the upcoming 50th anniversary of the attack on the Israeli team at the Munich Olympics by Palestinian militants.

However, his remarks were met with outrage in Israel and the West, particularly Germany.

Abbas later retracted his remarks and issued a statement calling Nazi Germany's Holocaust, in which 6 million Jews were killed, "the most heinous crime in modern human history."

However, the Campaign confirmed that the results of the poll, which was conducted on a sample of 198 cadres of academic and research elites in Palestinian universities, indicated support for 94.9% of the respondents.

It said that a similar rate of respondents saw that Abbas should not apologize for the Munich incident, while 0.02 percent opposed the position, and 5 percent didn't express any position in this regard.

The poll also showed that 85.9 percent of the academic and educated elites agreed on describing the Israeli massacres against the Palestinian people as the Holocaust.

Meanwhile, 7.1 percent opposed using this description and 7 percent of the respondents did not specify their position.

The poll also showed that 61.1 percent of respondents believed that the internal Palestinian position was homogeneous and unified in response to the hostile campaigns against Abbas, while 27.8 percent of the respondents expressed their reservations about the unity and homogeneity of the internal position.

The Campaign was launched in 2021 following the Israeli government's threats to annex the Jordan Valley and impose the "Deal of the Century."

It is a coalition of Palestinian, Arab, and international academics, which was founded to oppose this idea through scientific research, seminars, workshops, translations, and media activity to provoke local, Arab and international public opinion against the Israeli threats.