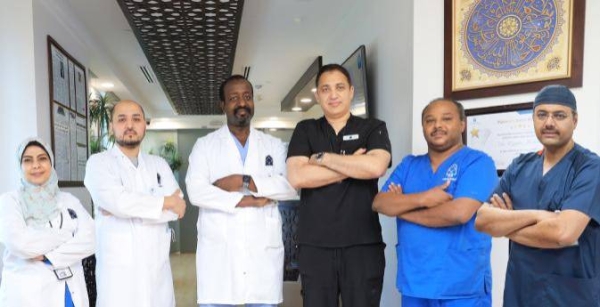 Based on interventional radiology, rare and complex operation for a young man with liver cancer at IMC
A thirty-year-old patient with stage IV liver cancer arrived at the International Medical Center (IMC) for treatment. After running several Investigations, cancer was detected in the right part of the liver.
The treatment plan initiated with chemotherapy. The cancer was not spread outside the liver, the diseases part of the liver had to be removed. The first challenge in resecting the affected part was leaving enough liver behind to maintain liver functions, for that, the interventional radiology team performed right portal vein embolization for the diseased right liver lobe allowing blood to divert to healthy left liver lobe which led to sufficient left liver lobe growth to maintain liver vital functions in three weeks. It was successfully completed, thanks to God, due to the presence of advanced equipment with distinguished interventional radiology team who are qualified to deal with such difficult and delicate cases.

The first challenge of the resection was the size of the large tumor, which reached 17 cm or about 70% of the total volume of the liver. Another challenge is the connection of the liver with the surrounding structures, as it is an organ with many blood vessels. The operation was very complicated.

Usually, this type of operation requires a center specialized in the treatment of liver and bile duct tumors, and specialized teams. But seeing IMC's great capabilities and global diagnostic, therapeutic, and surgical expertise, it has become one of the leading places for performing these rare and complex operations. The operation took six hours. The pain was controlled by anesthesia team using spinal catheter. This has helped the patient to recover quickly, reduced his stay in the hospital.

The patient was then allowed to leave the hospital one week after the operation. Teams of medical professionals in anesthesia, surgery, oncology, and interventional radiology partook in the operation led by highly experienced and qualified physicians. The oncology team included Prof. Ezzeldin Ibrahim, Senior Consultant Oncologist, and Dr. Ahmad Rifai, Consultant Oncologist. The Radiology Team included Dr. Turki Ahmad Alhazmi, Interventional Radiology Consultant, and Dr. Mohammad Mohiuddin Bukhari, Radiology Consultant. The surgical team included Dr. Abdulelah Alhawsawi, and Dr. Tamer Bashir. The anesthesia team included Dr. Alia Said, in addition to the nursing.