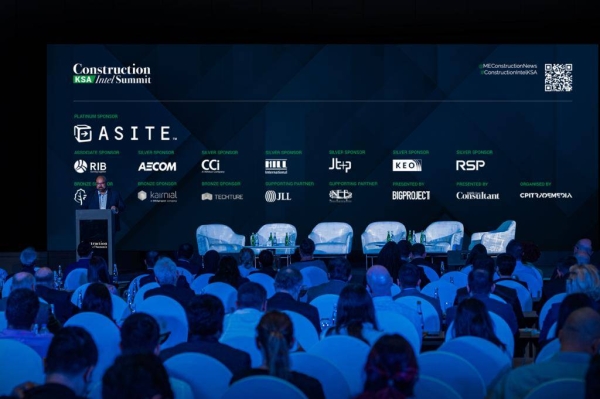 Construction Intel Summit – KSA to be held in Riyadh on November 23
In support of Saudi Arabia's vision for the future, which is being driven by its forward-thinking leaders and unifying initiatives such as Saudi Vision 2030, Big Project Middle East is hosting the Construction Intel Summit – KSA on 23 November 2022.
The landmark event will take place at the Al Faisaliah Hotel in Riyadh, Saudi Arabia and will bring together leading developers and construction firms from within the Kingdom and the broader GCC to showcase and discuss the exceptional developments taking place in Saudi Arabia today.

Initially launched as a virtual event in 2021, the Construction Intel Summit – KSA will offer attendees an in-depth look at the challenges and realities facing the country during an unprecedented period of growth and development.

Focusing on the construction, real estate, infrastructure and energy sectors, the Construction Intel Summit – KSA will bring together leading experts, decision-makers and innovators from the contracting, consultancy, developer, and government segments of those industries. Registration is complementary but mandatory for construction professionals wishing to attend.

The day-long event will comprise panel discussions, presentations and will offer delegates in-person networking with regional movers and shakers. The event will focus on three key themes:

Visionary Designs: Design considerations and procurement strategies to achieve Vision 2030

Project Interfaces: Integrating multiple contract packages and sequencing workflows on the Kingdom's gigaprojects

Enabling Saudisation: Providing pathways of growth and development to Saudi Arabia's burgeoning talent pool of Saudi construction professionals

"Saudi Arabia is a magnet for the regional construction industry, with every major consultant and contractor eyeing a piece of the pie in the Kingdom. However, there also exists a robust and self-sufficient construction sector within the country, so competition for work is going to be fierce and sustained. Furthermore, there is going to be a serious demand for resources and labour – the question about whether the Kingdom's supply chain can cope with the demands being placed upon it by the many gigaprojects is one that needs to be answered," said Gavin Davids, Head of Editorial and Content at Big Project Middle East.

"The Construction Intel Summit – KSA is an opportunity for industry professionals to hear from experts about how these concerns are being addressed, and how the sector needs to adapt and challenge itself to overcome these obstacles. Work is already well underway on a number of large-scale, iconic projects – but we need to be mindful of the impact these projects will have and what the rapid transition that is taking place will have on Saudi Arabia's people, culture and environment."

Registration is free for construction professionals wishing to attend. Industry professionals interested in attending or participating in the event can visit: https://2022.constructionintelsummit.com for more information and to stay up to date with the latest announcements and developments with regards to the Summit.