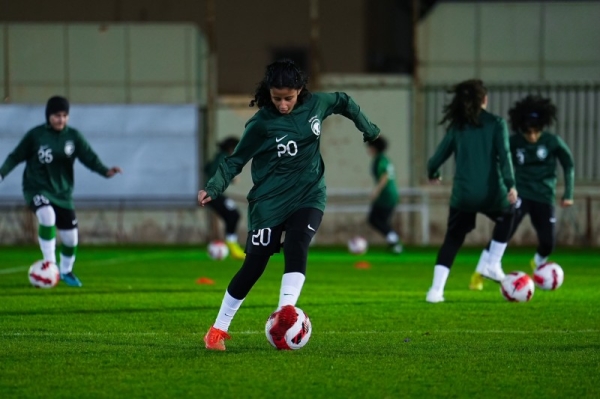 Croatian coach Stella Gutal starts training Saudi under-17 women's football team
The Saudi Arabian Football Federation (SAFF) launched the national under-17 women's football team, led by Croatian coach Stella Gutal.
The first training camp for the U-17 national team kicked off on Thursday in Riyadh, and will continue until Saturday, Feb. 4. The second camp will be during Feb. 9-11, in preparation for the upcoming events.

The junior females of the national team held their first training session under the supervision of Croatian coach Stella Gutal, who called in 28 players: Batool Al Nasser, Rand Al-Zahrani, Lilian Al-Harbi, Jana Al-Mojel, Munira Al-Ghanam, Fajr Saad, Jana Salama, Maria Baghfar, Lulwa Musa, Noof Al-Atawi, Hana Ismail, Dima Sheikh, Diala Al-Sabban, Suhair Batouq, Layan Al-Yafei, Majd Al-Otaibi, Maya Al-Zahrani, Lama Al-Rumaizan, Fajr Saqqaf, Basma Al-Shanifi, Haya Al-Sheikh, Lulu Al-Jaweni, Fatima Mansour, Hessa Al-Qabbani, Lian Sarsar, Lulu Saleh, Hala Al-Shudoukhi and Ghadi Al-Otaibi.

Six players on the list are from the Women's Premier League, while five others played in the Women's First Division League. Thirteen players are from regional training centers in various regions of the Kingdom.

Alia Al-Rasheed, Director of the Women's Football Department in the Saudi Federation, affirmed the federation's keenness to harness all capabilities to move forward and make achievements in women's football in the near future.

She said that the junior women's team was constituted after several stages of performance tests for players coming from regional training centers and school leagues.