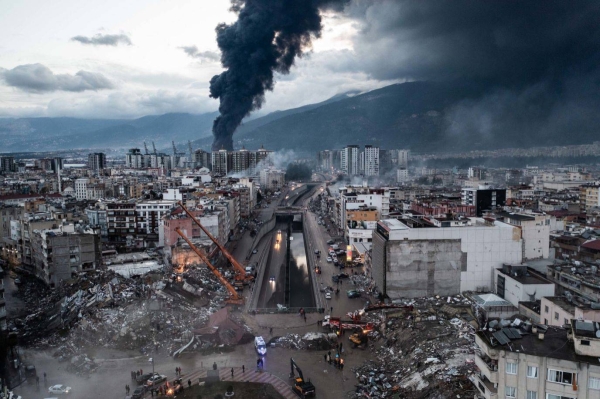 Death toll in Turkey and Syria tops 11,000 as quake rescuers race against time
The death toll from the devastating earthquake that hit Turkey and Syria has reached at least 11,104, according to authorities.
In Turkey, the death toll has risen to at least 8,574, with nearly 50,000 others reported injured, Turkish President Recep Tayyip Erdogan said in a televised briefing Wednesday, during a visit to disaster areas near the epicenter of Monday's earthquake.

In Syria, at least 2,530 people have been reported killed across the government-controlled areas and rebel-held regions, officials said.

The Syrian Civil Defense, known as the "White Helmets," said on Tuesday that the number of fatalities in rebel-held areas in northwest Syria rose to 1,220 and the number of injured people rose to 2,600.

Aid agencies and emergency workers say the death toll is likely to increase further with many people still trapped under the rubble, and freezing weather conditions hampering rescue efforts.
Search teams and aid poured into Turkey and Syria on Tuesday as rescuers working in freezing temperatures and sometimes using their bare hands dug through the remains of buildings flattened by the powerful earthquake

But with the damage spread over a wide area, the massive relief operation often struggled to reach devastated towns, and voices that had been crying out from the rubble fell silent.

"We could hear their voices, they were calling for help," Ali Silo said. His two relatives could not be saved in the Turkish town of Nurdagi.

In the end, it was left to Silo, a Syrian who arrived a decade ago, and other residents to recover the bodies and those of two other victims.

Monday's magnitude 7.8 quake and a cascade of strong aftershocks cut a swath of destruction that stretched hundreds of kilometers across southeastern Turkey and neighboring Syria. The shaking toppled thousands of buildings and heaped more misery on a region wracked by Syria's 12-year civil war and refugee crisis.

Those figures are "expected to rise significantly due to the presence of hundreds of families under the rubble," the group added.

"Our teams continue search and rescue operations amid difficult circumstances," it said, describing a tally of more than 400 collapsed buildings, more than 1,300 partially collapsed buildings and thousands of others that were damaged by the early morning quake.

At least three British nationals are missing following the earthquake that struck Turkey and Syria, according to the UK's foreign secretary, James Cleverly.

While speaking in the Commons, he said: "As of this morning, we know that three British nationals are missing and the Foreign Office's Crisis Response Hub is working to support the at least 35 British nationals who have been directly affected by these earthquakes."

Natalie Roberts, UK executive director of Doctors Without Borders, has a team in Syria. She told the BBC that they unfortunately lost a colleague in the rubble.

"It's a catastrophe on top of a catastrophe. In these parts of Turkey, in places like Gaziantep, there are millions of Syrian refugees living often in not very robust accommodations. It's a recipe for disaster."

Turkish goalkeeper Ahmet Eyup Turkaslan has died following Monday's earthquakes in his home country, his club Yeni Malatyaspor has confirmed.

"Our goalkeeper, Ahmet Eyup Turkaslan, lost his life after being under the collapse of the earthquake. Rest in peace," the club said on Twitter.

"We will not forget you, beautiful person," it added.

Turkaslan, 28, played six times for Turkish second division club Yeni Malatyaspor after joining in 2021.

One of the most shared videos on Twitter of the search and rescue efforts in Turkey and Syria has been viewed more than 1.3 million times. Multiple buildings are seen crumbling to the ground which the Twitter user attributes to the earthquake in Turkey.

But the video actually dates back to 2021 and shows the collapse of the Surfside condominium in Florida, which killed 98 people.

Ukraine will send an 87-strong search and rescue team to Turkey to "help eliminate the consequences" of the earthquake, according to the Ukrainian Cabinet office's website.

Earlier Tuesday, President Volodymyr Zelensky issued a separate decree instructing his Cabinet to "ensure the provision of humanitarian aid to Turkey."

Egypt's President Abdel Fattah el-Sissi phoned Syria's leader Bashar Assad Tuesday, offering condolences for earthquake victims. It was the first call between the two leaders in over a decade. In a statement, el-Sissi said his government would send humanitarian aid to Syria.