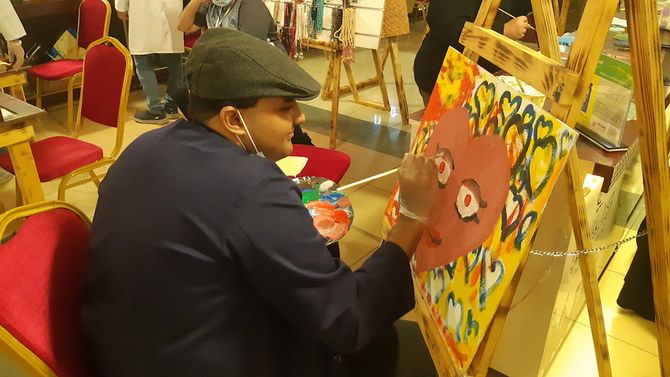 Disabled people in Jeddah showcase skills to Saudi labor market
Disabled people showcased their skills at an event aimed at promoting their integration into the Saudi labor market.
Held to mark Saudi Founding Day, Jeddah's Advanced Care Center for People with Special Needs organized an exhibition at the city's Red Sea Mall highlighting works in areas including information technology, carpentry, transfer and silkscreen printing, painting, and stencilling.

Speaking at the recent second International Conference on Twice Exceptionality, Saudi Minister of Human Resources and Social Development Ahmed Al-Rajhi said that initiatives to help people with disabilities in the Kingdom reflected the leadership's desire to provide them with equal opportunities.

Mohammed Al-Shareef, director of the Jeddah center, told Arab News that the event had been staged to showcase students' abilities and boost their chances of contributing to the workplace and society in general.

"The exhibition also aims to show how capable these people are, and how productive in the labor market they can be," he said.

He noted that the center had around 200 students engaged in high-quality programs to help them overcome challenges and raise the quality of their life.

"The center is operating under the direct supervision of the Ministry of Human Resources and Social Development. We provide our students with a variety of programs, such as rehabilitation, physiotherapy, speech therapy, occupational therapy, and psychotherapy," Al-Shareef added.

He pointed out that students at the center also received schooling, physical education, and took part in entertainment programs and other activities, all government funded.

Al-Shareef said: "They have mastered these professions and now we are hopeful that the visitors to this exhibition can trust these people's abilities to do different works. We can then introduce them to the domestic labor market."

Tariq Al-Jazea, 36, has had a debilitating chromosomal condition from birth and has attended the center for more than 10 years.

His sister Dania said: "We sent him to Jordan, where he lived for nearly seven years. There he learned how to rely on himself. He is now so organized. He gets up in the morning and makes his bed. He has his own favorite daily routine and rules that he never breaks.

"He daily commutes from home to the center with passion, and indescribable love. He has greatly changed. He is now more caring for his friends and more enthusiastic to learn something new," she said.