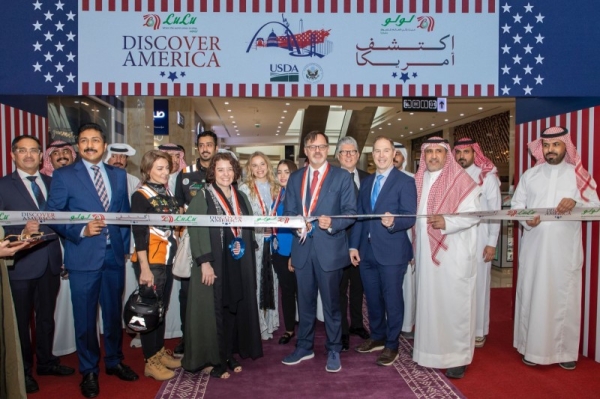 'Discover America' delights Lulu shoppers
More than 5,000 American products will be featured at Lulu Hypermarket stores across Saudi Arabia in honor of the "Discover American Food Festival."
The festival, which runs from November 16-22, was officially inaugurated at Atyaf Mall in Yarmouk, Riyadh, by the U.S. Deputy Chief of Mission at the U.S. Embassy, Denison Offutt and Lulu Group Saudi Arabia Director, Shehim Mohammed. Offutt was escorted to the entrance of the hypermarket by a motorcade of Saudi women riding their iconic Harley Davidson bikes, which are seen as an epitome of American biker tech.

The festival is a joint collaboration between the United States Department of Agriculture at the U.S. Embassy and the Lulu Group. This year, six local importers participated for the first time, and many of their products will be featured throughout the week. The festival will be inaugurated in Jeddah and Dammam with special guest appearances by Consul General Faris Asad and David Edginton, respectively.

The Discover American Food Festival is a celebration honoring the variety and bounty of American products available at LuLu. For example, the Hot Foods section will display foods that match the U.S. Thanksgiving Day celebration, which takes place ever year in the United States at the end of November.

Lulu hypermarkets will also offer great deals (in-store and online) on American fresh fruits and vegetables, meats and seafood, chilled products, cheeses, sauces, a wide range of breakfast cereals, ice cream, coffee, cake mixes, fruit juice syrups and condiments. Over 12 new brands representing 84 new items have been added to the growing list of American FMCG items in the store and now numbers more than 600 brands.

"The LuLu Group sources a lot of U.S. product through our American hub in Y International (New Jersey). This is reflected across our global network of 235 plus stores that offer a range of excellent food and non-food products from the United States," stated Shehim.

"The Discover American Food Festival is a great way for Lulu shoppers to explore and taste various popular products that are also featured in the United States."