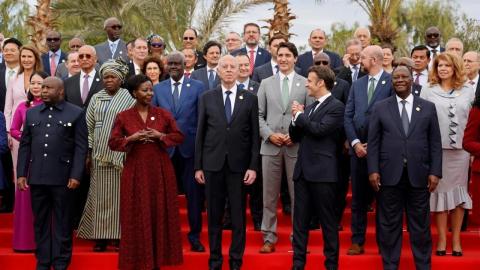 Leaders of French-speaking Countries Hold Summit in Tunisia
Around 30 leaders of French-speaking countries gathered Saturday on a Tunisian island to discuss debt relief, migration, food and energy shortages, with a soaring cost of living across Africa, Europe and the Middle East due to war in Ukraine as the backdrop.
French President Emmanuel Macron, Canadian Prime Minister Justin Trudeau and the presidents of six African nations were attending the 18th annual meeting of the 88-member International Organization of Francophonie in the southern Tunisian resort island of Djerba.

European Council President Charles Michel also was in Tunisia for the two-day summit, the organization's first gathering in three years following pandemic lockdowns and travel restrictions.

The meeting is normally held every two years.

Louise Mushikiwabo, the group's secretary-general and Rwanda's former foreign minister, said the participants plan to issue a final declaration on major political, social and economic issues after the summit ends on Sunday.

They will also focus on "ways to boost the use of the French language around Europe and in international institutions as its use declines compared to English," Mushikiwabo said.

The presidents of Senegal, the Ivory Coast, Gabon, Mauritania, Niger and Burundi are representing more than 320 million French-speaking people across the African continent, including Tunisia, organizers said.

The summit and a two-day meeting of the organization's economic forum next week are taking place amid tight security.

The world's French-speaking community is expected to more than double to 750 million in 2050.