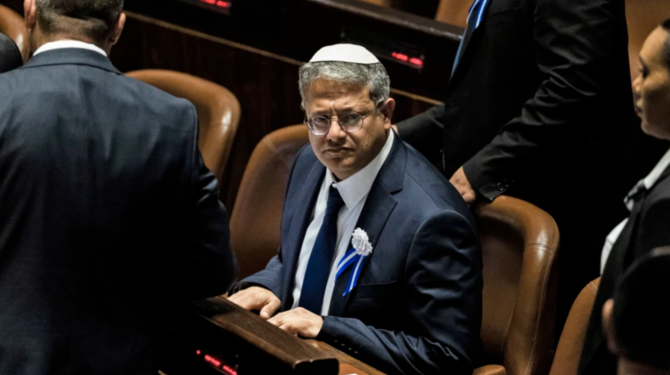 Far-right security minister begins drive to introduce stronger punitive measures for Palestinian prisoners
Israeli National Security Minister Itamar Ben-Gvir has initiated punitive measures against Palestinian prisoners in Israeli jails.
Ben-Gvir, who is also leader of the far-right Jewish Power party, announced in a tweet on Friday that he was proceeding with his plan to introduce the death penalty for prisoners found guilty of killing, or attempting to kill, Israelis.

The minister announced during his election campaign that he would push for the Knesset's adoption of the death penalty, and on Jan. 1 he said that he would ensure that conditions for Palestinians in Israeli prisons became worse, adding that Israeli prisons were like "summer camps," and that prisoners currently enjoy "comfortable and excellent conditions."

The minister also said he had visited Nafha prison — where new cells were recently built — to ensure that those prosecuted for killing Israelis would be imprisoned in conditions worse than those offered by the older cells. Ben-Gvir was accompanied by the head of the Israel Prison Service, Katy Perry, and other senior command staff, on his visit.

Nafha desert is one of the most strongly fortified Israeli prisons and is regarded as one of the harshest.

According to the Palestinian Commission of Detainees' Affairs, there were 4,700 Palestinian prisoners in Israeli jails at the end of 2022, including 29 women, 150 children, around 850 administrative detainees, 15 journalists and five deputies from the Palestinian Legislative Council. There are 330 prisoners who have been in jail for more than 20 years, and 552 prisoners serving a life sentence.

Ben-Gvir caused widespread international criticism of Israel after he stormed Al-Aqsa Mosque on Tuesday. On Thursday, former prisoner Karim Younis said in a phone call with Palestinian President Mahmoud Abbas that Palestinian prisoners were preparing to counter Israeli jailers' restrictions in the near future.

Qadura Faris, head of the Palestinian Prisoners Club, told Arab News: "We are taking seriously all threats issued by Ben-Gvir (regarding the targeting of) Palestinian prisoners, because he is part of the Israeli government. He will face a difficult reality, as the matter does not depend on what he decides.

"Prisoners are not baggage to be moved from one place to another, and any harm to them will lead to a major crisis inside the prisons," Faris continued.

Faris warned that such a crisis would likely escalate outside of prisons as Palestinians would not accept Ben-Gvir's "racist, hateful policies."

Senior Palestinian security sources told Arab News that the reason for the speed with which Israeli far-right ministers are implementing their crackdown against Palestinians is because they have realized that they may not have much time in power.

Meanwhile, the Israeli Cabinet discussed on Jan. 5 its response to the Palestinian appeal, via the United Nations, to the International Court of Justice in The Hague to give an opinion on the legal consequences of Israel's occupation of Palestinian territories.

The head of Israel's Coordination of Government Activities in the Territories unit, Ghassan Olyan, presented Cabinet ministers with a list of potential sanctions, including the withdrawal of VIP cards from senior officials in the Palestinian Authority, as well as wide-ranging economic sanctions. Sources in the Israeli security apparatus favor the former, saying that the measures should focus on Palestinian leaders rather than the civilian population.

Ibrahim Melhem, spokesperson for the Palestinian government, told Arab News that Israeli sanctions against the PA and its leaders have been introduced every time that the Palestinian leadership has attempted to refute "the Israeli narrative" on the international stage.

"Despite the threat of Israeli sanctions, the Palestinian leadership is determined to use international laws and diplomacy to protect its people, as what most frightens and terrifies Israel is holding it accountable in international organizations and courts," Melhem told Arab News.