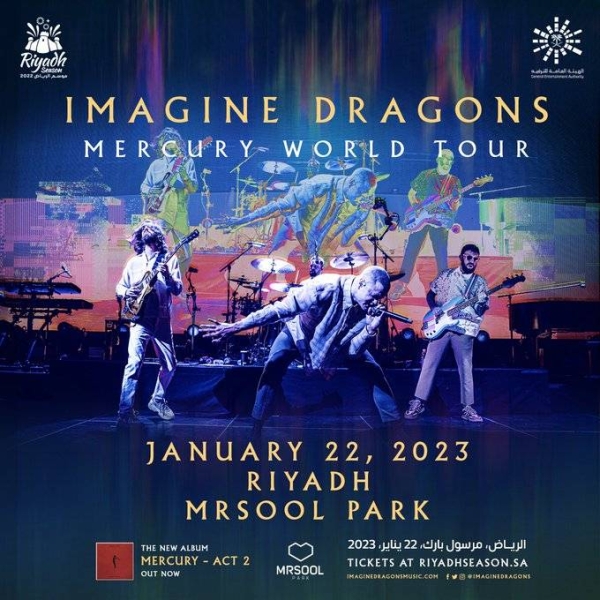 Imagine Dragons to perform at Riyadh Season on Jan. 22
Renowned American pop-rock band Imagine Dragons will perform in Marsool Park on Jan. 22 as part of the ongoing Riyadh Season.
The concert of international band is one of the largest rock bands in the world, especially after winning an International Grammy Award. Tickets for the fantasy concert will go on sale on December 6 at 4 p.m.

The songs of Imagine Dragons are in great demand around the world, as the band has made its mark strongly in rock music through albums that have achieved record sales, in addition to concerts that received a large attendance and great interaction, breaking several records. It is notable that they are the only band to obtain a Diamond classification for four singles, such as Radioactive, Demons, Believer, and thunder.

Imagine Dragons' concert at Riyadh Season 2022 is part of their world tour titled Mercury World Tour to celebrate the release of their new album Mercury, which contains a number of the most listened to songs, including Enemy, Bones, and Sharks.

Imagine Dragons performed for the first time in Saudi Arabia at the Formula E-Prix in Riyadh in November 2019. The pop rock band from Las Vegas, Nevada, consists of lead singer Dan Reynolds, guitarist Wayne Sermon, bassist Ben McKee, and drummer Daniel Platzman.

They are known for their powerful and impactful music throughout the world. The band first gained exposure with the release of their single 'It's Time.'

The Imagine Dragons concert is one of more than 8,500 days of events organized by the Riyadh Season 2022, in addition to more than 150 musical performances, seven

international exhibitions, 17 Arab plays, and 8 international performances.

The season also organizes more than 108 interactive experiences and provides in its entertainment areas 240 stores, 252 restaurants, and cafes, and fireworks show throughout the days of the season, in addition to the WWE show, and a global football match.

These activities are being held in 15 zones, each of which is characterized by a variety of activities including stores, cafes, restaurants, games, theaters, and a number of new global experiences.