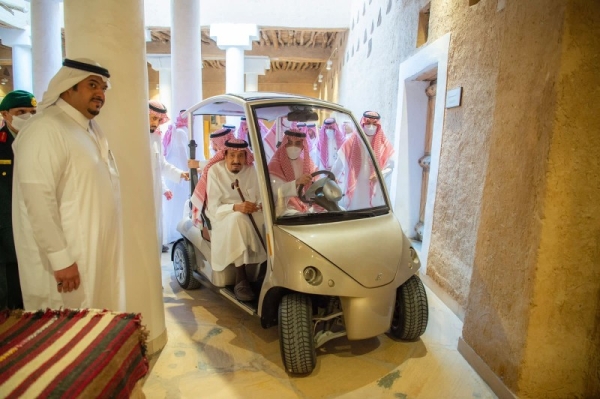 King Salman visits historic Qasr Al-Hukm in Riyadh
Custodian of the Two Holy Mosques King Salman visited on Thursday the enormous Qasr Al-Hukm area in Riyadh, which included the headquarters of the Riyadh Emirate and Al-Masmak Palace.
The King toured the emirate building, during which he reviewed the history replete with remarkable achievements, while he was the emir of the Riyadh region for a period of five decades.

The Monarch also visited Al-Masmak Palace, where he toured its surroundings as well as the mosque, Diwaniyah (council), main courtyard and other open courtyards, upper floor, and some heritage pieces.

Al-Masmak Palace is a historical and heritage landmark, of which the construction started during the reign of Imam Abdullah bin Faisal bin Turki bin Abdullah bin Muhammad bin Saud during the year 1865. It speaks volumes about the struggle of King Abdul Aziz in the unification of the Kingdom of Saudi Arabia.

Earlier, upon his arrival, the King was received by Riyadh Emir Prince Faisal bin Bandar; Deputy Emir Prince Muhammad bin Abdul Rahman; and Undersecretary at the emirate Dr. Faisal Al-Sudairy and a number of officials.

Several princes and high-ranking officials accompanied the King during the visit and they included Prince Mansour bin Saud; Prince Khalid bin Saad bin Fahd; Prince Sattam bin Saud; Prince Faisal bin Fahd; Al-Baha Emir Prince Hossam bin Saud; Prince Abdulaziz bin Sattam, Advisor to Custodian of the Two Holy Mosques; Madinah Emir Prince Faisal bin Salman; Prince Saud bin Salman, and Prince Abdul Majeed bin Abdul Ilah.

Qasr Al-Hukm is a majestic-looking palace, covering 11,500 square meters. It has been the seat of government since the Second Saudi State in the mid-19th century. The palace has been the residence of the ruler where citizens can meet the King since the reign of Imam Turki bin Abdullah.

After King Abdul Aziz captured Riyadh in 1901, he built the palace on the site where his forefathers had ruled. When it was built, it was the largest structure in Riyadh, which was no more than a provincial town of adobe buildings surrounded by a wall.

For more than 30 years this was his home and his headquarters, where he ran his military and political campaigns to conquer and unify the Arabian Peninsula. It remained the seat of the national government until his death in 1953.

Rebuilt three times in the past century, most recently during a 1980s project overseen by King Salman while he was the emir of Riyadh. Now it is home to the capital's municipal government.

In September 2015, for the first time, the royal family opened the palace to the public, with a free exhibition celebrating the unusual coincidence of the Saudi National Day and Eid al Adha.