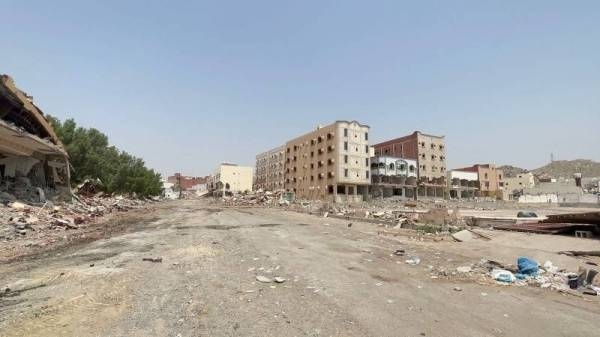 Last 2 random neighborhoods in Jeddah notified about removal work
The Committee for the Random Neighborhoods in Jeddah has notified the residents of the last two remaining neighborhoods (Umm Al-Salam and Kilo-14) with the start of the removal work, which will begin on Oct. 15.
The Committee clarified that the total number of slums that have been razed and being removed is 30 out of 32 slums.

The completion of the removal work in Umm Al-Salam and Kilo-14 means that the razing operations of all the announced random neighborhoods in Jeddah will be completed.

The Committee confirmed that it will continue to provide its services to the residents of the random neighborhoods, as it offers them transporting furniture services, food baskets, permanent housing services, temporary housing services till receiving the compensation or the permanent housing, as well as the service of applying for a compensation.

The Jeddah Committee asked the citizens of the random neighborhoods to complete their procedures of submitting their deeds to receive compensation.

It clarified the methods of submitting the requirement, saying that the individual must submit a picture of the deed or the document, and also the owner's data.

Additionally, the owner's full name and his IBAN number of his bank account, and number of the bank account on the bank's publications in PDF format, as well as a picture of the national ID in a PDF format.

Citizens are also required to submit the statements of each of the Saudi Electricity Company, the National Water Company, the Social Development Bank, the Agricultural Development Fund, the Real Estate Development Fund, a copy of the legal agency of the agent.

This is in addition to a copy of the electricity-water bill, a photo of the building if any, an aerial photo of the site or any other photos, if any and the number of documenting the evacuation of the building.

This may be sent via the service of receiving requests for compensation for the removal of slums through the Jeddah Mayoralty's digital portal www.jeddah.gov.sa.

The Committee noted that the State Properties General Authority has allocated several communication channels to serve citizens and respond to their inquiries about completing the procedures for disbursing compensation, through the unified communication center No. 920022447 or the e-mail CS@SPGA.GOV.SA, in addition to the Partner Care account on the Twitter platform @spgacare.

It is noteworthy that the Committee targets through this project to develop the random neighborhoods and adjust life's quality, in addition to facilitating the movement of the residents to reach all the important services, the most notable of which are the educational, health, and residential services.