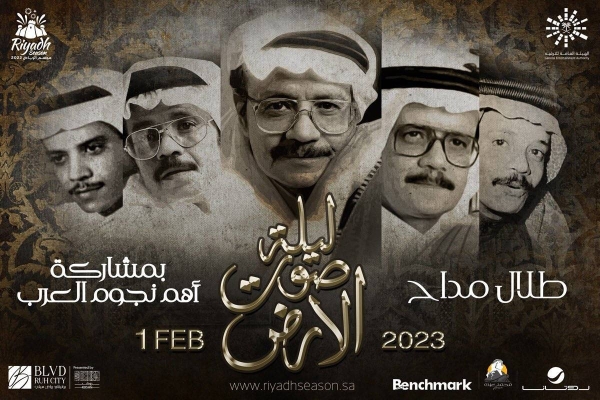 Late Saudi legendary musician Talal Maddah to be honored on Feb. 1
Turki Al-Sheikh, chairman of the Board of Directors of the General Entertainment Authority (GEA), announced (The Earth's Voice) night to honor the late Saudi legendary musician Talal Maddah. The ceremony will take place on Feb. 1.
The majestic night which is part of Riyadh Season 2022 would be with the participation of the most important artists from the Middle East.

It is noteworthy that the son of Talal Maddah, who is known AKA (The Earth's Voice), has confirmed his family's approval on the invitation of Al-Sheikh, to hold a massive honoring ceremony that's befitting the late artist.

Al-Sheikh had earlier called the artists to participate in the honoring ceremony, which is one of the most long-awaited concerts, due to the great love of the masses for the late Talal Maddah.

Maddah was known for his great art and songs that had won the love and admiration of everyone to this day.

Following a career that spanned almost 50 years, Maddah who was also known as the "golden throat", had composed more than a thousand songs.

Maddah left an indelible mark on the Arabic culture and music of the 20th century. He was known for playing the Oud, a stringed musical instrument popular in the Middle East and North Africa.

Maddah was born on Aug. 5, 1940, in Makkah. He began his career in the late 1950s with the release of his first album "Wardak Ya Zaree Al-Ward" (Grower of Roses), which was also the first Saudi emotional song to be aired on Saudi Radio.

He worked on more than 80 albums and composed the songs of top Arab singers, including Mohammed Abdo, Warda Algerian, Faiza Ahmed, Samira Said, Raja Belmalih, Abadi Al-Jawhar, and Etab.

Maddah died of a heart attack during a live TV performance on Aug. 11, 2000, a few days after his 60th birthday.