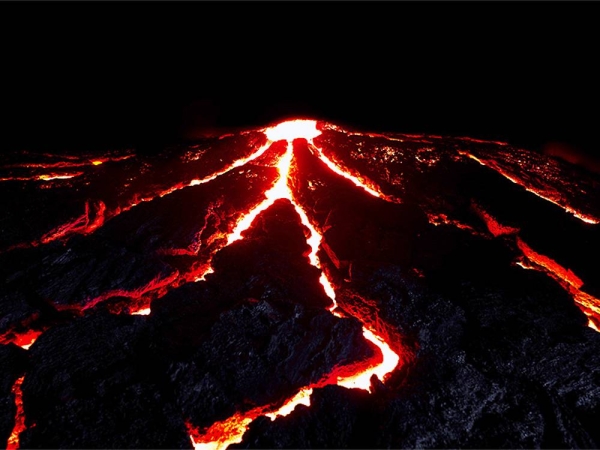 Moath Alofi's Thnan volcano's light embodies hope in Noor Riyadh
The light of Thnan artwork made by the Saudi explorer and artist Moath Alofi has embodies hope at the second edition of Noor Riyadh.
Speaking to Saudi Gazette, Alofi stated that the artwork he made for Noor Riyadh is called Thnan, and it was named after one of the oldest lava fields in the Arabian Peninsula situated in Saudi Arabia.

He said that the work is actually an opportunity to challenge himself to bring to the audience a real visual impact and a chance to bring the lava to life.

Through his artwork, Alofi presented the harshness of volcanoes alongside light's role as a source of hope.

In addition to that, one of the concepts of Thnan is that it shows what is before these elements or what is beneath — the unseen elements.

"What I'm trying to say here is that what is under the earth is light as well," he noted.

"The lava flow can be the bridge between what is inside the earth and what is outside the earth when they flow out," Alofi said.

According to Noor Riyadh, "In Thnan, light is a means to gaze through the gaps in the earth left by ancient eruptions, towards our future."

It is noteworthy that Alofi has used in Thnan a few real lava rocks called Harrat Rahat from a region 20-30 minutes away from the city of Madinah.

This is in addition to Resin, foam and lots of different liquids to bring the movement of lava eruption and flow, as well as a lot of dynamics and a lot of mechanics.

"I was really happy with the results of Thnan, yes it is not a real lava. But we have done our best to revive what a lava field and lava eruption looks like," he said.

He confirmed that after the end of Noor Riyadh they would definitely return the Harrat Rahat lava rocks, noting that they must bring them back for the purpose of education.

Alofi said when asked if unsustainable artworks affects him, especially since he have been working on Thnan for a long time, he said, "I think the orientation and the mindset now is to be really sustainable."

"I think yes we are pushing the boundaries to keep things in a sense of more sustainable, but at some stages yes this might be compromised or might be not really done the right way.

"But we have to be working harder and harder to get to that level as artists, platforms, and the whole world."

It is noteworthy that the Saudi artist has got his bachelor degree in Environmental Management and Sustainable Development.

Alofi stressed that Noor Riyadh will contribute effectively to Saudi artists, as several things are awaiting them.

They are: A new horizon of experimentation, different mediums, good opportunities, several platforms, different knowledge being channeled through international and local artists.

The Thnan artwork made by Moath Alofi are being displayed at the Spark to Spirit exhibition in Jax District, which is part of Noor Riyadh activity that will run until Feb 4, 2023.