The first Saudi independent cinema house has opened its doors to the public, offering further choice for the Kingdom's film lovers.
The Hayy Cinema is located in the Hayy Jameel complex and has a 168-seat main theater and a 30-seat community screening room.

Among those who attended the opening ceremony on Dec. 5 were Hayy Jameel officials including Antonia Carver, director of art, and Sara Al-Omran, deputy director. Several representatives and participants from the Red Sea International Film Festival were also present including Antoine Khalife, director of Arab programs and film classics at the RSIFF, and famous Egyptian actor Hussain Fahmy.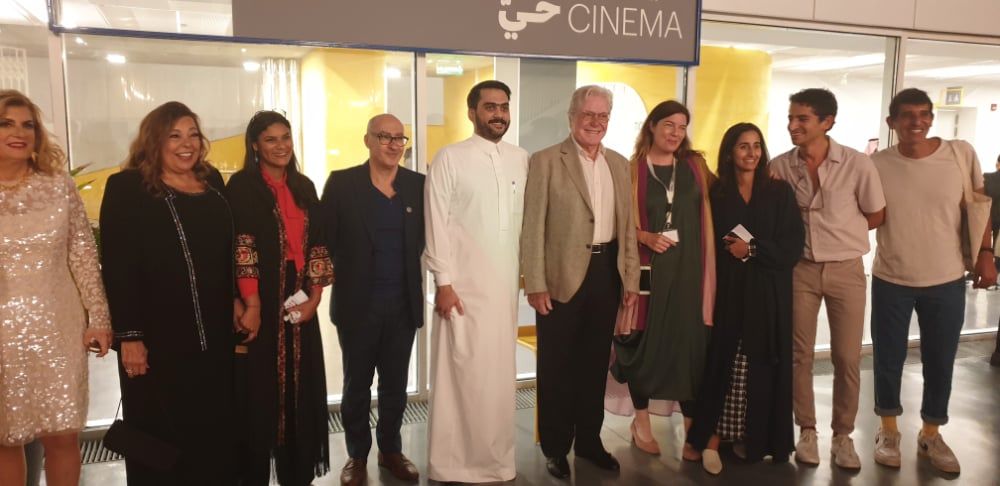 The occasion was celebrated on Dec 5 and attended by officials of Hayy Jameel, Antonia Carver, director of art Hayy Jameel, Sara Al Omran, deputy director, Art Jameel, Red Sea International Film Festival representatives, Saudi and Egyptian film celebrities and guests, including Antoine Khalife, director of Arab programms and Film Classics at RSIFF and famous Egyptian actor Hussain Fahmy.

Carver told Arab News it was an important moment for Art Jameel because it provides a showcase and training platform for young Saudi filmmakers.

In a statement, she said: "There is no better way to celebrate Hayy Jameel's first anniversary than with the launch of the much-anticipated Hayy Cinema. This is Saudi's first bespoke independent picture house, developed with the intent to nurture the local film scene — not only filmmakers but also the audiences who appreciate them."

"We believe that Hayy Cinema's focus on presenting and documenting the great breadth of global cinema, and in tracing the history of cinemas and films from the Gulf, complements the blockbusters of Saudi's fast-growing commercial scene and government-led industry initiatives.

"With Hayy Arts being a museum space for the visual arts and Hayy Cinema for the moving image, both anchor Hayy Jameel, grounding the complex as Jeddah's home for creative expression."

Al-Omran said she was proud to be associated with the launch. "(It) demonstrates our commitment to supporting the Quality of Life Program by enhancing participation in cultural and entertainment activities."

She said that Hayy Cinema would not only screen films but also provide a space for the training of young creators.

Raisa Lahcine, director of international relations at Louis Lumiere, the major French public higher education provider, who is in Jeddah to attend the RSIFF, told Arab News that Saudi Arabia was making promising infrastructure investments.

"It is nice for such an independent cinema to open here, and I am sure Saudi young filmmakers will benefit from it."

Ruba Al-Sweel, communication manager at Art Jameel, said the cinema would promote dialogue between members of the local film community and provide opportunities for independent Saudi filmmakers.

Hayy Cinema's year-round programming will include Saudi, Arab and international features, shorts and documentaries and is set to host flagship film festivals for all tastes, including for children.

The opening program has been co-developed with the RSIFF and celebrates visionaries of Arab cinema's golden era. This includes a retrospective of five newly restored, groundbreaking films by Egyptian master Youssef Chahine, one of the Arab world's most internationally celebrated filmmakers.

There is also a rare archival exhibition that highlights renowned photographer Gamal Fahmy's contribution to filmmaking in the region.