We've found 28 inspiring outdoor kitchen ideas for a chic new entertaining area – from outdoor artwork and lighting to worktop materials and pizza ovens
With searches for 'outdoor kitchen ideas' up 60%, it's clear we're all embracing the shift outwards. And, when it means you can enjoy dinner under the stars, then why ever not?

No longer just reserved for larger properties and sunnier climates, the below outdoor kitchen ideas are a great way to extend your entertaining space and make the best use of your available square footage all year round. It's no wonder it's one of this year's biggest garden trends.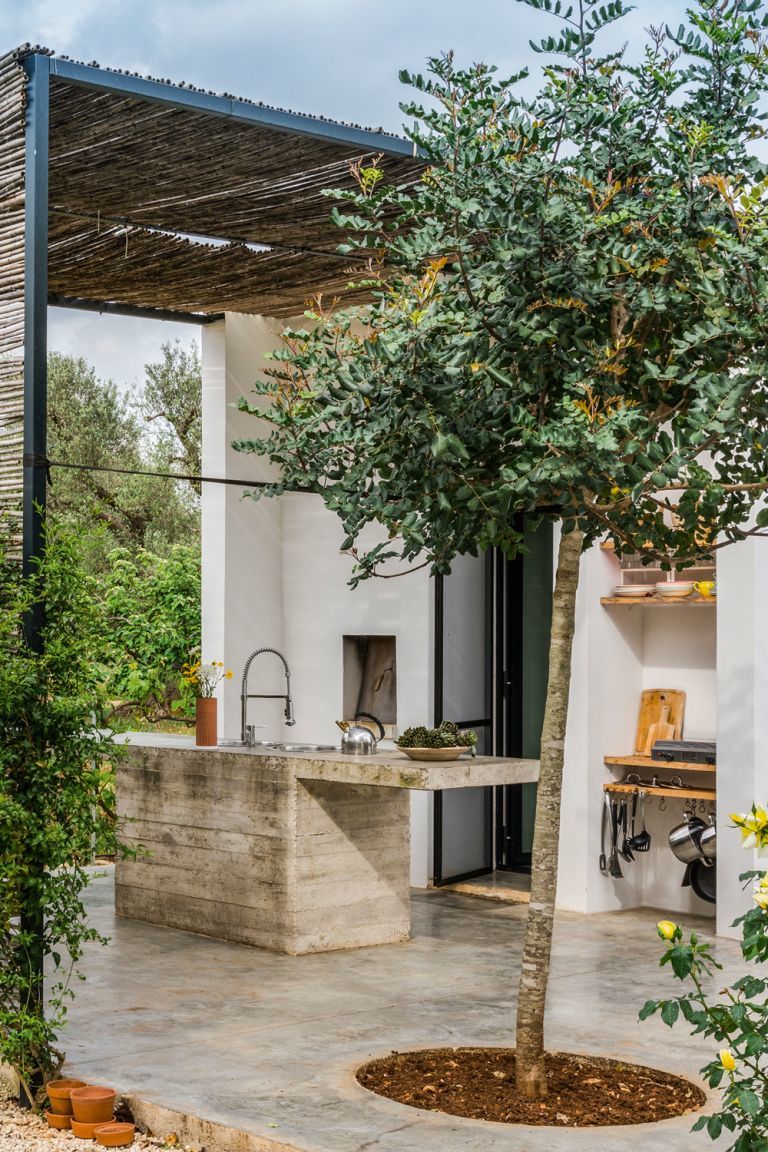 'Cooking and entertaining outdoors has really taken off in the past year, and we expect this trend to only increase,' says Declan Kingsley Walsh, managing director at Morso UK. 'An outdoor kitchen gives you ample opportunity to cook and eat outdoors, whatever the season, and as outdoor kitchens now come in a multitude of sizes and forms, you have more reason to get outside and make the most of your outdoor space, whether you have a large garden or a smaller patio. Outdoor kitchens can also include dining and relaxing space, perfect for creating a comfortable, fully functional space where you can enjoy cooking, dining and socialising all year round.'

From weatherproof canopies, outdoor kitchen islands, drinks fridges and outdoor kitchen storage to fully integrated Teppanyaki grills and built-in rubbish chutes that keep flies away, get inspired by these 28 outdoor kitchen ideas below...


1. Space no issue? Go for a U-shaped design

The below urban city garden boasts an enviable outdoor kitchen designed by Blakes London. The U-shaped design is super functional, as it packs in an integrated barbecue, a Green Egg, handy storage for plates and glasses, plus it houses a drinks fridge too.

Blakes London chose to use large format Xtone porcelain tiles for the work surface of the kitchen. Xtone is a fabulous low maintenance and highly functional alternative to concrete or renders.

This large-format porcelain tile will maintain it's colour over time and is both frost and heat resistant. An added benefit being that it is incredibly hygienic so can be used as a food prep surface. Perfect for this family who loves to make their own pizzas in the Ooni wood-fired pizza oven (portable, not pictured below).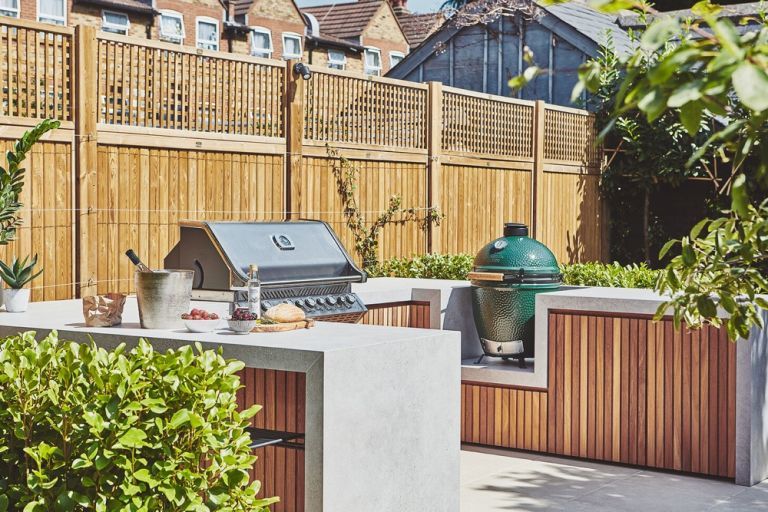 Similarly, the outdoor terrace below features a U-shaped kitchen design complete with sink, fridge, pizza oven and barbecue. It's perfect for summer entertaining.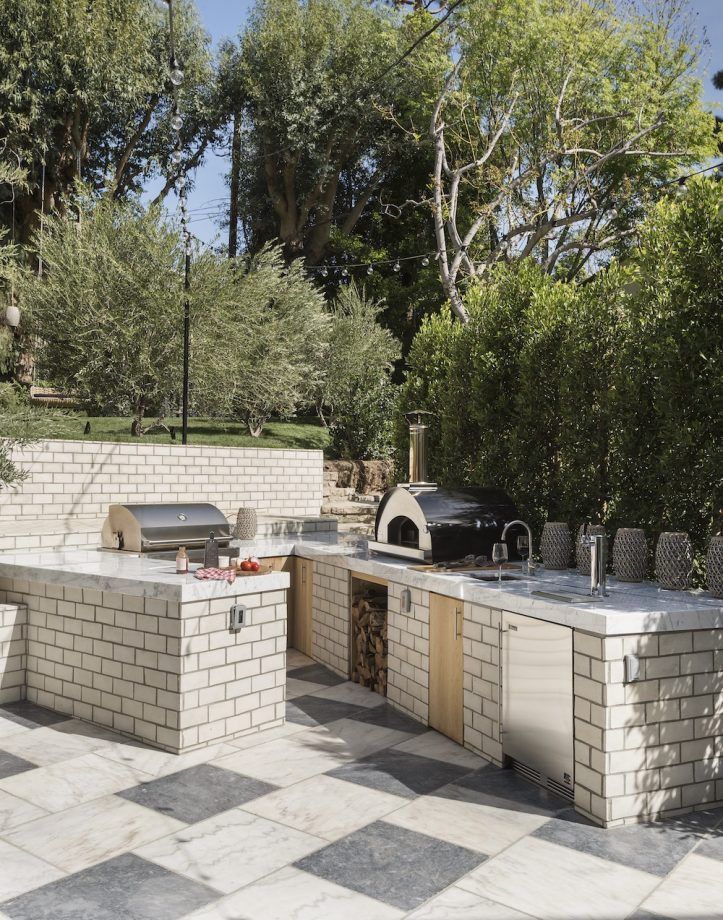 2. Short on space? One wall is all you need for urban gardens

The urban garden below may be compact, but it still manages to incorporate an outdoor kitchen by making the most of an awkward corner. The kitchen is fitted along just one wall, with a small peninsula protruding just enough to create a breakfast bar area.

Gaze Burvill, designers and manufacturers of fine outdoor furniture and kitchens, designed this outdoor kitchen with industrial-style Dekton® Trilium for the weatther-proof worktops.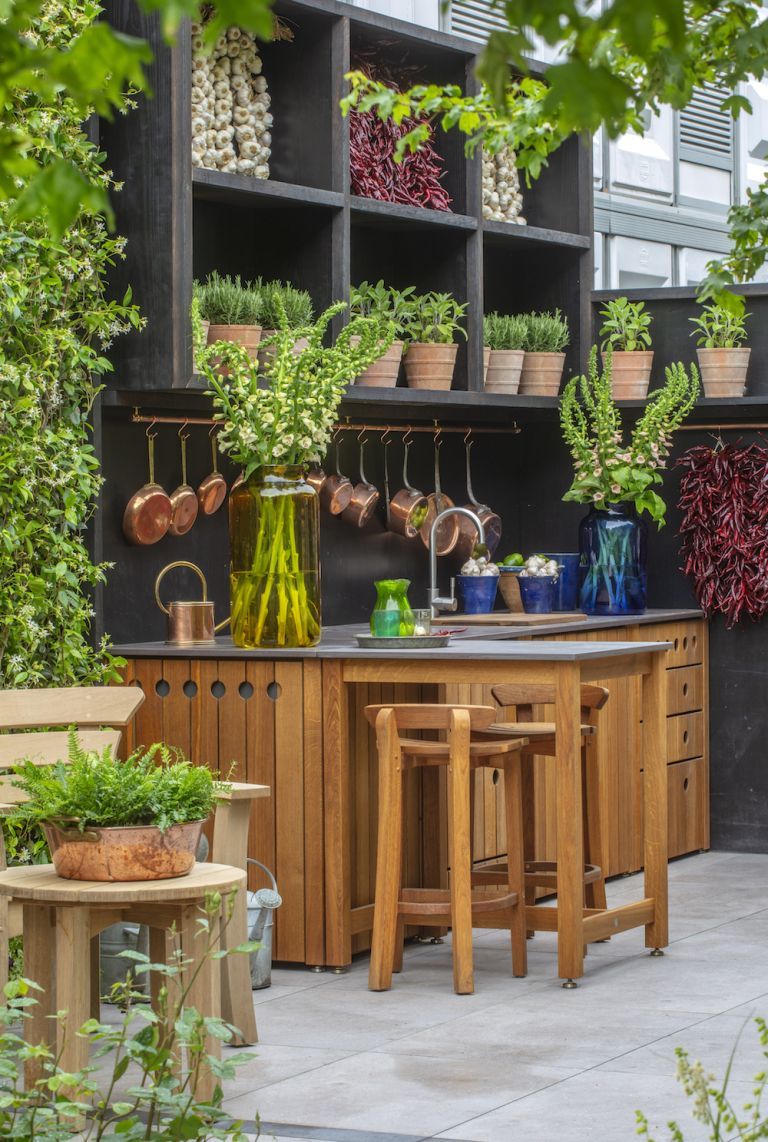 3. For warmer climates, design the outdoor kitchen how you would an indoor one

For homes in warmer climates where you're guaranteed to spend a lot of time outdoors, approach your outdoor kitchen design as you would your main kitchen.

For example, the below outdoor kitchen features a striking kitchen island, wall-mounted shelves, an integrated pizza oven and a handy tap with spray function.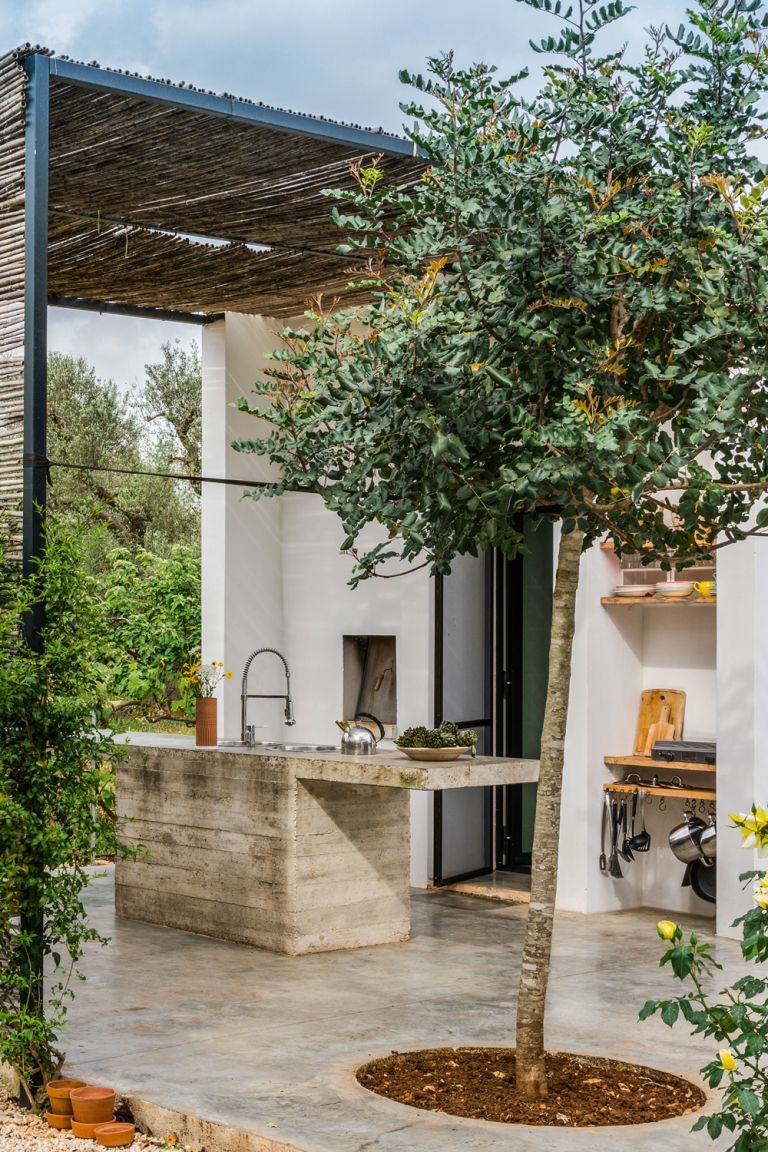 4. Live in a UK city? Keep your outdoor kitchen close

If, like many of us, you live in a city in the UK, chances are that you don't spend huge amounts of time outdoors. Take a leaf out of this family home below, who installed their outdoor kitchen directly next to their indoor one. The outdoor kitchen area is covered so that the barbecue can be used year-round, even if the dining takes place indoors.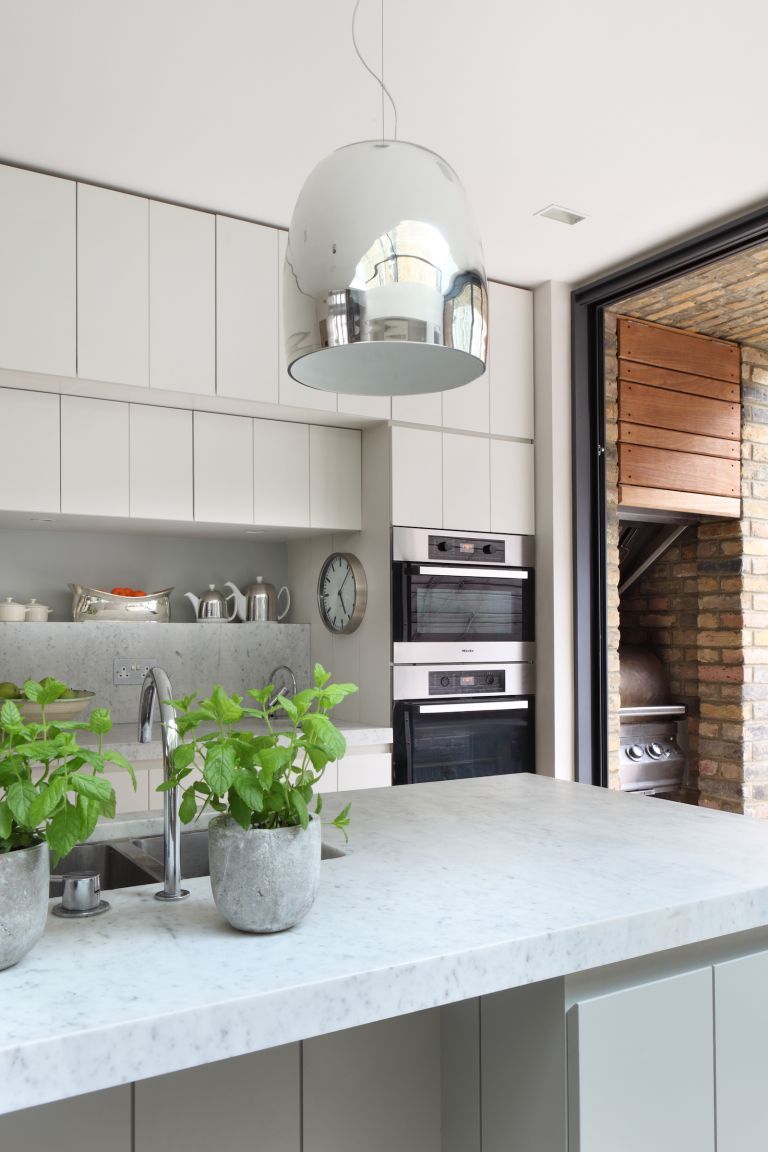 5. Incorporate plenty of outdoor kitchen storage

Handleless cupboards next to the barbecue slide open to reveal drawers for cutlery and cooking utensils, plus a deeper drawer for larger items.

The units are made from sustainably sourced Iroko timber. This African hardwood is a fantastic alternative to teak, particularly for outdoor furniture, as its naturally high oil content makes it incredibly stable and unlikely to crack as temperatures change. And unlike teak and oak, which tend to bleach and turn silver over time, Iroko starts as the soft yellows you see in these images and darkens to a deep, rich, coppery tone.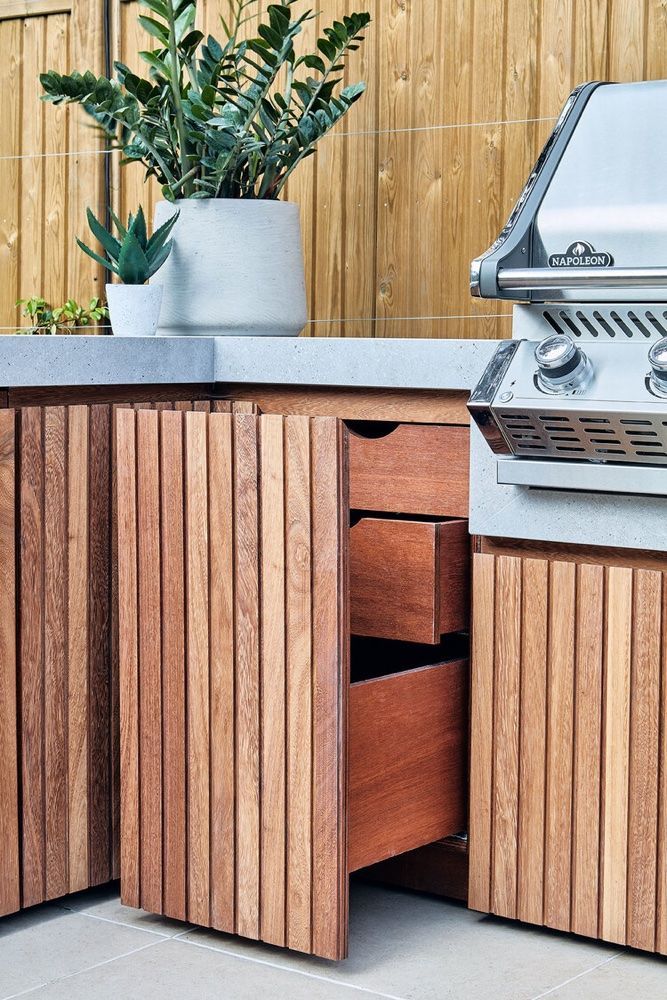 6. Use any wall space for hooks

Keep your barbecue tools, tea towels, pots and pans, and pizza peel close by with a little creative hook placements for easy access. You can buy a steel hook to attach to the side of your BBQ, a hook shelf to attach to the wall, or why not pop single hooks on your fence to make a statement yet practical feature?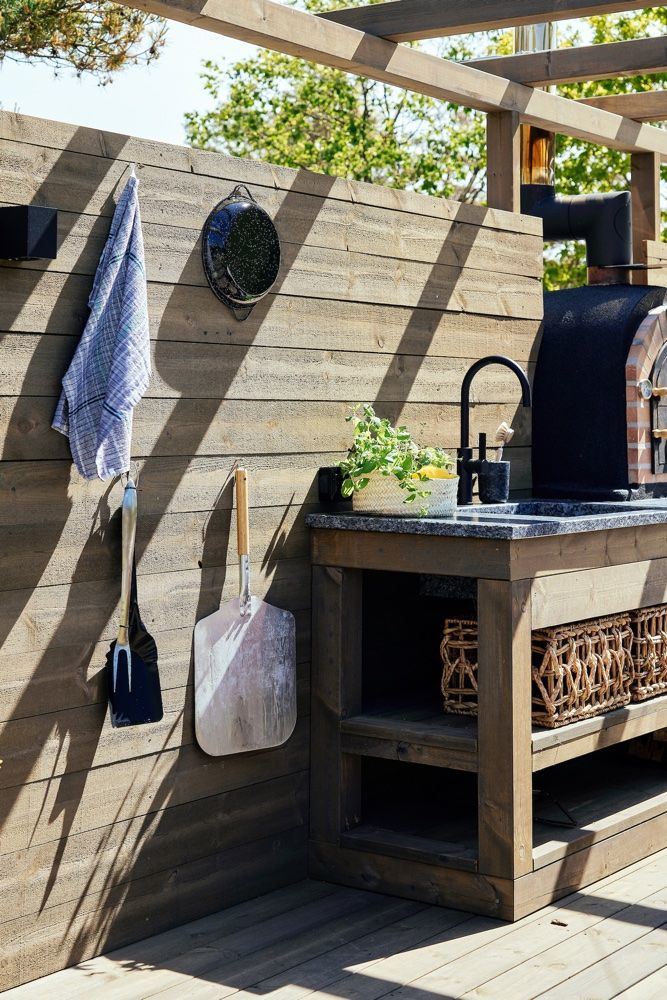 7. Don't forget the outdoor kitchen sink

Of course it wouldn't be an outdoor kitchen without a tap and kitchen sink – an essential and integral part of any kitchen's design.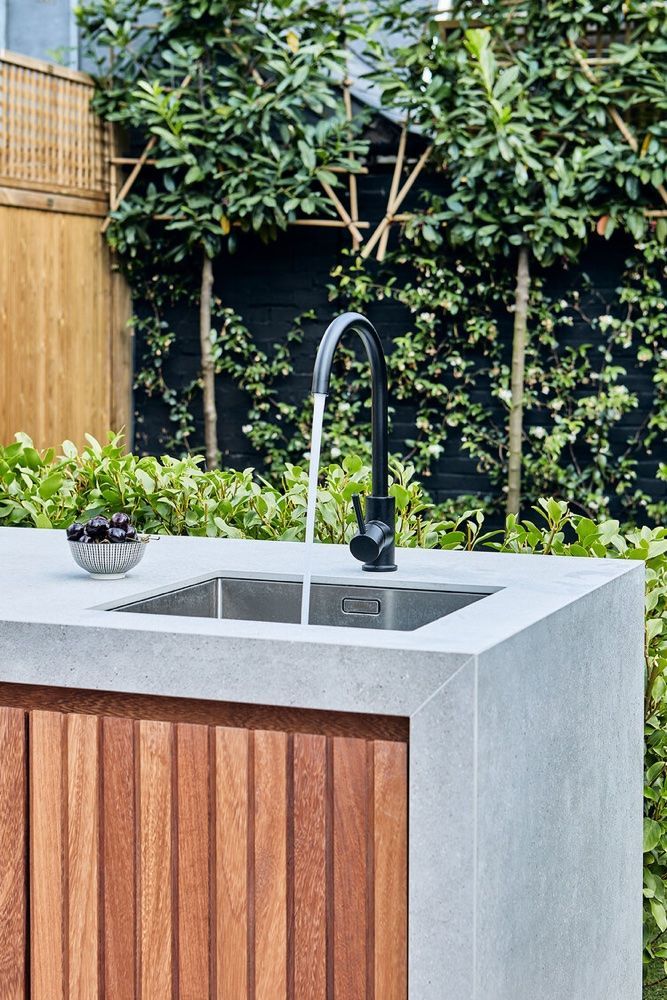 8. Add a statement show piece

While the kitchen already incorporates a fully integrated barbecue, the home owner wanted the ability to cook for large groups and also ensure they had all the necessary toys to create restaurant standard fare. Burgers, sausages and delicate fish work fantastically well on the Napoleon integrated gas BBQ. However, for a show-stopping extravaganza, the ceramic Egg BBQ is the hero. It makes a statement feature too – with the worktops recessed to make room for it.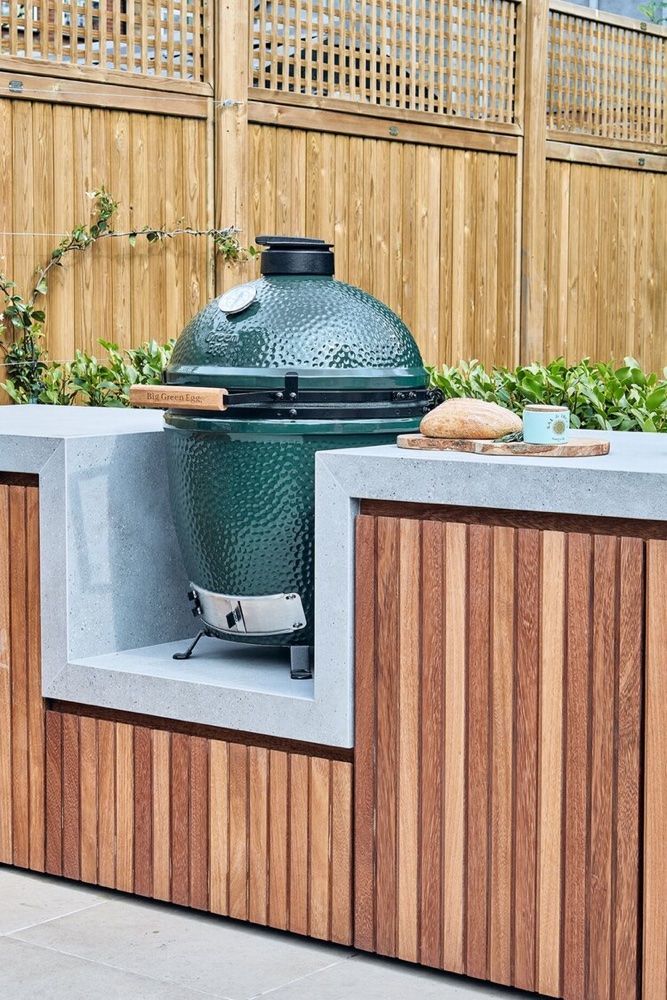 9. Drinks fridge

A double fridge is the finishing touch – one for chilled drinks, and the one on the left for food storage. Perfect for keeping drinks chilled and food fresh.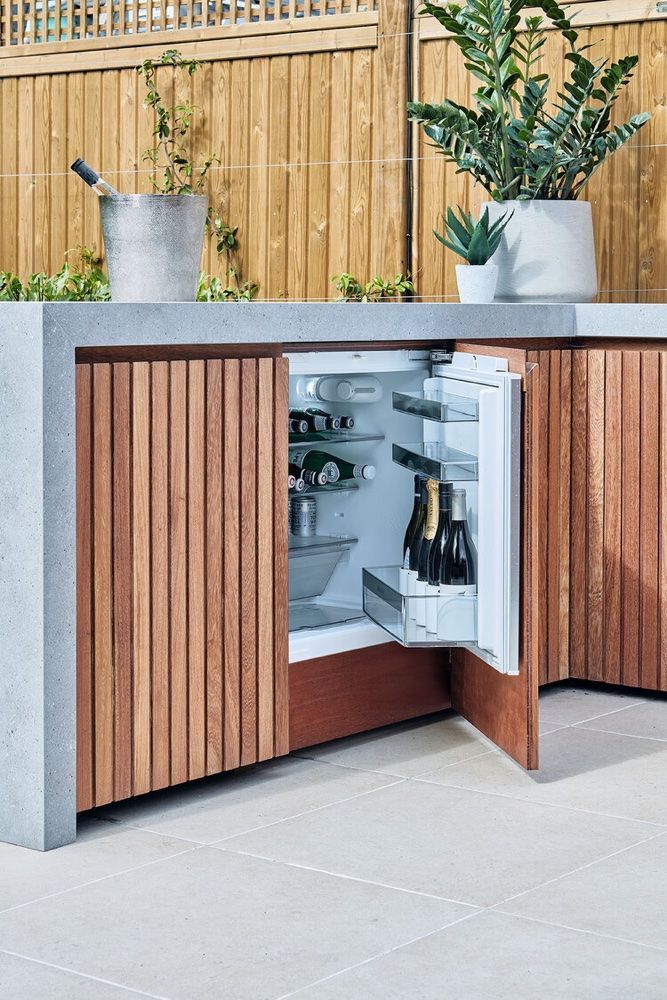 10. Install a built-in rubbish chute to keep flies at bay

Meanwhile supermodel Tyra Banks chose the below outdoor kitchen design for her Palm Springs home. It features an integrated rubbish chute – the handle lifts up to reveal a large hole through which food scraps can be discarded and stored away from flies.