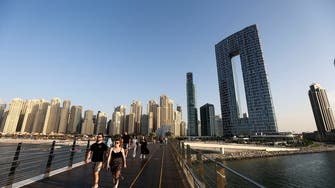 Over 60,000 UAE employees subscribe to new unemployment insurance scheme
More than 60,000 people subscribed to the United Arab Emirates' new unemployment insurance scheme within the first two days of 2023.
The program, which came into effect on January 1, aims to provide financial security to workers and professionals in the public and private sectors in case of job loss.

Those employed in the UAE can choose to subscribe monthly or annually. The UAE's Ministry of Human Resources and Emiratization (MoHRE) revealed that 90 percent of the 60,000 subscribers opted to subscribe to the scheme annually.

Those with a basic salary of AED 16,000 or less can subscribe to the mandatory scheme monthly for AED 5 (AED 60 yearly), and the maximum compensation benefit is 10,000 AED per month should the individual lose their job.

The second category, for employees whose basic salary is above AED 16,000, holds a monthly subscription fee of AED 10 (AED 120 annually), and individuals will be able to claim a maximum payout of AED 20,000 per month in compensation upon termination of employment.

However, there are certain conditions that need to be met before compensation can be redeemed.

To qualify for the payment, the dismissed employee needs to have been insured for a minimum of 12 consecutive months. This is calculated from the date they first subscribed to the scheme.

Employees who have been dismissed for disciplinary reasons will not be eligible to receive compensation.

Exemptions from the scheme include investors, such as owners of a place where they work, domestic helpers, part-time employees, workers under the age of 18, and retirees who receive a pension and have joined new work, a legal expert told Al Arabiya English in October last year.

The scheme is also a part of a larger job security initiative by the government. As of January 2023, employees in the UAE are obliged to subscribe to the insurance scheme. Those who have not registered by June 30 will be subject to fines, the ministry said.

Around 86 percent of them signed up through the official website (https://www.iloe.ae), one of the seven channels provided by the Dubai Insurance Company – the insurance complex that is in charge of providing services against unemployment, the ministry said on Tuesday.

Other subscription channels include the insurance company's smart application, self-service kiosks or ATMs, business service centers, currency exchange companies like Al Ansari Exchange, apps of banks that operate locally, and telecom operators such as Etisalat and du.

Over the past year, the UAE government has introduced an array of flexible visa options to encourage more foreign talent to come into the country. Under recent reforms by the UAE government, residents whose visas are canceled are eligible to remain in the country for up to six months, up from 30 days.