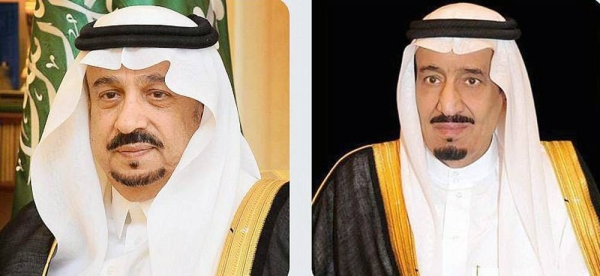 Riyadh governor to open 10th REF; 3-day forum to discuss ways to boost national economy
Under the patronage of Custodian of the Two Holy Mosques King Salman, and on behalf of him, Governor of Riyadh Prince Faisal Bin Bandar is scheduled to inaugurate the 10th Riyadh Economic Forum Monday with the participation of several government officials, economic and academic experts, and businesspeople.
The three-day forum will discuss several strategic economic and development issues that will seek to introduce new signs of strengthening and restructuring the national economy's foundations in the face of challenges.

Chairman of the Riyadh Chamber Ajlan Bin Abdulaziz Al-Ajlan confirmed that the patronage of Custodian of the Two Holy Mosques King Salman represents the greatest support and encouragement for the forum and its sponsors, and forms a catalyst to continue its research and scientific efforts to advance the pillars of the national economy.

It also works to strengthen the role of the private sector in promoting development and economic renaissance efforts within the framework of the goals of the Saudi Vision 2030 under the leadership of King Salman and Crown Prince and Prime Minister Mohammed Bin Salman.

He noted that the forum has succeeded in reaching important recommendations to serve the national economy, focusing on infrastructure development, improving the development of national human resources, and considering the best means of investing natural resources.

It also considered and developed the legislative environment and policies affecting the business and investment environment. The forum has also attached attention to Saudi women through developing and expanding their participation in economic development.

For his part, Chairman of the Board of Trustees of the Riyadh Economic Forum Dr. Khaled Bin Suleiman Al-Rajhi, explained that the 10th session will deal with four main studies.

Linking the Kingdom of Saudi Arabia's regions to railways and their impact on the prosperity of tourism and logistics services.

Examining the importance of unifying and harmonizing sectors in legislation on the issuance of fees, taxes, and zakat and unifying issuance references

Examining the prospects and challenges of the new area of work (self-employment, flexible work, and remote work); and finally considering new investments, digital transformation and knowledge economy.

Noting that the forum, since its inception, has prepared 49 in-depth studies that resulted in 308 recommendations and initiatives.