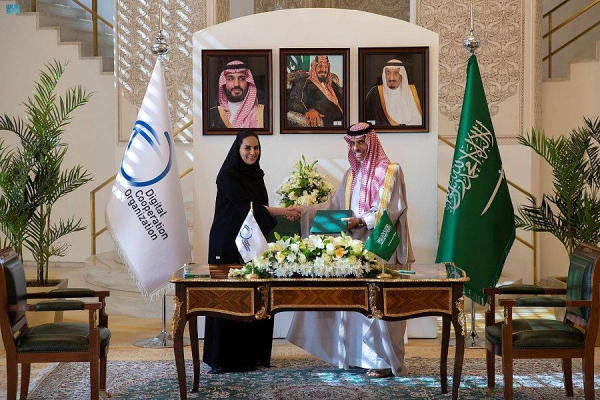 Riyadh to host DCO's headquarters
Minister of Foreign Affairs Prince Faisal bin Farhan and the secretary-general of the Digital Cooperation Organization (DCO), Deemah Al-Yahya, signed an agreement on Thursday to establish the organization's official headquarters in the Saudi capital Riyadh.
Prince Faisal received Al-Yahya in Riyadh and reviewed the cooperation between the Kingdom and the organization in various fields.

The Saudi minister welcomed the establishment of the organization's headquarters in Riyadh, stressing the importance of strengthening the course of joint work with member states of the organization to contribute to the development of countries and peoples through optimal use of digital technology in many aspects that achieve development and prosperity for all.

He confirmed that the Kingdom is keen to support all initiatives of DCO, including contributing to innovation, youth and women development, and encouraging entrepreneurs and investment in the digital economy, in line with the Kingdom's plans for digital transformation.

For her part, the secretary-general of the Digital Cooperation Organization said: "The choice to establish the headquarters of the DCO in Riyadh is an affirmation of the Kingdom's regional and international status as a linkage hub for the three continents, one of the fastest growing economies in the G20, and a leading regional center in technology"

"Kingdom's technology drives many aspects of the country's economic and social expansion, underscoring the power of digital technologies to support and guide development and growth for the benefit of all," she added.

DCO is expanding its digital ecosystem to include leading private sector companies, academic institutions, think tanks, civil society organizations and regional and international organizations as partners and observers of the organization.

DCO members include Bahrain, Cyprus, Djibouti, Kuwait, Morocco, Nigeria, Oman, Pakistan, Jordan, Rwanda and Saudi Arabia.