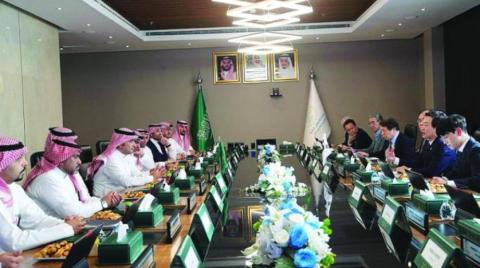 S. Korea Keen on Investing in Saudi Mega Projects
Saudi Arabia and South Korea are seeking to strengthen investment partnerships, develop infrastructure, and exploit modern technologies in several sectors, including transportation, logistics, smart cities, and housing.
A South Korean delegation, comprised of several officials and a group of private investors, is currently visiting the Kingdom.

South Korean companies are planning on taking part in the execution of mega Saudi projects by reviewing their expertise and available services can contribute in achieving Vision 2030.

Minister of Municipal and Rural Affairs and Housing Majed al-Hogail received South Korean Minister of Land, Infrastructure and Transport Won Hee-ryong and his accompanying delegation.

They reviewed the relationship between the two countries and boosting the Saudi-South Korean cooperation in smart cities and housing and ways to develop the housing sector.

Hogail underscored South Korea's interest in learning about the Saudi experience in smart cities and housing, hoping that the visit would achieve the goals of both governments and people in developing in all sectors.

Later, Saudi Minister of Transport and Logistic Services Saleh al-Jasser met with Won, his accompanying delegation, and a group of South Korean private investors.

They discussed ways to boost cooperation between their countries in transport and logistics services and several investment partnership opportunities.

The Ministry gave a presentation on the National Transport and Logistics Strategy and the opportunities, initiatives, programs, and major projects that are helping consolidate the Kingdom's position as a global logistics hub linking three continents.

The meeting also reviewed modern technologies used by the system to upgrade all means of transport and transport services in general.

The Korean delegation reviewed its projects and the stages of development achieved in transportation.

A group of Korean companies gave presentations on their role in engineering and construction, smart building, mobility, smart cities, and information and communication technology.

The meeting sought to enhance cooperation between both countries and discuss ways to consolidate the relationship to help in achieving the objectives of the National Transport Strategy through the development of infrastructure and the application of advanced systems.

It sought to consolidate the effective partnership between the public and private sectors to achieve Vision 2030.

Korean companies are seeking, through their visit to Saudi Arabia, to participate in the implementation of development projects, given the great opportunities in the Kingdom and the mega projects under Vision 2030.