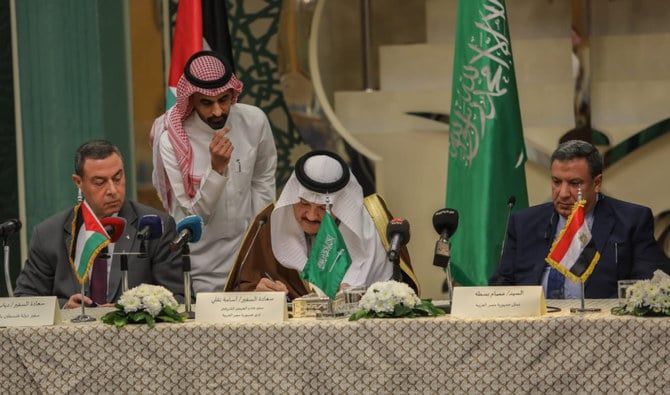 Saudi aid convoy arrives in Gaza via Rafah commercial crossing
A Saudi aid convoy carrying tons of meat on Saturday arrived in Gaza via the Rafah commercial crossing with Egypt.
The Kingdom has donated 12,000 sacrificial animals under the terms of an agreement signed with the Palestinian Ambassador to Egypt Diab Al-Louh during a recent ceremony held at the Saudi Embassy in Cairo.

As part of the deal, Egypt will also receive the same quantity of meat from Saudi Arabia.

Six trucks delivered the consignment to the Palestinian Ministry of Awqaf and Religious Affairs through a project managed by the Islamic Development Bank in Jeddah, and the produce will be distributed throughout Gaza via zakat committees.

Salima Abu Ryala, 66, from Al-Shati refugee camp, west of Gaza City, said she hoped to receive sacrificial meat for the second year running, adding that the aid would also be welcomed by her seven unemployed sons and their families.

"It is generous of Saudi Arabia to offer these sacrifices every year. We are in dire need of any assistance from any party," she said.

Her neighbor, Abu Raed Abed, 57, said: "We only buy meat on special occasions. Our financial situation has been difficult in recent years. Saudi Arabia is a generous country, and we appreciate this effort in helping the Palestinians in Gaza."

More than 80 percent of the 2.3 million population of Gaza depend on food aid from international or local institutions, according to UN statistics.

Saudi Arabia also provides other forms of support to Palestinians, mainly through the UN Relief and Works Agency for Palestinian refugees, and late last year contributed $27 million toward UNRWA operations in the region.

The UN agency offers education, health, and food aid services to Palestinian refugees in five areas, including Gaza, and since 2000, Saudi Arabia has donated at least $6 billion to projects in Palestine.