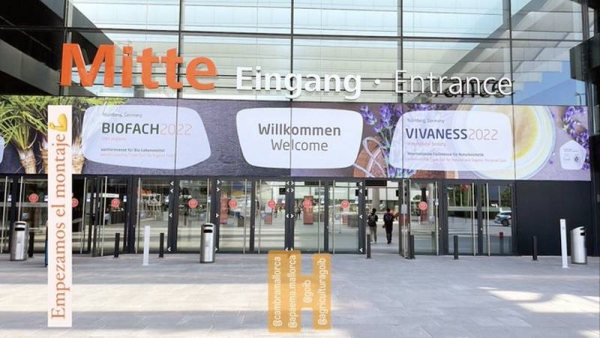 Saudi Arabia to host global trade fair for organic products in November
Saudi Arabia is set to host the International Trade Fair for Organic Products (BIOFACH), from Nov. 7 to 9, 2022 at the Riyadh International Convention & Exhibition Center.
The official announcement of hosting the event was at the international exhibition in Nuremberg, Germany currently ongoing from July 26 to 29, 2022. The Kingdom's delegation participating in Nuremberg exhibition was headed by the Deputy Minister for Agriculture Affairs Dr. Sulaiman AlKhateeb.

The hosting of the event displays the Kingdom's position in the sector of organic agriculture, while promoting globally of the ministry's role. Also, it is supporting the local organic products, empowering startups, building an interactive platform, and creating a global attracting investment.

Furthermore, it will attract major international companies, provide a platform for exchanging knowledge, and discussing the issues of the organic community.

The International Trade Fair for Organic Products (BIOFACH) is one of the largest and leading exhibitions in the marketing of investment in organic agriculture and products.

The exhibition was held in 7 countries (USA, Brazil, Thailand, India, China, Japan, and Germany). Its holding in Saudi Arabia is considered a unique event in the Arab Gulf region, the Middle East, and North Africa. The Kingdom seeks to be a regional center for organic agriculture.

Dr. AlKhateeb stated that the exhibition includes participations from organic inputs companies, organic farms, commercial centers, specialized organic stores, service companies and agencies, specialized associations, local and international organizations concerned with organic agriculture, and import and export companies.

He pointed out that the international conference would include 50 speakers, more than 2,000 local and international participants, representatives of the most prominent international companies, entrepreneurs, international investors, and academics.

The conference aims to shed light on the most important issues of the local organic products such as vegetables, fruits, dates, coffee and tea, livestock production, organic inputs, and animal nutrition.

Moreover, it aims to showcase the best and latest trends and innovations in the field of organic products. The exhibition also includes seminars, workshops.