Saudi Arabia's Foreign Minister Prince Faisal bin Farhan told the World Economic Forum on Wednesday that progress is being made on Yemen, but much work still needs to be done.
Prince Faisal called for a truce brought in last year in the country to be reinstated and said work must begin toward making the ceasefire permanent.

The conflict will end only "through a political settlement" and "negotiated solutions," he said.

Speaking on the same panel, Hans Grundberg, the UN envoy for Yemen, said that ending the war will "not be easy" and that mistrust remains.

However, he said that serious steps have been taken recently, and thanked Saudi Arabia and other regional parties for their role in brokering last year's truce.

Speaking on the panel that discussed the changing face of the Middle East from "battleground to meeting place," the Saudi foreign minister also said that the Kingdom's Vision 2030 reform program is allowing the economies of the region as a whole to build and grow.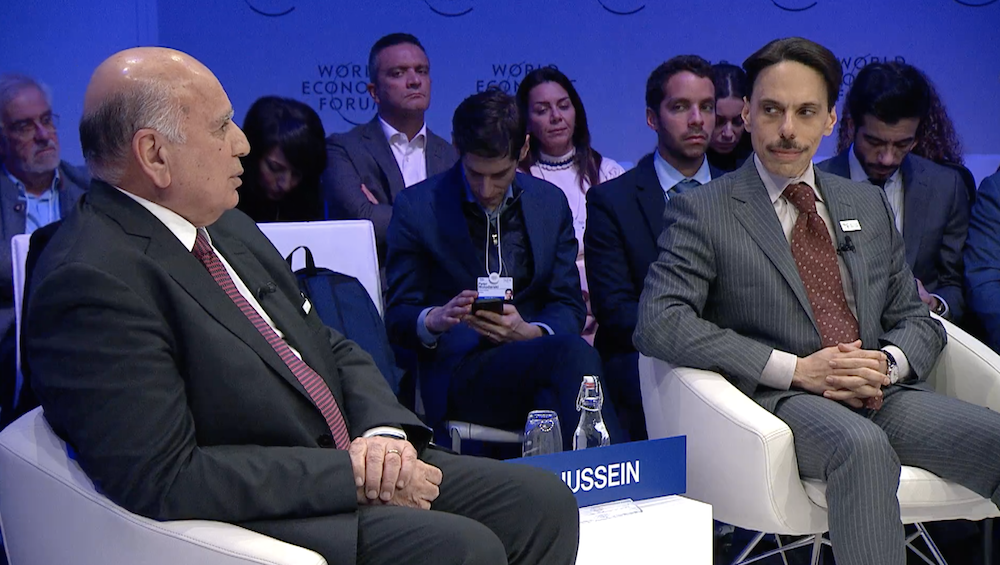 Prince Faisal (R) on the panel alongside Fuad Hussein (L), deputy prime minister and foreing minister of Iraq.
Prince Faisal highlighted the fact that the Kingdom's economy will be the fastest growing this year, and that it wants to focus on dialogue and investment to boost neighboring regional economies.
"We seek solid and strong economies in the region, and we cooperate with all neighboring countries," he said.
The Kingdom is excited about building sustainable economic growth not only for itself but also for the entire region, with "fewer slogans, more projects," the minister said.
Prince Faisal said that he is optimistic about situation in the region, adding: "The Middle East has proven to be very much the meeting space of the world, in the intersection between the East and West."
He added: "There's a true spirit of cooperation building in the region, and it can be infectious, and also help to resolve the still existing conflicts in the region and beyond."
However, referring to the Palestinian crisis, which he called the "biggest drag" on the region, Prince Faisal said he hoped the new government in Israel sees that it is in their interest to engage seriously with the Palestinians in order to resolve the issue.
He said that Israel's government is sending "some signals that maybe are not conducive to that," but expressed hope it will work toward resolving the conflict in the interests of the Palestinian people and the wider region.
Israel normalized ties with the UAE, Bahrain and Morocco in 2020, but Prince Faisal reiterated the position of Saudi Arabia on any such move by the Kingdom being linked to a resolution of Palestine's statehood goals.