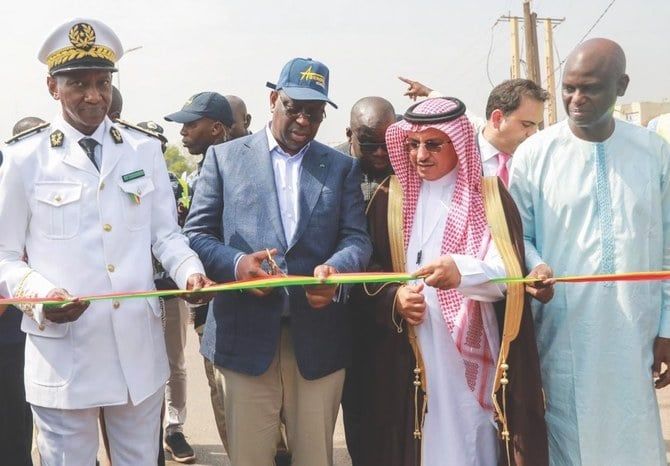 Saudi fund participates in Senegal road project inauguration
On behalf of the Saudi Fund for Development, and under the patronage of the Senegalese President Macky Sall and the participation of Saudi Ambassador to Senegal Saad bin Abdullah Al-Nafaie, President Sall inaugurated the rehabilitation project of Tambacounda-Guederi road in Senegal.
The project, financed by the SFD through a soft loan of approximately $30 million, will rehabilitate a critical 80 km road and improve roadside services, including first aid and emergency care units for individuals who have sustained injuries from road traffic accidents as well as water wells to serve travelers and residents in and around the area.

Besides providing people and communities with increased access to vital and basic services, the development of the Tambacounda-Guederi road will improve road safety and reduce road accident fatalities.

In addition, the project is expected to contribute to Senegal's long-term growth and prosperity. Given the road's location, it will play a significant role in transforming the national economy and strengthening the infrastructure of the country's transport sector.

The rehabilitation project will help cut transport costs and — most importantly —contribute to creating sustainable cities and communities to ultimately achieve the development goals.

Sall praised the Saudi government for its unwavering dedication to launching impactful development projects and programs in Senegal since 1978. He highlighted the importance of Senegal's long-running and fruitful partnership with the Kingdom, and stressed the impacts of the rehabilitation project in promoting development and prosperity in Senegal.

Al-Nafaie said: "Saudi Arabia will continue supporting projects and programs through SFD in Senegal. Not only will the current project further strengthen the ties between the Kingdom and Senegal, but it will also contribute to a prosperous future for Senegal and achieving the UN's Sustainable Development Goals."

Since 1978, and under the directives of the Kingdom's government, SFD helped launch 26 projects and programs, worth an estimated $447 million, in Senegal. In addition, SFD has successfully financed an additional four projects — through grants amounting to $19 million — in the West African country.

This support has been instrumental to the growth and development of Senegal's wide-ranging sectors, preparing them for sustainable success.