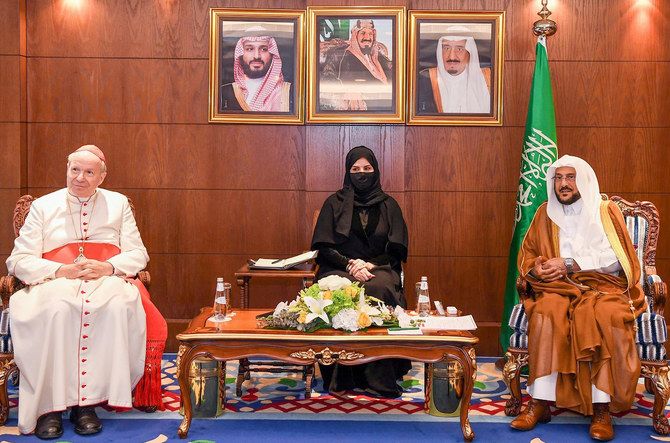 Saudi Islamic minister meets Cardinal Christoph Schonbrunn in Riyadh
Saudi Islamic Minister Sheikh Abdullatif Al-Asheikh on Sunday received Cardinal Christoph Schonbrunn, archbishop of Vienna, who arrived with his accompanying delegation to Riyadh at the invitation of the Muslim World League.
They discussed common issues of concern, especially efforts to build bridges of cooperation and effective communication among leaders in confronting hatred and extremist ideas, as well as spreading tolerance and coexistence.

During the meeting, Al-Asheikh also reviewed the efforts made by Saudi Arabia under the leadership of King Salman and Crown Prince Mohammed bin Salman in spreading the principles of Islam and the correct understanding of religious discourse according to the approach of moderation and tolerance.

He added that Saudi Arabia was a model for supporting international efforts calling for spreading noble human values and common interests among peoples, as well as spreading peace worldwide, by supporting international forums and conferences, both locally and globally.

Schonbrunn commended the efforts made by the king and the crown prince in spreading peace, love, and justice, indicating the importance of joint work among religious leaders to promote a culture of dialogue and build bridges of communication to serve generations.

On Saturday, MWL Secretary-General Dr. Mohammed bin Abdulkarim Al-Issa met Schonbrunn. They discussed issues of common interest, especially efforts to build bridges between nations and peoples, and the importance of cooperation and communication between religious leaders in confronting calls for a clash of civilizations.

The meeting discussed the Makkah Document and its global impact on relations between religions and cultures, and its active role in addressing international crises.

Schonbrunn praised the Makkah Document's achievements at the global level, especially its positive messages for future generations.

He also expressed interest in the work of MWL and its international initiatives, highlighting his hopes for future cooperation.