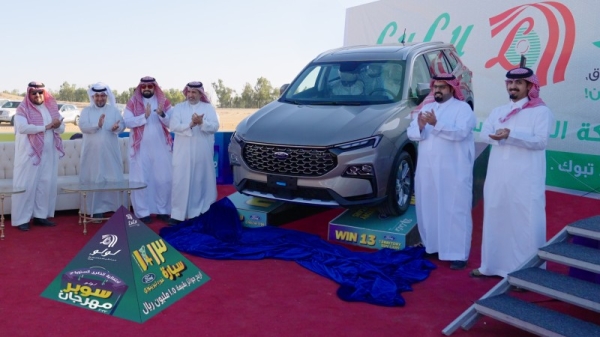 SR1.5 million gifts bonanza for LuLu Saudi anniversary
LuLu Hypermarkets in Saudi Arabia are all set to celebrate its 13th Anniversary with a dazzling gifts bonanza worth SR1.5 million. The "LuLu Super Fest 2022" anniversary promotions features fun events and a raffle draw which runs from November 27th till 25th January 2023.
The LuLu Lucky 13 campaign raffle draw for customers will see 13 Ford Territory SUV Cars - and in celebration of Saudi Arabia's epic win against top-ranked Argentina in the FIFA World Cup, LuLu has added one more car to the line-up, making a total of 14 cars. In addition, there will be 1300 free trolleys, 100 Gold coins and 15 flight tickets being given away as prizes.

There will be a digital raffle draw and all those customers will have to do is visit their nearest LuLu branch and find the unique code after their shopping. There will be QR codes through which they can register. During this period there will be many special offers and deals for customers also.

The rest of the LuLu family – suppliers, influencers and brand ambassadors – too got to celebrate with their own anniversary mega event on November 22 where the prizes for the anniversary promotion were revealed. The event Mega event featured a Sky Show with gliders that attendees can enjoy to take to the skies.

There will promotions spanning over two weeks with unbeatable prices across the Kingdom.

"LuLu KSA is a shining example of our success story, and we believe we owe so much to our customers, our team and stakeholders," Shehim Mohammed, Director of LuLu Hypermarkets Saudi Arabia. "This is a great opportunity to thank them and continue the journey to greater heights."

LuLu Hypermarkets Saudi Arabia has 49 hypermarkets, supermarkets and shopping malls across all major cities, namely Riyadh, Jeddah, Al Khobar, Dammam, Tabuk, Al Ahsa, Jubail, Hail, Saihat, Al Kharj and Neom.