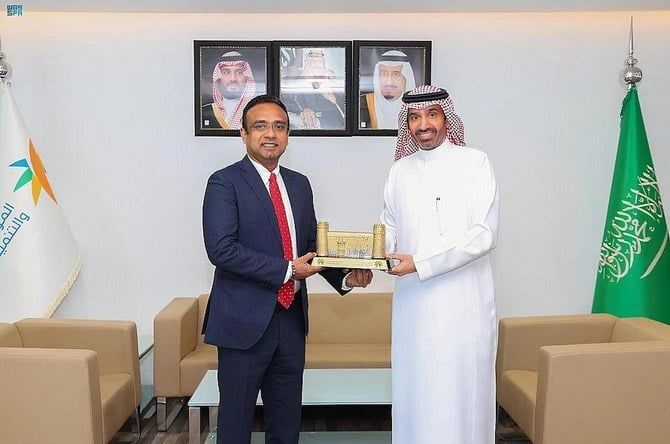 Sri Lankan labor minister visits Saudi Arabia, explores opportunities for migrant workers
The Sri Lanka labor minister is visiting Saudi Arabia to seek employment opportunities for the crisis-hit nation's workers in the Kingdom's labor market.
Labor and Foreign Employment Minister Manusha Nanayakkara arrived in the Kingdom for a four-day official visit on Tuesday to meet his Saudi counterpart, Human Resources and Social Development Minister Ahmed bin Sulaiman Al-Rajhi.

Sri Lanka's Ambassador to Riyadh Packeer Mohideen Amza, who is accompanying the labor minister, told Arab News on Thursday that the trip has "all the ingredients to be a fruitful visit."

The visit has several objectives, he said: "One is to enhance the existing labor relations arrangements between the Kingdom and Sri Lanka and to find employment opportunities for skilled and semi-skilled workers, as well as for professionals in the ongoing giga-projects."

Another aim of the minister's trip, Amza added, is to enhance foreign remittances to Sri Lanka.

Foreign inflows are crucial for Sri Lanka, where the devastating economic crisis — the worst since independence in 1948 — has left people struggling with daily power cuts and shortages of basic commodities.

The island nation of 22 million officially defaulted in April, and without foreign currency reserves has been left unable to pay for the most basic imports.

Remittances from overseas Sri Lankan workers have long been a key source of foreign exchange for the country. They used to bring in about $7 billion a year before the pandemic-imposed lockdowns in 2020.

During the pandemic, the inflows dropped to $5 billion in 2021, and as the country went bankrupt, no more than $3 billion was expected this year.

The most important source of foreign remittances has historically been the Middle East, which is home to more than 1 million Sri Lankan nationals — 66 percent of the country's migrant workers.

On Thursday, the labor minister visited NEOM, a $500-billion giga-project in the northwestern Saudi province of Tabuk, where Amza said he would look for opportunities for Sri Lankan professionals in the fields of engineering, architecture and design.