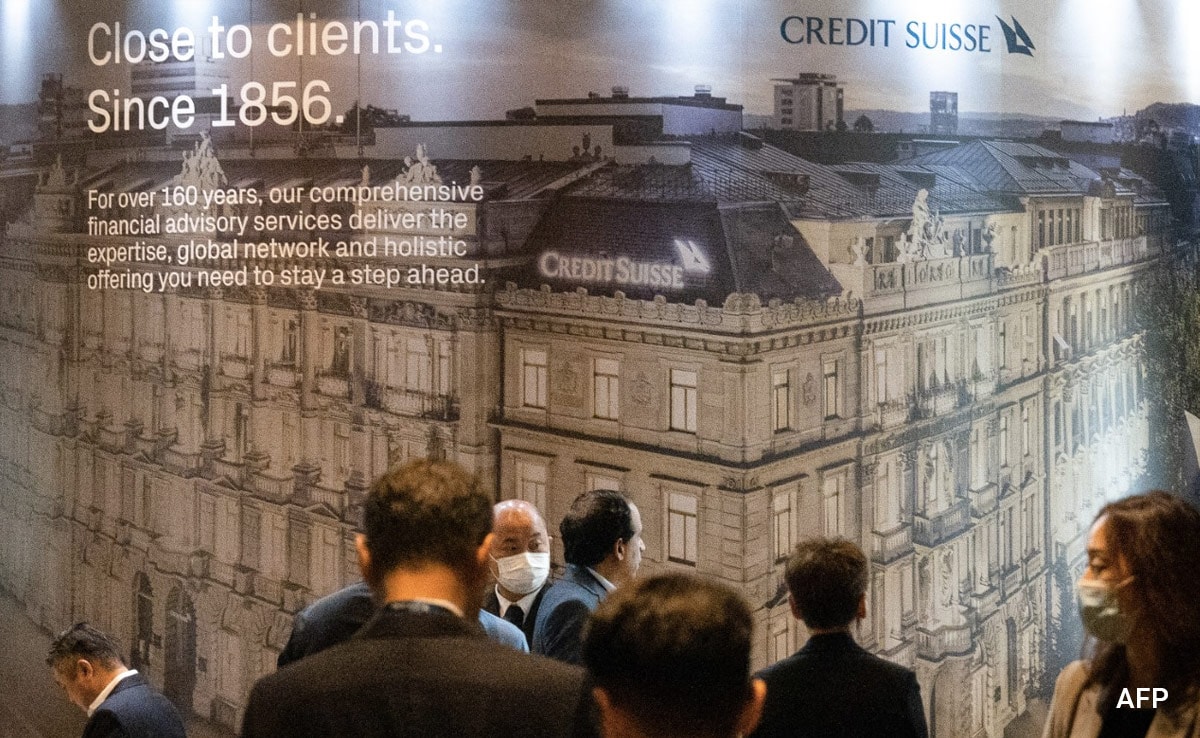 Swiss Brace For Major Job Losses After Credit Suisse Buyout
Swiss unions were meanwhile demanding Tuesday that the banks and governments launch a broad "rescue plan" for affected employees.
Tens of thousands of jobs could disappear in Switzerland following UBS's emergency takeover of its troubled rival Credit Suisse, observers warned Tuesday, as unions demanded a rescue package for banking staff.

The news that Switzerland's biggest bank will, under pressure from Swiss authorities, swallow up the second-largest has sent shockwaves through the wealthy Alpine nation, renowned for its banks and financial sector.

"Directly or indirectly, tens of thousands of jobs are potentially threatened," the Swiss Trade Union Federation (SGB) warned in a statement Tuesday.

"Many jobs are at risk," the Swiss Bank Employees Association (SBPV) said, warning that the uncertainty facing Credit Suisse employees was "extremely stressful."

The $3.25-billion takeover announced late Sunday was mediated by the Swiss authorities to help prevent economic turmoil spreading throughout the country and beyond after crisis-hit Credit Suisse saw its share price implode last week amid market panic following the collapse of two US banks.

The two Swiss banking giants currently count around 120,000 staff between them globally, with some 37,000 of those in Switzerland.

But once the mega-merger is completed, there is little doubt many of those jobs will become redundant.


12,000 jobs could disappear

With towns throughout Switzerland boasting both UBS and Credit Suisse branches, often side by side, and a range of parallel service offerings, the overlap in significant.

The BAK Economics think-tank warned Monday that as many as 12,000 of the Swiss-based staff across the two banks could see their jobs disappear.

In addition, "clearly, there will be consequences for many external contractors and service firms," SGB spokesman Benoit Gaillard told AFP.

Experts said that the jobs most at risk are among Credit Suisse's staff -- particularly the nearly 17,000 positions in Switzerland, as well an equivalent number of employees in its embattled investment bank unit.

But UBS positions are also in line to vanish.

When faced with two overlapping areas of responsibility, a UBS staffer will not necessarily be chosen to run the merged unit, according to Stephane Garelli, an economics professor at the International Institute for Management Development.

"Jobs will be lost on both sides," he told the broadcaster RTS.

"We risk finding ourselves in a market with many people with financial expertise, but no work."

The Ethos foundation, which represents pension funds in Switzerland and owns stakes in both banks, said it was pressing Swiss authorities and UBS to spin off Credit Suisse's domestic business, which is considered healthy.

"This would make it possible to preserve jobs and maintain healthy competition, which guarantees the proper functioning of our economy," it said.


'Rescue plan'

Swiss unions were meanwhile demanding Tuesday that the banks and governments launch a broad "rescue plan" for affected employees.

"Bank rescue must also mean job rescue," the SBPV said.

The bank staff association said it had initiated a taskforce including people from UBS and Credit Suisse, and supported by the government, towards setting up a staff rescue package.

Among other measures, it is calling for "a freeze on layoffs until the end of 2023, and for the implementation of unavoidable layoffs as part of the social plan."

While there is currently a shortage of skilled workers in Switzerland's financial sector, it warned "the takeover threatens to cut jobs on a scale that the labour market in the banking industry could not absorb."

To facilitate the mega-merger, the Swiss government granted UBS a guarantee of nine billion Swiss francs ($9.7 billion) to assume potential losses arising from risky Credit Suisse assets, and the central bank said it would provide liquidity of up to 100 billion Swiss francs.

The SGB union stressed that the government guarantee alone amounted to dishing out around 1,000 Swiss francs for every inhabitant in Switzerland, insisting the two banks "have a responsibility to avoid brutal job cuts."

"Credit Suisse staff must not pay for the errors committed by their managers and the authorities."
---