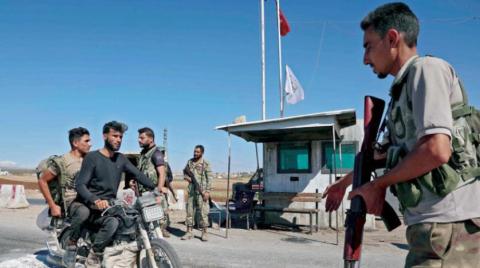 Türkiye Redeploys its Troops to Confront Syrian Regime in Idlib
Turkish forces in northern Syria are redeploying in the Idlib and Aleppo countryside to counter any advances by the regime forces and Hayat Tahrir al-Sham (HTS) group.
The forces established a new military post in a building in the eastern neighborhood of al-Bara on the Sirgla road in Jabal al-Zawiya, south of Idlib, overlooking areas controlled by the regime in Harsh Kafr Nabl.

On Oct. 9, Turkish forces established a military checkpoint in the de-escalation zone in Jabal al-Akrad area in the northern countryside of Latakia, overlooking the Aleppo-Latakia International Road (M4).

The military point also provides surveillance points to Jericho, the al-Ghab Plain, and the western slope of Jabal al-Zawiya. It is the third Turkish point to be set up in the Latakia countryside, in northwestern Syria, after al-Zaytouna in Jabal al-Turkman and al-Hadada in Jabal al-Akrad.

The Syrian Observatory for Human Rights (SOHR) reported that the Kabanah Hills had previously witnessed many attempted advances by the regime and its loyalists, with Russian air cover. All the advances failed due to geographic difficulties and the factions protecting it.

Days ago, the Turkish forces withdrew a military convoy from the de-escalation zone in Idlib towards, returning it to Türkiye. The convoy consisted of seven tanks and ten armored vehicles, in addition to more than 15 troop carriers loaded with soldiers. The move was part of redeployment and re-positioning in the area.

At the same time, Turkish forces began to limit the movement of the HTS, the members of which had entered its area of control in Afrin following clashes between the pro-Ankara Syrian National Army (SNA). Türkiye intervened through the "Thaeroon" troops, forcing the group to withdraw, leaving behind a few security forces.

The Turkish forces set up two military observation points to boost their control over the border between Idlib and the areas covered in the Operation Olive Branch to contain the movement of HTS fighters.