Thousands of ticketless fans had gathered outside Basra International Stadium ahead of the Arabian Gulf Cup final between Iraq and Oman.
Family members of one of the football fans killed in the stampede at a stadium in southern Iraq ahead of the Arabian Gulf Cup final have blamed ticketless fans and organisers for the deaths of at least four people.

Thousands of fans without tickets had gathered outside Basra International Stadium on Thursday ahead of the final between the hosts and Oman. According to witnesses, pushing and shoving in the surging crowd led to the stampede, which also injured dozens of people.

Hamza Adnan Ahmed, a 25-year-old from Baghdad, was one of those who died on Thursday. His family told Al Jazeera that Ahmed, an engineer, had come to Basra with his brother to attend all the matches.

"My family and I were shocked to hear of my brother's death," another of Ahmed's brothers who was in Baghdad at the time of the incident told Al Jazeera.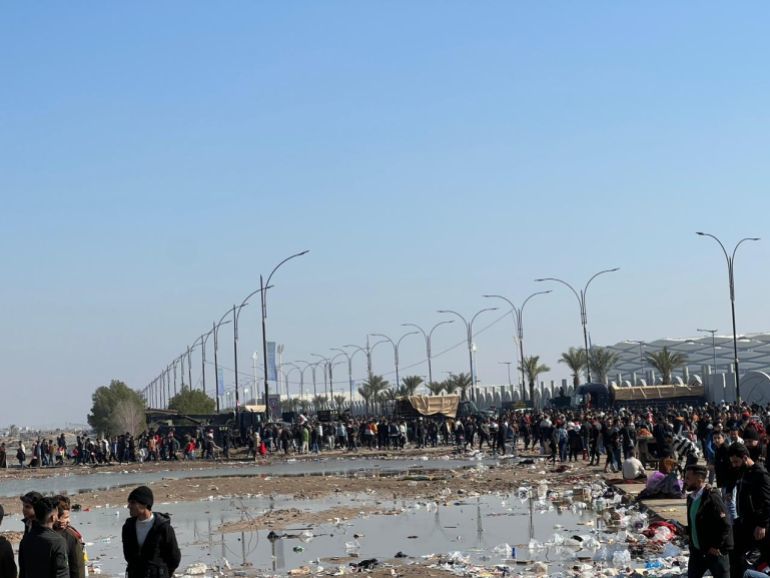 The aftermath of the stampede outside the stadium

"The last time he called us was on Wednesday night, and he told us that he was so happy to be in Basra for the final. He said he was looking forward to celebrating in the stadium and experiencing the atmosphere in the city. Unfortunately, he was unable to do any of that.

"My other brother who was accompanying him survived, but Ahmed was not able to push himself out of the crowd.

"I blame the ticketless fans who tried to force their way into the stadium [for this tragedy]. I blame the government and the organisers who failed to avoid this tragedy, I blame the Ministry of Youth and Sport. All of them share the responsibility of what happened and for my brother's death."

Al Jazeera was unable to reach Basra's health office or the Iraqi Football Association for comment.
'I was about to die'

Zayn Kareem, a 24-year-old Basra resident, was caught up in the stampede but managed to get out of it.

"The crowd pushed each other to gain entry. I was about to die. I had a ticket but was unable to go in. I went back home and watched it with my family," Kareem told Al Jazeera.

"It was a really messy day, but thankfully, I survived," said the football fan, who also blamed fans who had arrived without tickets for the crush.

"The Basra government opened another stadium for the fans to go and watch the match on big screens," Kareem said. "There were big screens on Basra's main streets too, and they should've watched it at other places."

Mustafa Qadir, 31, also of Basra, described the scene as something he "will never be able to forget".

"Thousands had gathered outside the stadium. They pushed each other to enter the stadium by force. The security forces tried to separate them, but it was so difficult," Qadir told Al Jazeera.

"I witnessed people of all ages – men, women, kids, teenagers – push themselves to reach the main gate and enter it. I don't think all of them had tickets. That's why there was the crush. I bought my ticket on the black market for around $100 because they were not available for the original price of $10."