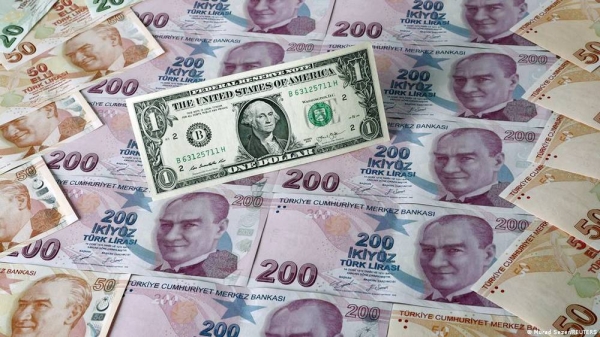 Turkish lira turns bearish anew
The Turkish lira has remained largely in limbo declining by 1.7 percent on Wednesday, wasting gains posted over the past week. The renewed decline of the national currency has deepened traders' worries with respect of the state monetary policy following a spate of drops in the operations last week and the current one.
The official Anadolu news agency said rate of the US dollar at start of Wednesday's operations was bearish as compared to yesterday's closing, in the range of 11.3,745 lira against 11.5,048 in the end of yesterday's session.

The greenback moved up in Wednesday's early hours, exceeding 12 lira and posting 12.0,740 by a difference of 0.2,717 points. The news agency noted that the lira that increased by more than 50 percent in past week after state intervention in the market shed 38 percent of its value this year.

President Recep Tayyip Erdogan, last week, declared incentives for depositors to transform their deposits into the Turkish lira. Accordingly, the state treasury and the central bank would compensate for the losses incurred due to the declining value of the lira.

According to a central bank document sent to banks on Monday, it will support these forex-protected lira deposit accounts by not applying required reserve ratios on them. It will impose a higher commission on banks when the transfer from forex accounts to lira accounts does not exceed a certain level.

The Turkish lira had reached an unprecedented low level, trading at $18.4 before Erdogan made this declaration, following months of bearing rates due to fears from mounting inflation.Turkey's lira weakened by as much as 2% on Tuesday, extending sharp losses seen a day earlier and eroding massive gains made last week, as worries about the country's monetary policy weighed on sentiment.

Sovereign dollar-denominated bonds came under pressure on Tuesday with many issues snapping multi-day winning streaks in thin trade and the 2030 bond slipping more than 1 cent in the dollar, Tradeweb data showed.

Annual Turkish inflation is forecast to have hit 30.6% in December, a Reuters poll found, breaching the 30% level for the first time since May 2003 — six months after Erdogan's AK Party first came to power.

In December alone prices are expected to have surged 9%, the poll showed, with the affect of lira weakness likely to be felt in the coming month too.

Turks did not sell dollars in large quantities on Monday and Tuesday last week, according to official data that suggested they had played little role in the gains. The central bank has cut its policy rates by 500 basis points to 14% since September, despite inflation rising to more than 21% in November.