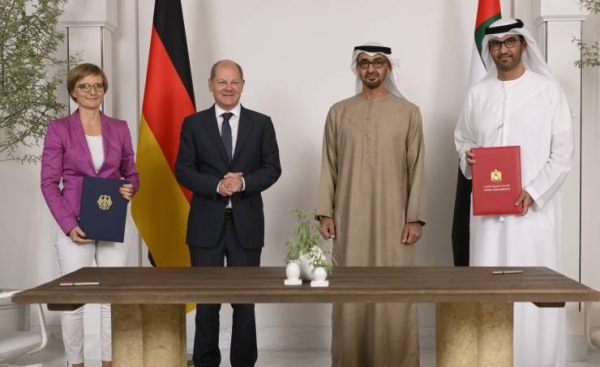 UAE, Germany sign new energy security agreement
UAE President Mohamed bin Zayed Al Nahyan received earlier Sunday Chancellor Olaf Scholz, of the Federal Republic of Germany, who is on a working visit to the country.
During the meeting, which took place at Al Shati Palace, in Abu Dhabi, the two sides signed a new strategic partnership agreement in the field of energy security and industrial growth.

The agreement was signed by UAE Minister of Industry and Advanced Technology, the UAE's Special Envoy for Climate Change and the Managing Director and CEO of the Abu Dhabi National Oil Company (ADNOC) and its Emirati group of companies, Dr. Sultan Al Jaber and Minister of State At the German Federal Ministry for Economic Affairs and Climate Action, Dr. Franziska Brantner, WAM added.

ADNOC also signed liquefied natural gas importing agreement for RWE AG is a German multinational energy company, which authorizes ADNOC to export the first shipment of liquefied natural gas and to hand it to Germany by the end of 2022 to utilise it in experimental operating for a natural importing floating plant in Brunsbuttel in Germany, According to the agreement, ADNOC allocated an extra shipment of liquefied natural gas to its clients in Germany, to be shipped by 2023, it added.

ADNOC also signed a number of agreements with its clients in Germany, including (Stage GmbH) and (Orbis AG) companies to export trial shipments of low-carbon ammonia, which is a carrier fuel for hydrogen that plays a key role in reducing emissions in sectors whose emissions are difficult to reduce, it added.