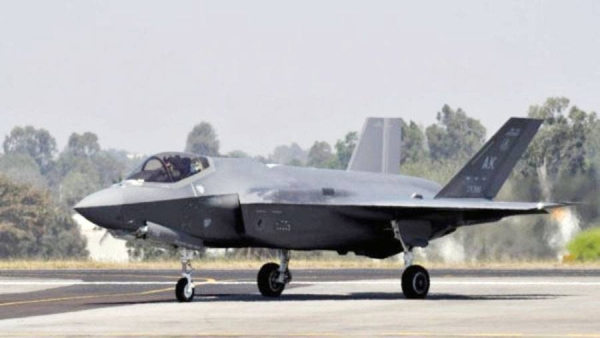 US shows off F-35 in India's largest aerospace and defense exhibition
Two US F-35 fighter jets took part in a demonstration at the Aero India air show in Bengaluru on Monday, marking the first time the latest American fighters have landed on Indian soil. In a symbolic showdown between superpowers, Russia's latest warplanes also made their Indian debut.
The supersonic F-35A Lightning II and F-35A Joint Strike Fighter demonstrated their aerial capabilities in the skies before landing at Air Force Station Yelahanka. The planes traveled to Bengaluru from Alaska and Utah, with the US Air Force also bringing two F-16s, two F/A-18s, and two B-1B long-range bombers.

The US Defense Attaché Rear Adm. Michael Baker told Indian media that the presence of the F-35 was intended to demonstrate Washington's strategic partnership with New Delhi.

However, India is not a formal ally of the US, and has not been offered a chance to purchase the F-35. While the Indian military stepped up its purchasing of American weapons after the US lifted sanctions in 2001, most of its weapons systems are of Russian or Soviet origin, including its fleet of around 250 Sukhoi Su-30 multirole fighters.

Moscow plans to demonstrate its own rival to the F-35, the Sukhoi Su-57, at Aero India, Russian state arms exporter Rosoboronexport announced last week. It is still unclear whether the jet will fly, or be put on static display.

Although the Indian government is expected to sign defense deals worth more than 750 billion rupees ($9 billion) over the five-day airshow, there is no indication that Prime Minister Narendra Modi's government is considering adding either the F-35 or Su-57 to its arsenal.

Modi has made indigenous arms production one of his administration's core goals, and work has been under way to develop a homemade fifth-generation fighter jet, the HAL Advanced Medium Combat Aircraft (AMCA).

In a speech at Aero India on Monday, Modi said that India "is not just a market for defense companies. It is also a potential defense partner." According to a government press release, the show will help India market its lightweight HAL Tejas warplanes and several light helicopters to international buyers.

The 14th edition of India's largest aerospace and defense exhibition, Aero India, was inaugurated by Modi, who also bolstered the 'Make in India' campaign and gave a fresh impetus to the domestic aviation sector.

Indian Air Force Chief Air Chief Marshal V.R. Chaudhari led the Gurukul formation during the flypast at the inaugural ceremony of the mega air show.

This year's exhibition is expected to be the biggest air show with the highest rate of participation and will feature top international think tanks, major aerospace companies and world leaders, according to the Defense Ministry.

United States Charge d'Affaires Ambassador to India Elizabeth Jones led the largest-ever US delegation to the biennial air show at Bengaluru's Air Force Station.

"As India modernizes its defense capabilities, certainly we want to be the partner of choice. We are increasingly focused on mutually beneficial co-production and co-development partnerships," she said.

According to PTI, defense officials had confirmed the participation of as many as 809 exhibitors, including 110 foreign ones for the show at Air Force Station Yelahanka.

A premier exhibition in the global aviation industry, Aero India is held biennially in a total area of around 35,000 sqm, providing an opportunity for the industry to showcase its capabilities, products and services.

Aero India 2023 is a five-day event, which will include aerial displays by aircraft and helicopters, along with a large exhibition and trade fair of aerospace and defense companies. More than 800 defense companies, including around 100 foreign and 700 Indian companies, were also a part of the event.