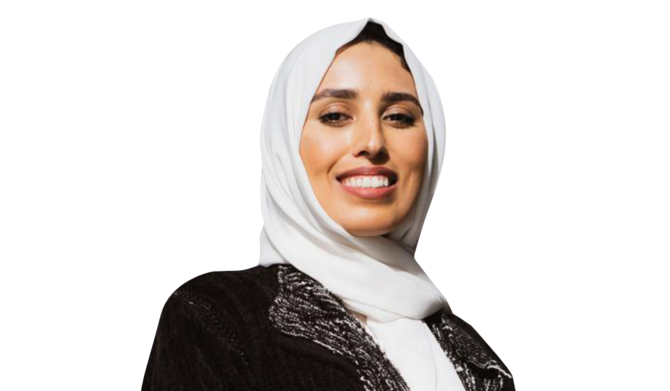 Who's Who: Hajar Al-Naim, consultant at the Saudi Film Commission
Hajar Al-Naim has been a consultant at the Saudi Film Commission since July 2021.
The commission, under the Ministry of Culture, aims to create a conducive environment for young Saudi filmmakers to develop their skills.

It also plans to expand and strengthen the Kingdom's film industry locally and abroad through partnerships, investment and education.

Al-Naim first joined the Ministry of Culture in 2017 as head of talent development, where she oversaw the department and developed its five-year plan.

She is also currently chairperson of the board at Her Films Community in Riyadh, a nonprofit organization for Saudi female filmmakers to collaborate, learn, and exchange knowledge.

From March 2020 to March 2021, Al-Naim worked as a producer at 8IES Production, where she produced commercial advertisements and developed the company's strategy.

Soon after Al-Naim left her previous post, she co-founded and became CEO of MTHEC STUDIOS in Los Angeles, California.

She launched studio production training, MTHEC's first such program, in partnership with Netflix.

The goal of her production house MTHEC is to build a high caliber, international mini-major studio with a focus on globally minded, artistic and story-driven films, and television and digital projects in a variety of genres and budget ranges.

Al-Naim developed her production experience by producing several feature films, short films, and commercial advertisements.

In 2020, she produced the feature films "Cherry" directed by the Russo Brothers, and "Unforgettable Hands" directed by Hind Al-Fahad.

Al-Naim also directed and produced short films including "Black Sand" (2018), "Making Magic" (2015), and "Birthday" (2014).

Her short film "Detained" (2017) was nominated for the Best Muhr Gulf Short Awards at the Dubai Film Festival, and "Hope" (2016) was nominated for Best Picture at the Saudi Film Festival.

Al-Naim holds a bachelor's degree in management information systems from King Faisal University and a master's degree in film and TV production from Loyola Marymount University, Los Angeles, California.