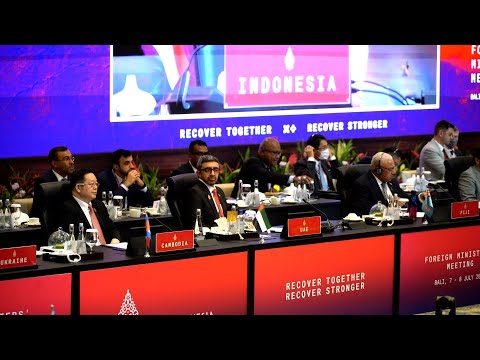 Abdullah bin Zayed participates in G20 Foreign Ministers' meeting, reiterates UAE's support of Indonesia's efforts
H.H. Sheikh Abdullah bin Zayed Al Nahyan, UAE Minister of Foreign Affairs and International Cooperation, participated in the Group of 20 (G20) Foreign Ministers' meeting, which was held in Bali, Indonesia, from 7th to 8th July, under the chairmanship of Indonesia, 2022 President of the G20.
Sheikh Abdullah affirmed that the UAE, under the leadership of President His Highness Sheikh Mohamed bin Zayed Al Nahyan, is keen to push forward the G20's efforts to tackle the shared global challenges to achieve stability and prosperity globally.

He commended Indonesia's efforts in efficiently organising the G20 Foreign Ministers' meetings, which underscores the country's excellence in hosting major global events and forums, as well as in organising such important meetings as part of its pivotal role in promoting international cooperation to achieve sustainable development goals (SDGs) globally.

Sheikh Abdullah expressed his appreciation for the efforts made by countries participating in the G20 meetings and their cooperation, which showcases their commitment to join hands in shaping a brighter future based on constructive international cooperation in facing the most pressing challenges. He also highlighted the UAE's support for Indonesia's efforts that aim to further build on and add to the achievements of the G20.

The G20 Foreign Ministers' meeting discussed the areas proposed by Indonesia to achieve tangible and effective cooperation within the G20, especially since the country chose this year's theme to be "Recover Together, Recover Stronger" to promote further cooperation in tackling global challenges.

Indonesia has already announced its top three priority issues for the upcoming G20 summit to be held in October 2022. The three priority issues are Global Health Architecture, Sustainable Energy Transition, and Digital Transformation.

The UAE is taking part in the G20 meeting upon an invitation from Indonesia, a participation that is subject to the oversight of the G20 Steering Committee. The UAE's participating delegation is headed by Sheikh Abdullah, with the membership of relevant UAE government entities. A technical committee has been formed to coordinate the efforts of national authorities involved in the G20.

The UAE is expected to participate in more than 150 G20 meetings before the summit in October 2022.

The meeting was attended by Ahmed Ali Al Sayegh, Minister of State, and Dr. Abdul Nasser Al Shaali, Assistant Minister for Economic and Trade Affairs at the Ministry of Foreign Affairs and International Cooperation.