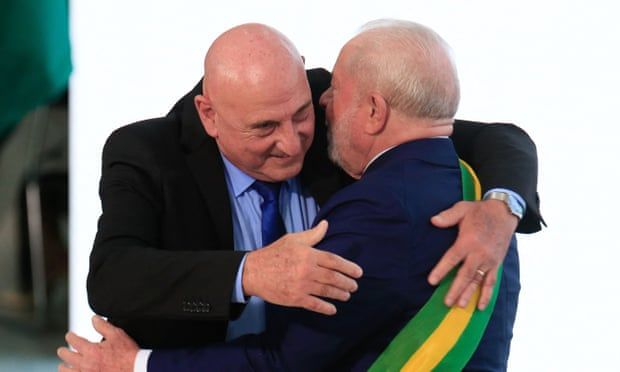 Brazil: Lula security chief resigns after leaked footage of far-right palace riot
Video shows Gonçalves Dias inside presidential palace as supporters of Bolsonaro went on the rampage in January
A key member of Luiz Inácio Lula da Silva's new administration has been forced to resign after the emergence of security footage showing him inside the presidential palace during the 8 January far-right assault on Brazil's democratic institutions.

After his election last year, president Lula made the retired army general Gonçalves Dias head of Brazil's Institutional Security Bureau (GSI), which advises the president on defense and security matters and handles presidential security.

However, on Wednesday afternoon, less than four months after the leftist veteran took power, Dias was forced from his job after a television network broadcast leaked CCTV images in which he could be seen roaming the corridors of Brasília's Planalto Palace as radical supporters of the former president Jair Bolsonaro rampaged through that building, the supreme court and congress.

The 73-year-old minister, who provided security to Lula both during both his 2003-10 presidency and last year's tempestuous election campaign, sought to explain the footage in an interview with the GloboNews network.

"I entered the palace after the palace had [already] been stormed, and I was removing people from the third and fourth floors so they could be arrested on the second," claimed the general, a Harley-Davidson enthusiast best known by the nickname 'G Dias'.

Lula and Dias are reported to have a longstanding and trusting relationship, and there was no suggestion that Dias was involved in planning or even facilitating the chaos in Brasília.

Even so, his explanations appeared to cut little ice with senior members of Lula's administration, who have called the 8 January uprising a botched coup attempt designed to reinstall Bolsonaro as president.

As well as images of Gen Dias, the leaked footage included scenes that showed GSI agents greeting the pro-Bolsonaro extremists and serving them water as they carried out their attack.

Hours after the leaked footage was aired by CNN Brasil, Lula reportedly summoned several top ministers, including Dias, to a meeting at which his fate was sealed.

In a statement, Brazil's presidential communication secretariat, Secom, said there would be "no impunity for those involved in 8 January's criminal acts".

Secom claimed that at the time of the "terrorist" attacks, government agencies, including the GSI, had contained remnants of the previous government who were subsequently removed from their posts. Investigators examining the events of 8 January had already questioned more than 80 military officials, including GSI agents, it added.

The president of Lula's Workers' party (PT), Gleisi Hoffman, claimed on Twitter that the GSI agents filmed "collaborating" with the mob invading the presidential palace were the residue from the Bolsonaro era, when they had worked under its chief Gen Augusto Heleno.

Heleno, the hawkish 75-year-old former head of Brazil's army in the Amazon, was one of the most radical and sharp-tongued members of Bolsonaro's 2019-22 administration.

During Brazil's two-decade dictatorship, Heleno was an aide to Sylvio Frota, an ferociously anti-communist army general who played a key role in the 1964 military coup that toppled the leftist president João Goulart.