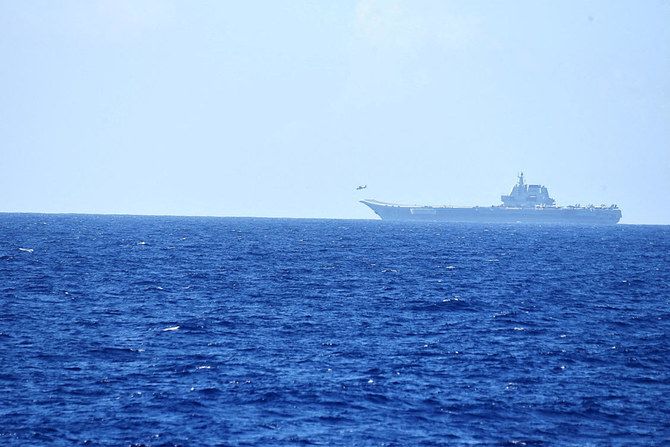 China's aircraft carrier Shandong returns to home port after show of might
China's military said on Wednesday the aircraft carrier Shandong had returned to its home port in Hainan "in recent days," after a month-long voyage that included transits around Taiwan for drills and a flex of muscles as far out as the Western Pacific.
This year, the Shandong has been spotted in the Taiwan strait, the Bashi channel between Taiwan and the Philippines, and even as far as Guam. In early April, it took part in drills that simulated attacks by fighter jets launched from an aircraft carrier on democratically governed Taiwan for the first time.

The show of force came after Taiwanese President Tsai Ing-wen met US House of Representatives Speaker Kevin McCarthy, angering Beijing, which viewed the meeting as interference in China's internal affairs and US support for Taiwan's separate identity from China.

The Shandong took part in a security patrol around the island of Taiwan as part of the "Joint Sword" military exercise, the Southern Theatre Command of China's People's Liberation Army said in a statement.

"The Shandong carrier group, for the first time, in a formation and of scale, went to the waters of the western Pacific," it added.

The carrier, commissioned in 2019, has featured prominently in China's military propaganda. During the April drills, China showed extensive images of the Shandong and its fighter jets being launched from the carrier.

Days after China ended its latest war games around the island, the US warship USS Milius sailed through the Taiwan Strait in what the US Navy described as a "routine" transit.

In March 2022, the Shandong, one of China's two operational carriers, sailed through the Taiwan Strait just hours before the Chinese and US presidents were due to talk.

China has ramped up military pressure in recent years to try to force Taiwan to accept Chinese sovereignty. Beijing has never renounced the use of force to bring the island under its control.