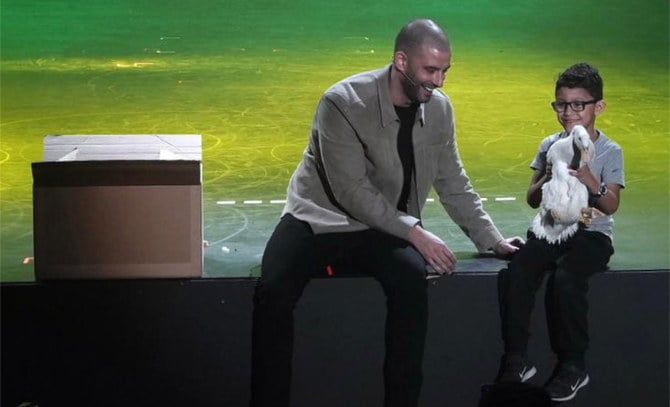 Darcy Oake dazzles Riyadh Season visitors with magic tricks
Darcy Oake, one of the most famous illusionists in the world, dazzled visitors of Riyadh Season during his first performance at the World Theater at Boulevard Riyadh City.
Oake has performed in Canada, New York, Las Vegas and Hollywood. He has appeared on several TV shows and won many awards.

His jaw-dropping tricks, one of which saw the illusionist transform a dove into a girl, were met with great enthusiasm from audience members in Riyadh, a number of whom participated in some of Oake's performances.

Oake is presenting two shows daily until Nov. 14. The first starts at 6 p.m., and the second starts at 9 p.m.

Tickets can be booked via the link: https://ticketmx.riyadhseason.sa/en/d/2343/darcy-oake. Children must be over 5 years of age to be allowed entry.

In addition to Oake's shows, there are various other events and experiences in the many zones of Riyadh Season, including concerts, local and international exhibitions, theatrical performances, Cirque du Soleil and WWE shows, fireworks spectacles and a football tournament.

There are also restaurants and cafes, lounges and a wide range of interactive activities suitable for all ages.

The third Riyadh Season contains 15 diverse entertainment zones and features the largest artificial lake in the world, cable car transportation, and sporting events such as the Riyadh Season Cup, which brings together the Paris Saint-Germain team with the stars of Al-Hilal and Al-Nasr football clubs.