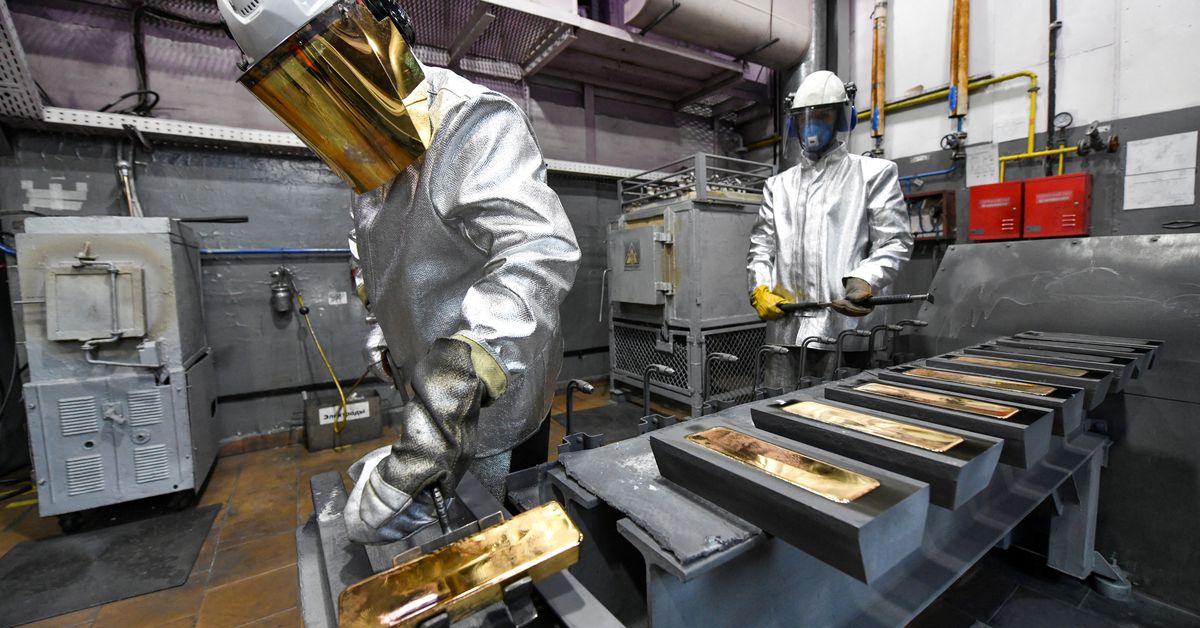 Russian Gold Rush: UAE Emerges as Major Trade Hub Amid Western Sanctions
The article reports that the United Arab Emirates (UAE) has become a major trade hub for Russian gold after Western sanctions over Ukraine cut Russia's traditional export routes.
The UAE imported 75.7 tonnes of Russian gold worth $4.3 billion between February 2022 and March 2023, up from just 1.3 tonnes in 2021, according to customs records.

China and Turkey were the next largest destinations, with about 20 tonnes each.

The UAE, China, and Turkey accounted for 99.8% of Russian gold exports in the customs data for the period.

Some experts worry that Russian gold could be recast and sold back into the market with its origin masked.

The UAE government said it had robust processes against illicit goods, money laundering, and sanctioned entities.

The US Treasury did not respond to requests for comment.

The shipments in the customs data, supplied by a commercial provider, show exports of 116.3 tonnes between February and March 2023, although the consultant Metals Focus estimates Russia produced 325 tonnes of gold in 2022.

The rest of the gold dug in Russia likely either stayed in the country or was exported in transactions not included in the records.

The UAE is a major exporter of bullion and jewelry, and Russian firms have been selling bullion there at a discount of about 1% to global benchmark prices, offering an incentive to trade.

Most of the gold shipped to the UAE is destined for refineries, where it is melted down and recast.

Reuters asked four of Russia's largest gold miners for comment, but only Nordgold and Norilsk Nickel (GMKN.MM) declined to comment.

Polymetal did not respond, and Polyus (PLZL.MM) declined to comment.

The biggest handler of Russian gold exported to the UAE was Temis Luxury Middle East, a Dubai subsidiary of French logistics firm Temis Luxury, which handled 15.6 tonnes valued at $863 million from April 2022 to March 3.

Broca Houy, head of compliance at Temis Luxury Group, said the company "fully complies with the laws and regulations of the United Arab Emirates for freight forwarder business".

The second-largest handler of Russian bullion in the UAE was logistics firm Transguard, part of the Emirates Group, which was involved in shipments of 14.6 tonnes worth $820 million.

Emirates said it had not bought any Russian gold, operated in full compliance with applicable laws, and had now stopped transporting it.

In Hong Kong, most Russian gold shipments were handled by Vpower Finance Security Hong Kong Ltd, a Chinese logistics company, which was involved in the import of 20.5 tonnes of gold worth $1.2 billion between May 2022 and March 3.

Vpower Finance Security did not respond to requests for comment.