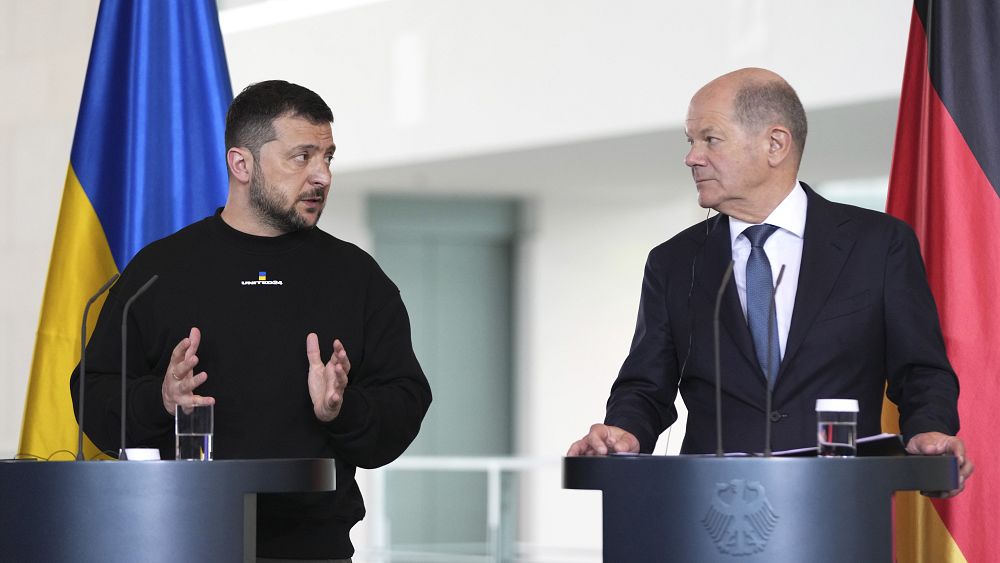 Germany welcomes president Zelenskyy with open arms
Zelenskyy then travelled to Paris, where urgent military aid and assistance were top of the agenda with French President Emmanuel Macron.
German Chancellor Olaf Scholz said on Sunday in Aachen, in the presence of Volodymyr Zelenskyy, that Ukraine "is part of the European family".

"The war has made people all over Europe aware of one thing: Ukraine is part of our European family," Scholz said as he presented the Ukrainian president and people with the Charlemagne Prize.

"Russia's war of aggression has brought the European Union and Ukraine closer than ever before," he added.

"President Zelenskyy and the people of Ukraine are fighting for the values and for the obligation that this prize embodies," assured the head of the European Commission, Ursula von der Leyen, also present at the ceremony.

"In doing so, they are also fighting for our own freedom and values. Democracy and the rule of law, freedom of expression and the freedom to create one's own destiny," she added.

After official talks in Berlin, Zelenskyy and Scholz travelled together to western Germany for the Charlemagne Prize ceremony.

The award, presented annually in Aachen, the former capital of the Carolingian Empire, was created in 1949 to promote European integration after the destruction of the Second World War.

In 2022, the prize was awarded to three opponents of the Belarusian regime: Svetlana Tikhanovskaya, Veronika Tsepkalo and Maria Kolesnikova. It has in the past awarded many Western leaders, such as former British Prime Minister Winston Churchill, Vaclav Havel, then President of Czechoslovakia, and former French President François Mitterrand.

The EU granted Kyiv official candidate status in June 2022 but is demanding further reforms, especially concerning anti-corruption.

Brussels estimates that the talks will take six to ten years after their opening, while Kyiv wants integration much faster.
---