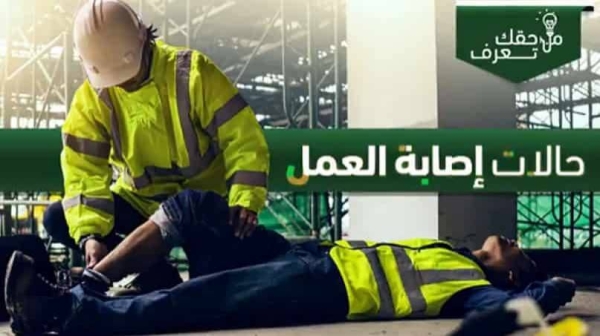 GOSI: 8% decrease in work injuries in 2022
The General Organization for Social Insurance (GOSI) stated that the strategic index of work injuries per 100,000 subscribers recorded a decrease of eight percent in 2022 compared to 2021.
Details of the work injuries were revealed in a report published by the organization. The report stated that during the year 2022, a total of 28,227 work injuries were recorded. Males were most exposed to work injuries which accounted for 27,167 injuries. The age group of 35-39 years recorded the highest number of 5556 work injuries, while the age group of 15-19 years is the least exposed to work-related injuries which stood at 105.

The report indicated that the Riyadh region recorded the largest number of 8,347 work injuries while the Eastern Province came second with 7,742 injuries, followed by Makkah with 5,839 injuries, while the Al-Jouf region came at the bottom with 109 injuries.

According to the report, the construction sector was the highest in recording 9,607 work injuries followed by the manufacturing industries sector with 6,660 injuries while the wholesale and retail trade sector came third with 3,664 injuries. Regarding the classification of work injuries related to occupations, the report showed that service professions came first with 13,448 injuries, followed by auxiliary engineering professions with 8,542 injuries.

The highest number of 14,199 injuries was due to exposure to machinery and it was followed by 9026 injuries due to falls while injuries due to traffic accidents came third with 2451 injuries. The report pointed out that the total number of injuries recorded in the year 2022 resulted in 560 recoveries with a disability, and 417 recoveries without disability, while 82 deaths were recorded as a result of work injuries.

The report emphasized GOSI's relentless endeavor to secure a safe work environment for subscribers. The organization pays great attention to the issue of occupational safety and health at workplaces. As a result of these efforts, the index of work injuries registered in the Kingdom decreased to 25.9 injuries per 100,000 subscribers. This report comes within the organization's efforts and its strategic objective in the field of enhancing and sustaining work environments to maintain the occupational health and safety of workers.

During the year 2022, more than 6000 visits were carried out to make aware of employers in the field of occupational safety and health. Also, 100,000 inspection visits were carried out in the field of insurance compliance and prevention, in addition to awareness campaigns and providing support and assistance through technical consultations to improve the work environment of more than 5,000 establishments.

As a result of these visits and awareness campaigns, the percentage of injuries to the number of subscribers decreased from 0.32 percent in the year 2021 to 0.28 percent during the year 2022, the report pointed out.